In the Southwest of Turkey, on the former site of the ancient city of Telmessos, sits the popular coastal city of Fethiye. There are many places to visit in Fethiye because it is a much-photographed metropolis with a modern appearance that belies its classical origin. It is also highly favourable for domestic and international tourism, as well as Blue Cruise yachting.
More exists to the enchanting province than the panoramic Mediterranean sea views. Turkey holidays are known for their exceptional charm and endless natural beauty and visitors to Fethiye will not be disappointed by the region's charming landscape and beautiful beaches. From Babadag Mountain to the lesser known Sövalye Adasi(island), there are plenty of outdoor attractions and activities to enjoy. Here are my suggestions, some of which I have done and some still sit on my bucket list.
The Best Places to visit in Fethiye
Places of Natural Beauty
The magnificent Saklikent gorge defies belief. This dramatic canyon sits quietly in a protected national park and thanks to the lack of sunlight; the water is cold but worth navigating to find beautiful scenes within the area. If you decide to trek further into the gorge, hire a professional guide for safety reasons.
One of my favourite areas is the rustic valley of Butterfly's that resembles a scene from Jurassic park. Catch the water taxi from Olu Deniz beach to snorkel and sunbathe on the pebbled beach, trek into the valley to the small waterfalls or enjoy some Turkish cuisine in the basic self-service restaurant. You can also stay overnight in a wooden hut or pitch your tent on the beach.
Yakapark is a popular destination on Jeep Safari tours. I was highly amused at the fishpond bar and enjoyed the cheap buffet lunch. The main dish here is fish since it is next to a trout farm but other items can be ordered like meatballs. The park itself is extremely beautiful but the mountain drive there, reveals some amazing landscape views.
To tell the truth, I was not impressed by the Blue Lagoon that adorns many travel brochures of the area, but it seems a crime not to put it on the list because it is an activity that most people recommend you do, while in the area. Instead I much preferred hanging out further along the coast on the long, sandy and extremely beautiful beach of Olu Deniz.
Places within Fethiye Town Centre
Among the coffee shops, fish market, 16th century hamam, spice market and bazaar, old town Fethiye (Pasapatur) is a network of quaint, narrow streets bursting with traditional Turkish colour and character. I did my souvenir shopping in this area and also had to visit the quaint bars that line the cobbled paths.
The small but insightful Fethiye museum on Sokak 505 features sarcophagi, votive stones, jewellery, statues, pottery and coins among other artefacts, although many consider the highlight to be the trilingual stele. It took just an hour to look around it slowly and I was extremely impressed by the displays. Anyone interested in the history of the region will enjoy it.
I am embarrassed to say that I have visited Fethiye twice and still not seen the Lycian rock tombs that overlook the main city centre. Built around 350BC by citizens of the Lycian empire, they are a top attraction. The prize tomb is the Amyntas with its intricate four column facade dominating the entrance.
(Photo to come when I return and actually visit it)
For evening entertainment, my suggestion of night-time places to visit in Fethiye is the fish market, that was great fun and a concept that should be in every major town. Situated in a small square, choose your fish or seafood from a vendor in the middle then just take it ten or twenty metres to a nearby restaurants who cook it and serve it with fresh salad.
Ancient and Historical Places
The Ghost village of Kayakoy gained its current status when Greek citizens returned to Greece after the population exchange treaty following World War One. Returning Turks were not farmers like the previous locals and eventually the village was deserted. Official plans to rent out one-third of it for a commercial project are likely to be approved and this will change the structure and appearance so see it as soon as possible.
The ancient ruins in the mountain village of Tlos provide a glimpse into life under Lycian, Roman, Byzantine and Ottoman rule. Nestled into the Akda?lar Mountains, Tlos boasts the remnants of a once thriving and bustling city, including rock tombs, sarcophagi and public baths as well as a stadium, church and the marvellous view over Xanthos Valley.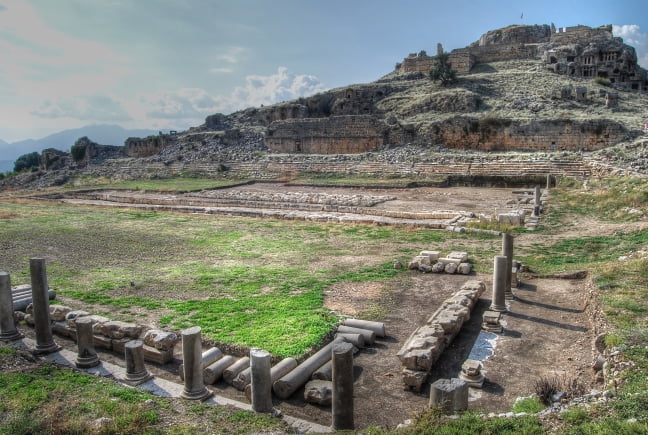 The ruins on Gemiler Island are not as large and impressive as Tlos but if you have spare time, it is worth venturing that way. I went on a gulet boat and the timing was perfect because the sun was just setting. Keep an eye out for the old city walls and church. This island is also called the Island of Saint Nicholas aka Santa Claus.
Surrounding Resorts
Last on the list of places to visit in Fethiye is the many sub-resorts surrounding the main city centre. They include Olu Deniz, Calis, Hisaronu and Ovacik. All are worth exploring, but my favourite resorts are a bus ride away, namely Kas and Kalkan.  Both have an extremely rich Mediterranean feel, hassle from shops and restaurants is virtually non-existent, and both have quaint cafes that serve delicious ice-cold coffee frappes!
[wp_geo_map]
Save
Save