Kas in Turkey is everything a typical Mediterranean seaside resort should be. Whitewashed houses cascade down winding mountain roads to show the way to beautiful beaches and a harbour that reminds you that life is quite good. While in Kas, the best thing to do is to adapt quickly to the Mediterranean lifestyle. The town was the third stop on my South Western tour, and on my first day, I felt weary of losing my way. However, once I found a map and discovered it was impossible to get lost in the tiny coastal resort, I eased up and sat on a rooftop terrace watching the sunset while drinking an ice-cold beer.
Having been lost in Kemer and Cirali resorts, I realised that in Kas, if I did find myself in unknown areas, I would head down the hill towards the sea. A walk along the harbour of Kas while the fishing boats dock in and unload their catch will fill the air with the smell of fresh fish, and naturally, the restaurants surrounding the harbour take advantage of this. Lobster, crab, and all types of fish are on the menu. Kas is great for people who enjoy fish or seafood. But there is much more to the town.
About Delightful Kas in Turkey
1: History of Kas
Pink bougainvillaea flowers cover many houses in Kas and immediately make you notice the influence of Greek architecture in some older properties, typically the wooden shutters, narrow streets and large terraces for enjoying the mid-day sun. Like many towns in Turkey, there was a substantial Greek population until 1923, when there was a citizen exchange between Greece and Turkey. That was a turbulent time for the area when people were unsure of the future, but they would be proud to know Kas made a name for itself as a "must visit" Mediterranean destination in Turkey.
2: Things to Do in Kas
While Kas is a laid-back Mediterranean resort, the town is at the forefront of a popular trend. Bougainville Travel, the first company in Kas to establish adventure activities for people of all ages, offer many activities from trekking the Lycian way to sea kayaking to paragliding. Bored kids can fill their days with canyoning, mountain bike riding or scuba diving in the clear seas surrounding Kas. Along with spending time with Bougainville travel staff, I extended my stay in Kas because buses frequently leave for surroundings towns and historical sites, making exploring easy and practicable.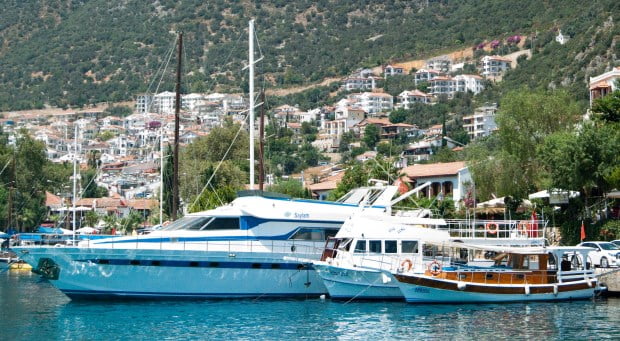 Catch a bus to surrounding resorts or head further afield to explore the church of St Nicholas and the ancient city Myra ruins in Demre. Lycian tombs and the tiny ancient amphitheatre within Kas will also attract the attention of history lovers. The town will suit many. The only people who may be disappointed are those who want large nightclubs open till five in the morning. They should head to Bodrum city, Kemer, Antalya city or Marmaris holiday resorts of Turkey instead.
Also, visit the Greek Island of Meis from Kas. While in Kas, on my solo tour, I spotted views of Meis island from my hotel rooftop, which was two miles away. So I booked myself a return ticket. The ferry departs from the harbour at 10 a.m. for a quick trip across the water. Arriving in Meis on the ferry, the island was awash in colour. About 350 people live permanently on the island, but this swells up in summer to around 1000.
Alternatively, head to the neighbouring resort of Kalkan by bus. At first glance, Kalkan on the Mediterranean coast of Turkey resembles a carbon copy of its neighbouring town called Kas, but both are different. Both are seaside holiday resorts visited by thousands of holidaymakers every year. Both towns have whitewashed houses covered with bougainvillaea flowers that spill down the steep hillside to reach the traditional fishing boats that crowd the coastline. The ancient history of both towns is also the same as the Greeks previously occupied them until the citizen exchange of Turkey in 1923.
Every local travel agent sells boat trips to Kekova sunken ruins. Facing the historical village of Simena (Kalekoy), Kekova underwater ruins receive little attention from Turkey travel guides, yet during the height of summer, hundreds of people sail past. As well as daily boat trips, many yachts dock in Kekova as they sail from Fethiye to Olympos on overnight gulet cruises.
Meanwhile, I also headed to Patara. Here is the thing about Patara. I liked this small quaint location that is part of the Lycian way trekking route, but a series of events forced me to wonder if Patara did not want me on its doorstep. I am a great believer in the sixth sense, paying heed to our intuition, and after a disastrous three days, I wondered if a supernatural force was trying to tell me that I was not welcome. A series of events forced me to make the promise that I won't ever return.

3: Budget Travel & Hotel Accommodation
Kas is a well-kept town, and upon the first appearance, you may think it is unsuitable for budget travellers. Some restaurants can be pricy along with the accommodation but look a little bit further to discover cheap Turkish pensions and Lokantas that make Kas an ideal destination for those travelling on a budget.
A reasonable accommodation choice because of its diversity is Hideaway Hotel. The range of 20 rooms includes economy, standard, deluxe and one suite, so the hotel suits budget or main-stream travellers. Throughout the hotel, traditional Mediterranean themes provide a personal touch to the décor and design.Situated on a side street, the Hideaway Hotel is close to the harbour and seafront and just 7 minute's walk from the central bus station and old town, which is the focal point for tourism, restaurants, and shops.
The family-run business has established an excellent reputation on Trip Advisor because of its high reviews. Lonely Planet also recommended the hotel. Besides the obligatory rooftop terrace with stunning views, other amenities include a swimming pool, free Internet access, yoga sessions every morning and an on-site restaurant and bar. Check out their website, which has more photos, rates, and further details of how they can help you with a holiday in Kas.
4: How to Get to Kas
Fly into Antalya airport, which is a three-hour transfer or Dalaman airport, of which the transfer is two hours. Kas sits just off the Antalya D400 highway that runs parallel with the coast if you are driving. Public transport to Kas is frequent, cheap, and accessed from all the surrounding resorts, including Fethiye, Cirali and Antalya.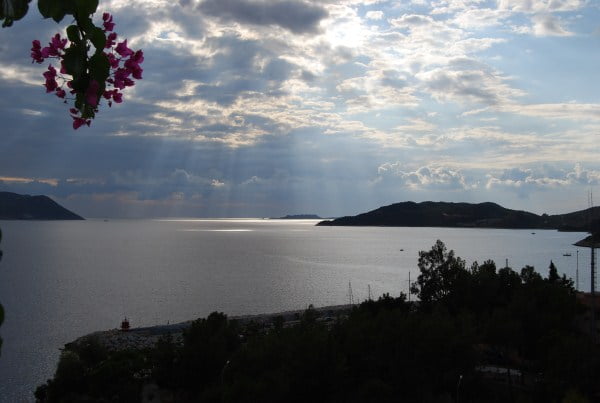 5: Sailing into Kas on a Turquoise Blue Cruise
(Update from a return visit) Sometimes I feel incredibly blessed. I originally wrote this post while on a tour of Turkey two years ago, but last month, I went back to Kas while on a four-day Mediterranean coast Blue Cruise. Exploring streets, I had fond memories of was delightful. Additionally, out of all the holiday resorts in Turkey, I received the least hassle in Kas. Often holidaymakers in Turkey complain that Turkish shop owners, bars, and restaurants, hassle them.
However, as I re-traced my footsteps, I wandered into a souvenir shop and browsed through at my leisure without hassle or pressure from the salesperson. It was beautiful to experience hassle-free shopping. My stay was brief since my hotel was the gulet boat we were staying on. However, I spent the rest of my time at the harbour. Watching the anglers, laughing at ducks, observing the scuba diving crews prepping up their gear and admiring the original view that so impressed me; and promoted that typical Mediterranean coast feel.
6: Also About Turkey
Kas belongs to Turkey's Antalya region. The gorgeous coastline of Antalya is a uniform collection of small Turkish holiday resorts and the main Antalya city centre that altogether make up Turkey's second most visited and best holiday destination after Istanbul. Initially founded by the king of Pergamum in 159 BC and famously called Pamphylia in ancient history, Antalya is a favourite of many nationalities of holidaymakers. This article about Antalya talks about the best things to do.
Best Places to Visit in Turkey: Whether you want a unique Turkish experience or beautiful scenery on your trip, Turkey offers much. This article looks at popular places like Ephesus, Istanbul, Bursa, and Izmir. But also suggest offbeat places like Gaziantep, Mardin, and little-known villages that delight everyone who discovers their secret. Kas in Turkey is great, but there are many other places for exciting travel experiences.