Visit the Mediterranean resorts of Kas and Kalkan and it will instantly be obvious that every local travel agent is selling boat trips to the sunken ruins of Kekova. Facing the historical village of Simena (Kalekoy), the sunken ruins receive little attention in mainstream travel guides, yet during the height of summer, I estimate that hundreds of people will daily sail past. As well as the daily boat trips, the area is a primespot for yachts to dock in, as they sail from Fethiye to Olympos on overnight gulet cruises.
About Kekova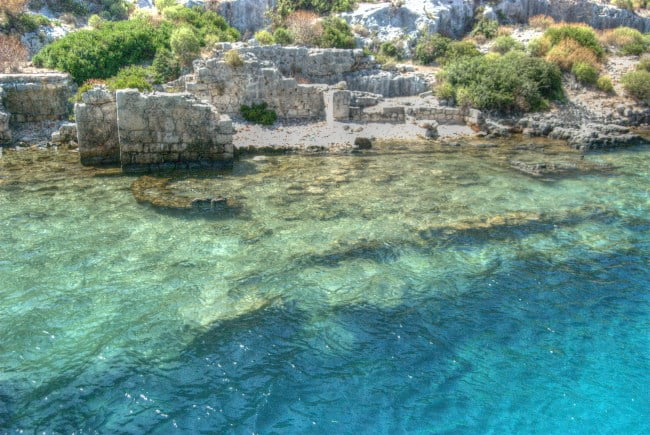 It sites on a stretch of coastline that is famous for the Lycian way trek, a 560 kilometre route that encompasses famous ruins from the Lycian era. Historians say that throughout history, Kekova has been called by many names including Caravola, Dolichiste and Kakava.
Historical records are hard to verify but it seems that Kekova was most prominent in the Lycian and Byzantine eras. Then an earthquake destroyed it and most of the city was submerged under water. Any residents that stayed after this were subjected to the Arab invasions but final desertion did not happen until the 19th century.
In 1990, the Turkish government realised Kekova was a popular swimming and scuba diving spot. Concerns arose about artefacts from the ancient city being sold on the black market and a ban was placed on swimming in all areas that housed the ancient underwater city. Then in 2000, they submitted it to the tentative list for the UNESCO World Heritage site collection. It is still waiting for acceptance.
Getting to Kekova
I have seen the sunken ruins twice. The first was on a seakayking trip but it transpired that this watersport is not one of my strong skills in life so on the second occasion, I was glad to return on a yacht, while doing a four-day cruise from Fethiye to Olympos.
Honestly, when you have seen as many ruins as I have, it is hard to be impressed by Kekova. The fact that it is submerged in water, and you can't walk around the ancient city makes it difficult to imagine its former state before submersion. I could briefly make out walls from buildings that were maybe houses and old stone steps, appeared out of place because they finished in the water.
Go and see Kekova if you are in the area, but personally I preferred sailing ten minutes across the bay to instead, explore the Byzantine castle of Simena and taste the local homemade ice-cream.
[wp_geo_map]