At first glance, Kalkan on the Mediterranean coast of Turkey resembles a carbon copy of its neighbouring town called Kas. Both are seaside holiday resorts that are visited by thousands of holiday makers every year. Both towns have white washed houses covered with bougainvillea flowers that spill down the steep hillside to reach the traditional fishing boats that crowd the coastline. The history of Kalkan and Kas is also the same as both were previously occupied by Greeks until the citizen exchange in 1923.
However from the moment I arrived in the town as a solo traveller, I sensed there was something different and it captured my attention.  It just took me some time to figure out what that was…
Exploring Kalkan on the Med coast of Turkey
Even though I was feeling lonely and a little bit sad, I wanted to discover the reason why I was so intrigued by Kalkan and set off to find it.  I looked around my boutique hotel which was adorned with traditional handicrafts and paintings of Turkey. I also explored the hilly, cobbled streets that put the lungs of a hardened smoker through their paces.
The locals and holiday makers were going about their daily business and totally unaware that I was watching them. "People-watching" is the favored term and I am a great participant in this daily activity as it gives me an insight into the vibes and character of any destination that I choose to spend my time in.
While I was people-watching, I remembered conversations from the past in which friends and locals in other holiday resorts of Turkey told me that Kalkan was full of rich snobs. Well, it is not your typical bucket and spade holiday destination but neither did I feel that it is  a town that only entertains those who sail in on a six foot yacht and with letters after their surname.
The Art House of Kalkan

I was soon to discover what that niggling feeling was. Kalkan is in a bay inlet and the fast, furious wind on that day, gave way to a heavy downpour that forced me take cover in the nearest shop. My eyes were instantly attracted to the white washed walls covered with beautiful artwork.
Paintings of landscapes, people, objects and abstract images surrounded me on all sides of the small room
The paintings were wordless expressions. They were creative and each one demanded attention in their own unique way.
It turned out I had wondered into the Kalkan Culture House and my expression of admiration for the paintings prompted the owner to shut shop and lead me to another gallery with timber balconies and the popular bougainvillea flowers.
The gallery in this old house covered three floors filled to the rafters with art work in all manners and forms.
The owner showed me around and once I had seen the variety of artwork on show, I finally figured out what that niggling feeling was.
The town has a hidden vibe of inspiration.
It felt like a core of energy to tap into which I desperately needed  as I had succumbed to the doldrums of traveling solo in Turkey and needed motivation to get back on track. Seeing the creative work that other people had perfected with their own hands, in a way made me jealous. I could never create a painting that made people go wow, but I do have my own passions in life that I want to be successful at.
Somewhere in Turkey, there are artists that don't know the inspiration that their work gave me. If an artist can put their nerves to the side to display their work to the public, I could damn well complete a measly  500km tour on my own.
I made a promise to myself on that day.  To match that creativity and to pursue my goals and hobbies in life, not to be distracted by normal everyday conflicts in my own head.
I got over the disappointment that the only people in my photos are strangers. No friends, no family and not even myself. The plus side was that the 2500 photos that I captured on the tour helps me to improve my hobby of photography.
I got over the stares and whispers because I was  sitting  in a restaurant on my own. The plus side was that conversations were started more easily than if I had been traveling with someone else. I meet some wonderful people during that month that were a pleasure to be around.
I got over the fact that I missed the night-life of a majority of destinations because I was too scared to go out on my own. Inside I would sit in the hotel bar. The plus side was that the hotel staff would tell me their local knowledge and give me tips that never appear in any guide book.
There is never going to be a situation in life that is all roses.  Negative thoughts will always rear their ugly head and it is how I deal with it, that makes a difference.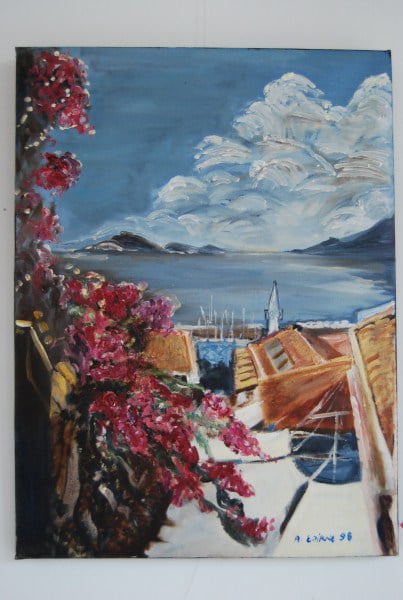 Upon leaving Kalkan to head to Patara, I reflected on the time I spent there. I cannot knock the town for its posh restaurants and upmarket clientele.  As one restaurant owner put it, we get a more selective kind of holiday maker here. He  just speaks the truth.
Property prices are not cheap for anyone looking for a second home in Turkey and this keeps Kalkan small and elite. Considering this fact, it makes it the ideal place for the galleries as the price of the artwork is not something I could hand over in the blink of an eye.
I did not take away with me a creative piece of art however I did take  a renewed strength of energy and inspiration that put me back on track.
Have you ever been to a destination that renewed your energy for life?
[wp_geo_map]
Save