Repeatedly called the bridge between East and West, I often say Turkey is the most beautiful place in the world. However, I admit to being biased because I don't travel anywhere else. To find someone, who has also travelled extensively throughout Turkey is a conversation delight and Tayce from Bridge of The World Travel was more than happy to collaborate on a post highlighting places to visit in Turkey.
Now living in the Cappadocia region, Australian Tayce first came to the country for ANZAC Day in 2010. After a 10 day tour around the country, she returned to Sydney and in 4 weeks, had sold her car, shoes, dresses, pots and pans and headed back to Turkey for a 2 week training program as a tour guide.
After working for 5 months on the road, showing young groups of Aussies and Kiwis, the prized tourist attractions of Turkey, she met her future Turkish husband in Goreme. Four years later, she now has a 1.5 year old son, a home and runs a travel agency in Cappadocia, which mainly sells self-guided tours of Turkey. Together, we present our list of the most attractive destinations of this country.
14 Places to Visit in Turkey
Tranquil Uzungol
Sitting in the Northeast Black sea region, Uzungol is relatively unknown to Westerners but is popular with Arabic tourists. Traditionally, locals collect wood from the nearby forests to build their hotels and houses, situated around the large and peaceful lake.
Icecream and Castles at Simena
Simena (Kalekoy) is a popular village on Mediterranean cruises. Well known for its homemade icecream flavours, another reason to visit is the view of Kekova Bay from the Byzantine castle.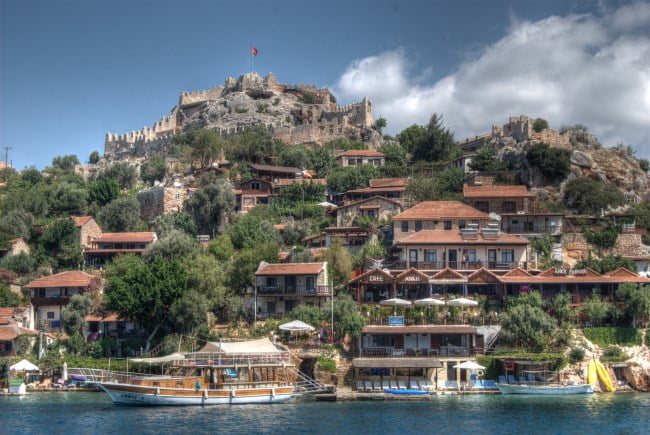 Colourful Cappadocia
Cave churches, dipping valleys and weird rock formations form the surreal landscape of Cappadocia. Notoriously featured in the film Ghost Rider, its importance also stems from its history as a hub for early Christianity.
Pool of Abraham
Also known as Balikli Gol, the beauty of the Pool of Abraham is not its size or visual appearance but as the destination where Nimrod supposedly threw Abraham into the fire. Situated in the city of Sanliurfa, a 2-day stay is a perfect insight into conservative Turkey.
Rustic Vibes at Butterfly Valley
This rustic destination on the Mediterranean coast is favourably reached by boat. The short beach is backed by a green valley that in late summer becomes the breeding ground for butterflies.
Historical Places : Celsus Library at Ephesus
The ruins of Ephesus showcase the second-largest city of the Roman Empire including a large Hellenistic theatre and also terraced houses with intact, ancient frescoes. One much admired building though is the Celsus library that was the third largest of the ancient world holding 12,000 scrolls and also the sarcophagus of the Roman senator Tiberius Julius Celsus Polemaeanus
Inozu Vadesi in Beypazari
Varied bird species including the majestic hawk and bald eagle have turned Inozu Valley into a bird-watching haven and government protected area. Located one hour from the capital Ankara, the nearby town of Beypazari was built by architects from Ottoman Safranbolu hence the similar appearance in architecture.
The Seaside Village of Kas
Remaining true to its fishing village roots, the seaside village of Kas promotes a slow-paced lifestyle. Cobbled streets are filled with white washed houses, lined with wooden shutters and immense amounts of pink bougainvillea.
Olu Deniz Beach
Olu Deniz has sold its heritage to accommodate the mass amounts of British tourists that frequent the area but its beach remains perfectly stunning. White sand, fronted with a crystal blue sea eventually leads way to the famous Blue Lagoon.
Savsat Sahara National Park
Savsat National park in the East of Turkey surprises everyone with its strikingly green valleys. Home to Turkish yayla houses, it is off the beaten track, therefore receives little promotion or tourism.
Beaches and Ancient Ruins at Phaselis
Devastated by pirate attacks and the Persian invasions in 540 BC, the ancient ruins of Phaselis sit between two sandy beaches, that both feature the majestic Taurus Mountains in the background.
Mesopotamian Mardin
The old town of Mardin is waiting to join the UNESCO World Heritage collection. From the rooftop terrace houses, visitors find themselves in front of a picturesque, landscape view of the edge of ancient Mesopotamia.
Perfect Pamukklale
Famous as a spa centre during Roman times, the UNESCO World Heritage site of Pamukkale, and the nearby ancient ruins of Hierapolis, became the most visited tourism destination of Turkey in 2014.
Istanbul Places : The Hagia Sophia
The nostalgic city, steeped in Ottoman and Byzantine history is now a top destination in the world for city breaks but we wanted to be more specific, therefore chose the old church and former mosque of Hagia Sophia. Christian frescoes combined with Islamic calligraphy and some of the most renowned architecture in history makes it a top visited attraction in Istanbul.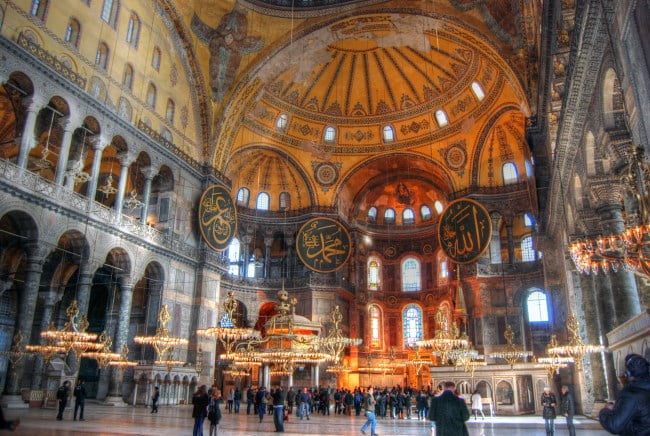 Save