When choosing the best places to visit in Turkey, get ready for an avalanche of choices. Repeatedly called the bridge between East and West, I often say the country of Turkey is the world's most beautiful place. However, I admit to being biased because I do not travel anywhere else. Turkey's ability to amaze is unlimited, though. The proof is in visitor stats that make Turkey one of the world's most popular touristic destinations.
Whether you want a unique experience or to explore beautiful scenery, Turkey is the best at tourism attractions. In this article, we look at popular places like Ephesus, Istanbul, Bursa, and Izmir. But also suggest off beat places like Gaziantep, Mardin, and little-known villages that delight everyone who discovers their secret. So, let us look at where to go in Turkey.
23 Places to Visit in Turkey
1: Breath-taking Uzungol
In Turkey's Northeast Black Sea region, Uzungol is relatively unknown to Westerners but is popular with Arabic tourists, who can't help but be amazed. Traditionally, village locals collect wood from nearby forests to build hotels and houses around the large and peaceful lake. Visit during winter, and landscapes change to a blanket of white snow. Sitting in Turkey's Kackar mountain range, the lakeside mosque is the focal point of any good photo.
2: Sumela Monastery in North East Turkey
Clinging to a mountain edge, reaching Sumela monastery is not easy, but it is worth going to this open-air museum to see how monks lived here. Also, in Turkey's Black Sea region, book your tourist hotel in nearby Trabzon and go on a day trip to see the church carving, monks' kitchens, and monastery bedrooms. A stone path leads into the main quarters built into the mountainside, and they are nothing short of incredible. On your way down, do stop by a traditional restaurant to taste traditional Black Sea food.
3: Visit Charming Simena Village
You will not find luxury in quiet Simena (Kalekoy), but this famous Mediterranean village of Turkey is well known for homemade ice cream flavours. Another reason to visit is views of Kekova Bay from the ancient Byzantine castle. This destination in Turkey stands out for people sailing the Turkish riviera. So, while there, take a slight detour via boat to see the nearby Kekova Island sunken ruins. More about Simena tourist attraction.
4: Attractions in Colourful Cappadocia
Ancient Greek Cave churches, dipping valleys and weird rock formations form Cappadocia's surreal landscape. As one of Turkey's best destinations and notoriously featured in the film Ghost Rider, its importance stems from its history as a hub for early Christianity. In addition, the best attraction is an early morning hot air balloon trip over the fairy chimneys. Many visitors to Turkey often twin a visit with Cappadocia to historical Ephesus. A must-see in Cappadocia is Goreme Open-air Museum and the biblical carving, and during winter, the landscape full of snow.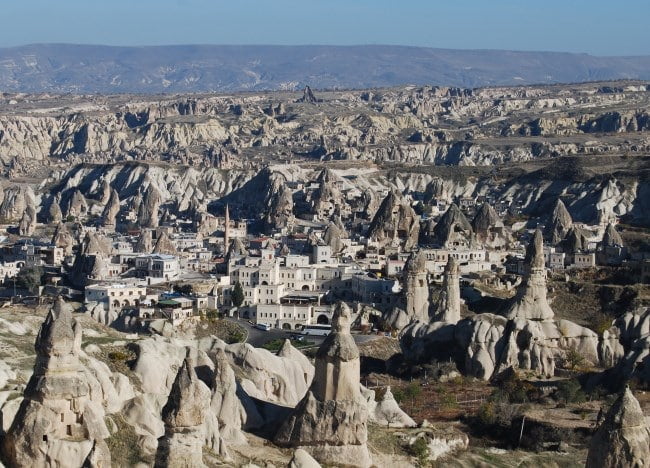 5: Admire the Pool of Abraham
Also known as Balikli Gol, the beauty of the Pool of Abraham is not its size or visual appearance but the destination in Turkey where Nimrod supposedly threw Abraham into the fire. Situated in old Sanliurfa city, a 2-day stay is a perfect insight into conservative Turkey. After visiting the site, walk a few streets to see the nearby city castle, mosque, and cave of Abraham. More about why you should put Sanliurfa city on your list during a visit to Turkey.
6: Butterfly Valley Beach in Mediterranean Turkey
This beautiful place in Turkey was unheard of a while ago, but the secret is now out. Reach this rustic destination in the Mediterranean Mugla region by taxi boat from popular Oludeniz. The short beach, backed by a green valley between a mountain range, becomes a breeding ground for butterflies in late summer. Walk the valley to reach hidden waterfalls or soak up beachfront bar vibes.
7: Historical Places: Celsius Library at Ephesus
The ruins of Ephesus in Aegean Turkey, highlight the Roman Empire's second-largest city, including a sizeable Hellenistic theatre, temple, and ancient terraced houses with intact, ancient frescoes. One much-admired building of Ephesus city is the Celsius library, the ancient world's third-largest, holding 12,000 scrolls and the ancient sarcophagus of Roman senator Tiberius Julius Celsus Polemaeanus. Without a doubt, Ephesus city is the best place to understand the Greek history of Turkey. Interesting fact – Had Ephesus city survived, it would have rivalled the importance of Rome.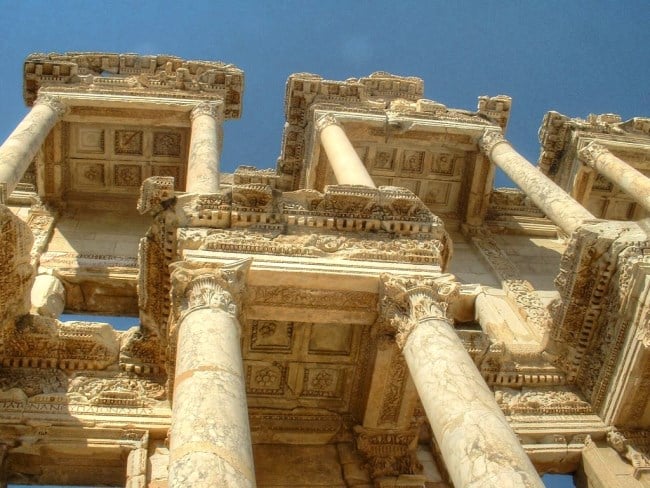 8: Roman Terrace Houses of Ephesus
To see the museum houses of Ephesus city, you must pay an extra entrance fee, but it is worth it. Years of excavations have revealed historical mosaics and everyday household items that portray how wealthy citizens of Ephesus city used to live. The museum site is covered and open year-round. You walk specific pathways over the houses but keep an eye out for the amazing view over Marble Street. Did you know Ephesus city was also home to the temple of Artemis, one of the Seven Wonders of the Ancient World? Read this list about Ephesus city in Turkey.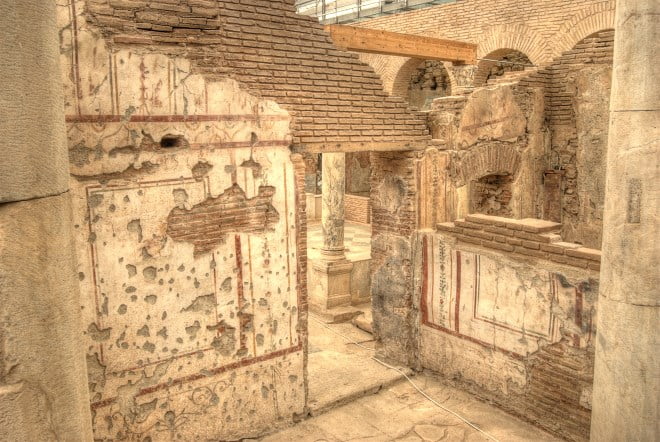 9: Visit the Virgin Mary House
Many people visit Ephesus and then leave, but head into the Selcuk hill to see the Virgin Mary House. Many people worldwide believe the house to be where she ascended, so it is now a fully practising place of Worship and pilgrimage run by the Catholic Church. Mary was said to have spent time in Ephesus, with Saint John and Saint Paul, hence the close location. Interesting fact – Did you also know Ephesus was one of the seven churches of Revelation?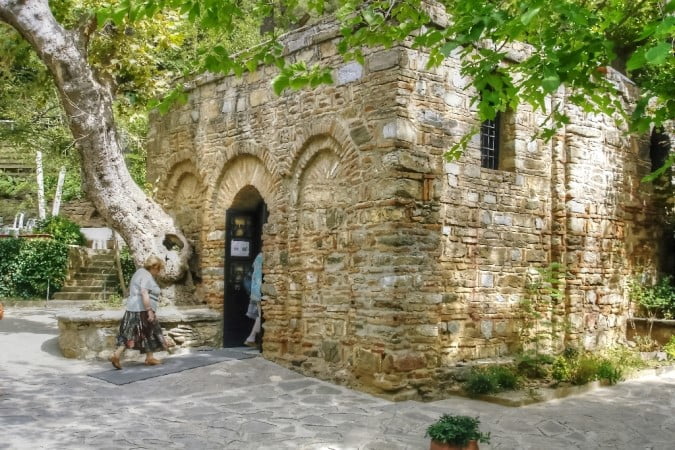 10: Enjoy Inozu Vadesi in Beypazari
Varied bird species, including the majestic hawk and bald eagle, have turned Inozu Valley into a unique bird-watching haven and government-protected area. Located one hour from Turkey's capital Ankara, the nearby Beypazari town was built by architects from Ottoman Safranbolu hence a similar appearance in Turkish architecture. Make sure you book into an authentic Ottoman hotel for the ultimate experience. Read about why Beypazari is the best place to go for a nature break in Turkey.
11: Attractions in the Seaside Village of Kas
Remaining faithful to old fishing village roots, the popular seaside town of Kas in Mediterranean Turkey promotes a slow-paced lifestyle. Cobbled streets are filled with whitewashed houses lined with wooden shutters and immense amounts of pink bougainvillaea. Also, walk the main street uphill to see the famous Lycian sarcophagus. Do keep an eye out for amazing sunset views in Kas.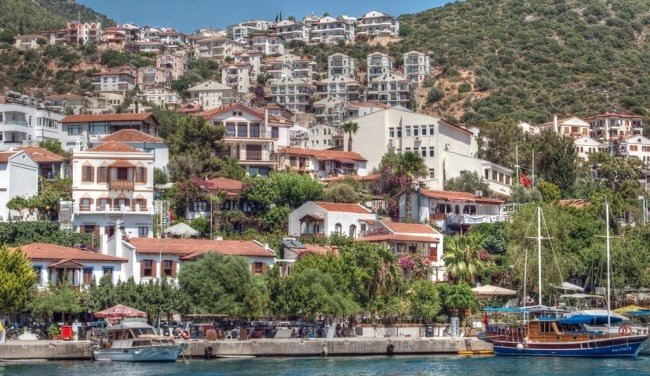 12: Visit Picturesque Olu Deniz Beach
Popular Olu Deniz in Turkey's Mugla region has sold its heritage to accommodate mass amounts of British tourists who frequent the area, but its amazing beach remains perfectly stunning. White sand, fronted with a crystal blue sea, eventually leads to Turkey's most famous beach, the Blue Lagoon. Here you can rent a pedalo or lay back and enjoy sunshine rays. Reaching Oludeniz is accessible from many other popular places in Fethiye.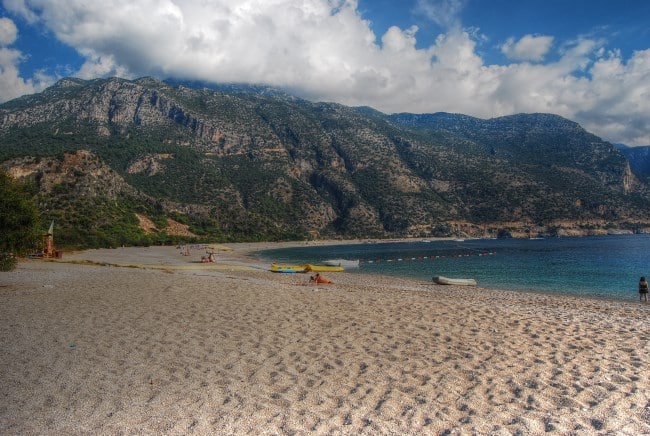 13: Explore Savsat Sahara National Park
Savsat National Park in East Turkey surprises everyone with its natural green valleys and beautiful landscapes. However, this site is home to Turkish yayla houses and off the beaten track, receiving little promotion or tourism. Hence, this destination in Turkey has few hotels, but most Turkish people drive through the park on a day trip. Without a doubt, Savsat is a great place to visit in Turkey.
14: Beaches and Ancient Ruins at Phaselis
Devastated by past pirate attacks and the Persian invasions in 540 BC, Phaselis ancient ruins sit between sandy and beautiful beaches that feature the majestic Taurus Mountains of southern Turkey in the background. Old Phaselis sits within a protected park of the Antalya region in Turkey. There is an entrance fee, but the cost pays for itself. The best ruins include the ancient water aqueduct. Phaselis is a perfect day trip from many places in Antalya, and Summer is the best time to visit.
15: Places in Spectacular Mesopotamian Mardin
Mardin old town in southeast Turkey is waiting to join the UNESCO World Heritage collection. From the old rooftop terrace houses, visitors find themselves in front of a beautiful landscape view of the ancient Mesopotamia plains. Another place to visit within an hours drive is Midyat that also displays old Ottoman architecture. When visiting Mardin, you will discover a different cultural identity from the rest of Turkey. One of the best places to see the Ulu Cami Grand Mosque.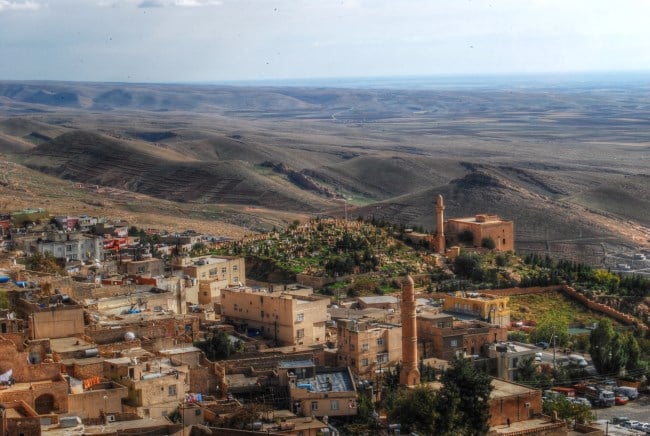 16: Baklava in Gaziantep City
After Mardin, fantastic Gaziantep city should be on your list. The old city part of Gaziantep is where to explore. See Tarihi Yenihan, Gaziantep city war museum, old mosque, the Coppersmith bazaar, Gaziantep Mevlevi Museum, and of course, the castle with its fantastic sight over the city. However, a must-do is to head to a traditional restaurant to taste baklava. Turks say the best recipe in Turkey originally came from Gaziantep city. Handy tip – Many people combine Mardin, Gaziantep city and Sanliurfa city over a week's trip, and the best way to get there is a connecting flight from Istanbul.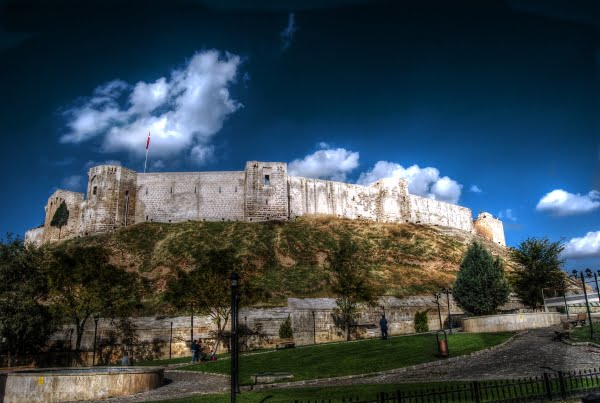 17: Adventure at Beautiful Pamukkale
Famous as a spa centre during Roman times, the UNESCO World Heritage Site of Aegean Pamukkale, and nearby Hierapolis ancient city ruins, became Turkey's most visited tourism destination in 2014. Swim in Cleopatra's pool water, paddle in terraced pools, explore the preserved ancient city ruins and don't miss the on-site museum. After visiting Pamukkale in the Denizli region of Turkey, many tours head to Kusadasi to spend the night before visiting Ephesus the next day. Pamukkale is one of Turkey's most popular attractions. The best time to visit is during summer.
18: Istanbul Places: The Hagia Sophia
Once the capital of Turkey, old, nostalgic Istanbul city steeped in Ottoman and Byzantine vibes is now a top travel destination in the world for city breaks. Within it, a must-see is an old church and former museum of Hagia Sophia. Ancient Christian frescoes combined with Islamic calligraphy and renowned architecture make this landmark building a top visited attraction in Istanbul. Also, see the nearby Blue Mosque, one of the best landmark buildings to visit in Turkey.
19: The Ottoman Dolmabahce Palace
Many people in Istanbul city visit Topkapi Palace, the former Ottoman Empire's ruling centre. Yet, in my opinion, Dolmabahce palace is better. As their command centre, when the empire disbanded, the palace screams of luxury and shows the Ottoman sultans' fantastic lifestyle. Sitting in Istanbul's Besiktas district, also sign up for a guided harem tour.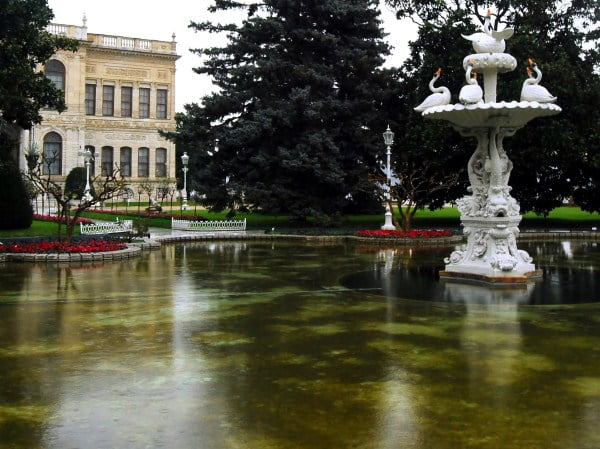 20: Visit The Basilica Cistern
Put Basilica on your list to visit. This is an Istanbul city museum with a quirky ambience because it is underground. The cistern supplied the palace with water but was forgotten and lay in disrepair before being rediscovered in the 16th century. On a visit, wooden platforms lead through the cistern, to the back, where the famous Medusa heads sit. This site is nearby the Hagia Sophia of Istanbul city.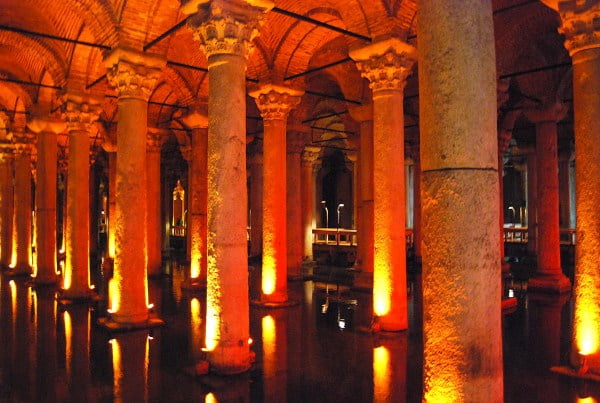 21: Galata Bridge and Tower in Istanbul
After visiting Istanbul's Grand Bazaar, head into the Eminonu district and take a stroll across Galata bridge, or visit a restaurant underneath to sample fresh fish. The place to end, though, is the great Galata tower of Istanbul. If you have a head for heights, the top viewing platform displays Istanbul in all its glory. Additionally, at night, Galata tower restaurant sells tickets for a Turkish night show, a common theme that tourists in Istanbul like. (List of places in Istanbul to visit all year round.)
22: Historical Sites of Bursa
Sitting in North-west Turkey, Bursa is a popular year-round city to visit to see UNESCO landmarks, the local bazaar and go skiing at the great Mount Uludag. Bursa city was the Ottoman Empire's former capital before they conquered Istanbul, hence the historical importance of old Ottoman buildings. Bursa city is also famous for its local dish, Iskender kebab. Aside from being a tourist attraction, Bursa is the most popular place for middle-eastern nationalities because they like similarities in food, culture, and traditions. Bursa can be visited on a day trip from Istanbul.
23: Be a Tourist in Izmir City
Great Izmir is Turkey's third-largest city and a year-round destination if you want an alternative to Istanbul. The old city part, Konak point, is where to start your tour of attractions. Take in the clock tower, Konak mosque, Agora, and Kemeralti bazaar. Also, head uphill to Kadifikale tourist attraction for a fantastic sight over the Peninsula. If time allows, take a day trip to Alacati town on the outskirts of Izmir. This resort is famous for its old stone cottages and being the top windsurfing spot in Turkey. Do stop by a traditional restaurant to taste the regional cuisine.
More About Turkey
To discover more about the best places to visit in Turkey, browse through the rest of the blog. Articles highlight the best of places, including Istanbul, Bursa, Izmir, Gaziantep, and Ephesus. I also recommend lesser-known destinations to put on your bucket list and the culture, traditions, and food of Turkey.
Save