When learning general information about Turkey, get ready because this beautiful country surprises everyone with ancient traditions, friendly Turkish culture, historical sites, delicious foods, and stunning landscapes. Sitting between East and west every day, I consider myself lucky to lead this lifestyle in an incredibly diverse and exciting country. I have travelled around many destinations and seen places that portray the world's diversity and why Turkey is unique.
General Information About Turkey
Interesting Facts About Turkey
Tulips originated from Turkey and not Holland. With the Ottoman sultan's approval, traders took them to Holland in the 16th Century. To see evidence of this, look at Islamic art made before then. Some original Turkish carpets also feature tulips in their regional patterns that portray folklore traditions.
St Nicolas, otherwise known as Santa Claus, originated from Turkey. When he was around, Turkey's Southern Coast was under Greek rule. Out of all facts about Turkey, this surprises the most.
England's patron Saint, St George, originated from Turkey. He was born in Cappadocia and later lived in Palestine. He was a Roman soldier however objected to the Romans persecution of Christians.
Some historians say Noah's ark landed on Mount Ararat in Turkey. Many archaeologists and scientists make their way to this mountain to discover remains.
Istanbul, Turkey's biggest city, sits on two continents. 3% is in Europe, and the rest in Asia. The 20-mile-long Bosporus divides the two parts.
The oldest church, called St Peters, is in Antakya. Today the church is a museum; however, it still holds services with special permission.
Turkey is a self-sufficient country. If trade with other countries ceased, citizens would have access to all food, fuel, and energy.
In the late 1950s, a nun dreamt about the Virgin Mary's last resting place. She directed archaeologists to a house in the Selcuk mountains. Archaeologists discovered a house just like the nun said they would. The late pope visited and verified the house as the Virgin Mary's last resting place. Today monks and nuns hold Christian services at this well-known tourist attraction and place of worship. While there, drink water from the wishing well, and light a candle in the church.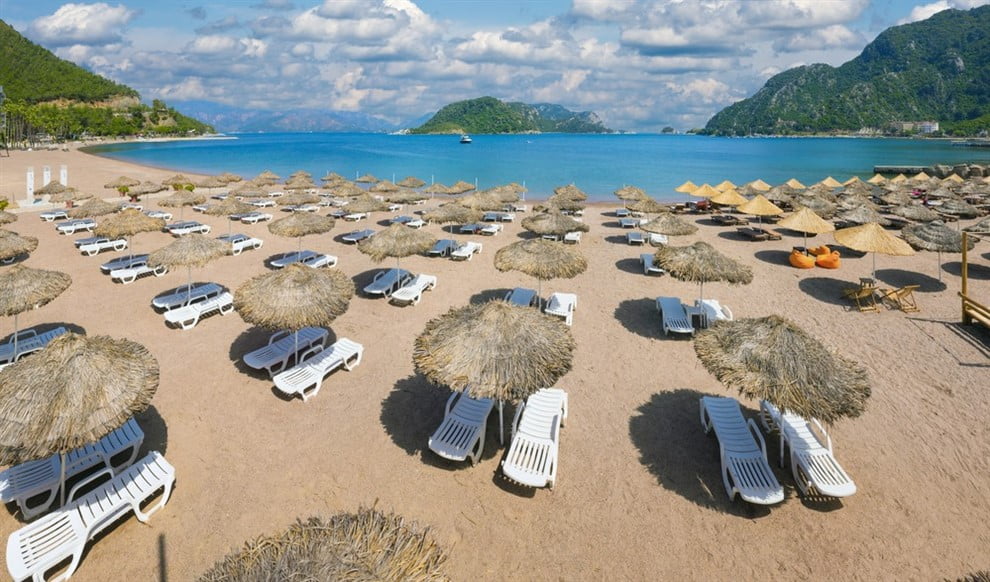 Is Turkey a Safe Country?
To my surprise, despite Turkey's record as a top ten-holiday destination, some foreigners are unsure about whether to visit. I met a gentleman in Turkey for the first time, and he was surprised at holidaymakers lying on beaches, drinking beer in beachside bars and youngsters who walked around freely wearing  clothing trends and flashing mobile phones.
Before visiting, he assumed Turkey was much like war-torn Syria and unsafe for foreigners to visit. This is incorrect. Annually 50 million tourists visit Turkey, and many foreign expats live here permanently. Regarding terrorism, firstly, no matter where you live, you are more likely to drown than be a victim of terrorism.
Secondly, Turkish authorities take terrorism seriously and actively crackdown on any cells planning an attack. Regarding crime, I have never experienced it. I live in an Aegean beachside coastal resort, and naturally, in larger towns, crime increases with larger populations. So, do what you would do at home, and do not accept drinks from strangers, only use licensed taxis, inform someone where you go, and be careful after dark. Finally, even though crime is relatively low in Turkey, do not make yourself a victim of opportunity crime.
What is the Lifestyle in Turkey?
Overall, foreigners enjoy friendly welcomes with Turks embracing strangers with warmth. Considering the Turkish lifestyle, several different cultures and lifestyles depend on Turks' income, and where they live. City Turks have fast-paced lifestyles centred around urban living, while in the Asian North, locals typically farm the land. Additionally, over the last twenty years, the younger generation has openly embraced western trends and lifestyles more than they did before. Thanks to current exchange rates, foreign investors from Europe who live in Turkey have a good lifestyle. To truly understand the lifestyle in Turkey, visit for yourself.
What is Turkey's Main Religion?
99% of the Turkish population identify as Sunni Muslim; however, remember three crucial factors. Firstly, Turkey is a secular country hence politics and religion are separate. Secondly, not every Turkish person is a practising Muslim. I have seen many Turks drink alcohol and occasionally eat pork. The call to prayer sounds five times a day, and most Turks do not attend every prayer session because they work. The holy day is Friday, so most try to attend then. Thirdly, as you travel around Turkey, you will notice that some areas are more conservative than others. For example, Konya and Kayseri are conventional places, whereas Aegean Izmir is western.
About Turkish National History
Turkey's colourful history shows evidence of early civilisations everywhere. Empires that ruled for centuries include but are not exclusive to the Lycians, Romans, Greeks, and Selcuk Dynasty. All over Turkey but specifically on the Asia, South West coast are historical sites relating to these periods. One prominent empire to rule was the Ottomans, who ruled for approximately 900 years; however, by 1918, the Ottoman sultans sided with losing countries of the First World War and Allies shared their lands. This prompted the Turkish war of independence led by Mustafa Kemal Ataturk. In 1923, the newly formed Turkish government declared independence and formed the Republic of Turkey. Immediately, Mustafa Kemal Ataturk changed the capital, formerly Istanbul, to Ankara in the centre of Turkey. (More information about Turkey's history.)
About Turkish Culture, Lifestyle and Traditions
Some foreigners who have not visited Turkey before assume the country is third-world. But prominent places like Istanbul, Izmir and Ankara thrive for local and international businesses and European and Middle Eastern tourism. Turkish history also draws influences from Ottoman, Greek and western lifestyles. The Asia, Western and Southern coasts of Turkey and the Istanbul peninsula are mostly known for western trends, while the East features influences from Kurdish lifestyles. Towns in North Turkey boast natural beauty and green hills thanks to copious rainfall. Turkish lifestyle welcomes strangers. Emphasis is on family and friends, and striking up conversations or making friends with Turkish people is easy, no matter which destination you visit. (More information about Turkish lifestyles.)
Information About the Geography of Turkey
Turkey covers 72,454 square kilometres and comprises 81 provinces in Asia and Europe. Four seas border Turkey; the Marmara, Black, Aegean, and Mediterranean. Seven thousand two hundred kilometres of coastline features gorgeous beaches. Countries bordering Turkey include Armenia, Azerbaijan, Bulgaria, Georgia, Greece, Iran, Iraq 352 km, and Syria. There are seven official regions of Turkey, which are….
About the Aegean Coast: Aegean Turkey stretches from the North down the coastline to the boundaries of Marmaris. Also known as the west coast, attractive small resorts dotted along the coastline were previously fishing villages but transformed into popular tourist destinations. They specialise in independent travel, although travel agents sell cheap holiday packages due to mass tourism.
About the Mediterranean: Covering the southern coast, popular holiday destinations include Fethiye and Antalya. The South, Turkey's most popular beach holiday destination and where many foreign expats live, is Turkey's hottest geographical zone for temperatures.
About the Marmara region: Covering northwest Turkey, Marmara is home to Istanbul, Turkey's most prominent metropolis. Additionally, in recent years Bursa and Yalova increased their popularity with independent and middle eastern travellers.
About the Black Sea: Covering the mountainous north coast, prominent places include Rize and Trabzon, and thanks to the significant rainfall, the black sea features beautiful green landscapes and mountain ranges like the Kackar.
About Central Anatolia: Sitting in the heart of Turkey, prominent destinations in central Anatolia are the capital Ankara, Cappadocia and cities of Kayseri and Konya, both conservative hubs and major business destinations.
About Southeast Anatolia: Covering southeast areas, prominent places within south-east Turkey include Mardin, Gaziantep, and Sanliurfa. This conservative region does little tourism simply because the more traditional lifestyle doesn't feature beaches and night-time bars; however, do visit to explore Turkey's different cultural side.
About the East: Bordered by Georgia, Iraq, Iran, Azerbaijan and Armenia, prominent places include Van, known for its delicious Turkish breakfast and home to Turkey's largest lake. Once again, few people head east, but the area gives a great insight into Turkey, off the beaten track. More general information about Turkey and other destinations.
Save
Save