Everyone who visits this country should see the Lycian rock tombs in Turkey. They are a reminder of the past, and a previous civilization but more important, they will astonish you, even if you have no interest in history. Citizens of Lycia, a previous empire that occupied the Mediterranean coast of Turkey, carved tombs into the sides of hilltops and mountains. They were a resting place for prominent members of society, who were buried with their most treasured possessions that would accompany them into the afterlife.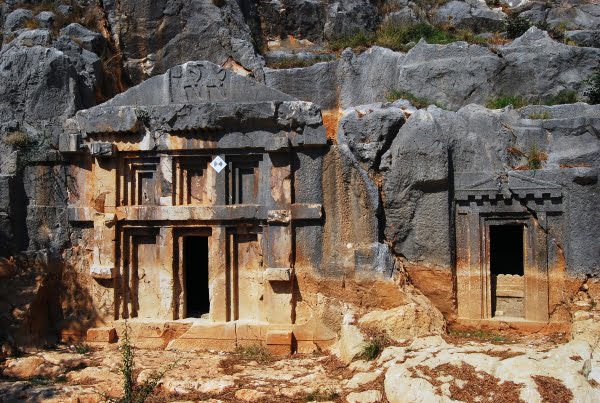 Intricately carved with symbols of Lycian beliefs, the tombs were constructed in high places so the winged creature taking them into the afterlife would have easy access.
Unfortunately, over history, robbers ransacked many tombs and sprayed graffiti on others. Also because of safety reasons; entering inside some of them is forbidden. This still does not distract attention away from their splendid appearance.
Where to see Lycian rock tombs in Turkey
Historians estimate more than 1000 Lycian rock tombs exist today, all along the Mediterranean coast of Turkey! This is where the Lycian empire existed, long before the Ottomans and Romans conquered the area.
The most popular places to see them are….
Demre: Myra
In the region of Demre, the ancient ruins of Myra, sit side-by-side with Lycian rock tombs. If you wear sturdy walking shoes, you can venture close to them and have a better look at the intricate carvings. Demre is also a great base to stay overnight because along with  ruins and tombs, the church of Saint Nicholas aka Santa Claus, is an excellent place to visit.
Xanthos Valley: Tlos
Hardly featuring in any international guidebooks, the rock tombs of Tlos are another chance to get up close and to date, they are my favourite. Overlooking the ancient ruins of the city and Xanthos Valley landscape, they are within a short drive of all major resorts including Olu Deniz, Calis, and Fethiye.
Dalyan: Caunos
No doubt, the most famous rock tombs are six that adorn picture postcards of Dalyan. Overlooking the river, they resemble temples on first appearance, because of the facade carvings. Also known as Caunus or Kaunos, I saw them 12 years ago from a distance but will return because my memories have faded. In addition, I never saw the ruins of the ancient city sitting nearby.
(Picture credit : Peter J Dean)
Fethiye: Amyntas
Overlooking the bustling city of Fethiye, sits a majestic collection of tombs, which are reached by completing a strenuous, uphill walk.  I failed to complete the walk; therefore, I now have a reason to return to the area. The most famous of the tombs is called Amyntas.
(Picture credit : Stevie gill)
Handy Tips
If trekking and history is your passion, research the Lycian way, a 509-kilometre walk covering all Lycian city and tomb remains on the Mediterranean coast. It can be completed in stages, all at once or you can cheat as I did and use transport instead!
Also, look for Lycian sarcophagi. I saw plenty among the ruins of Patara, Olympos and in one of the main streets of Kas! While trying to complete a strenuous sea kayaking trip, I  saw the partly submerged sarcophagus of Simena. They are everywhere!
Save