One of my favourite destinations on my solo tour was Olu Deniz. Located on the south western coast of Turkey, it is a popular holiday destination for many Brits. Flights to Dalaman Airport are frequent during the summer months and the transfer time is roughly just an hour.
Now, I am not going to give you the spiel that Olu Deniz is the perfect introduction to Turkey, because it is not.
It is far from being a typical Turkish town. It is built around tourism and geared up to serve the needs of demanding holiday makers.
Those who are seeking a holiday full of Turkish culture and traditions will have to explore further afield however, Olu Deniz cannot simply be written off just like that.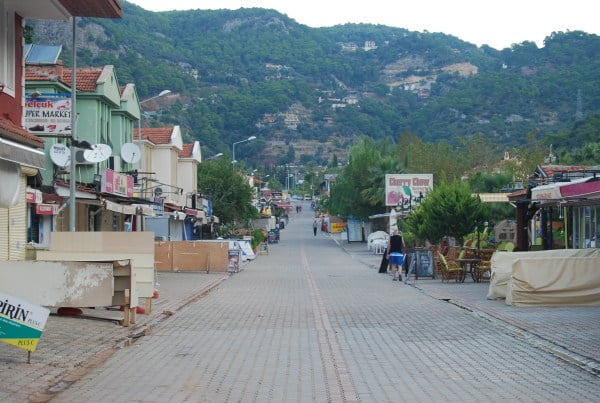 You have to look further than the restaurants selling English breakfasts and the shops who have stolen the names of well-known western brands. Unlike other resorts such as Altinkum, these disappointing aspects are not the main focus of the resort.
The main focus of Olu Deniz is its amazing natural beauty. The famous blue lagoon, a long sandy beach, magnificent green mountains backing the resort and just around the coastline is Butterfly valley.
The Blue Lagoon and Beaches of Olu Deniz
The semi-circle stretch of beach known as the Blue lagoon has appeared in numerous travel publications all over the world. It is what Olu Deniz is known for. I have to admit that when I arrived there, I was disappointed as the sharp blue waters that have appeared in numerous photos now appear to have been photo edited.
The water of the Blue Lagoon was muddy in some parts while a pale green in others. This still does not distract from the fact that it is a great area to spend the day in. I give a word of warning in that it can get crowded. I visited at the end of season and was very surprised to find no space in some areas.  Due to the fact that the blue lagoon was crowded, I found myself further on the beach, which was just as perfect.
A Visit to Butterfly Valley
I have already written extensively about my visit to Butterfly valley here and cannot stress strongly enough, that if you are in Olu Deniz to visit it. You don't need to jump on the daily tour boats, instead catch the local water taxi. Butterfly Valley is quite simply, another world in terms of being rustic, natural and far from the characteristics of mass tourism.
But Olu Deniz is not Traditional Turkey
Ok, Olu Deniz is not traditional Turkey. The whole town is geared up for foreigners on holiday however surely we can forgive that on the account that Olu Deniz is beautiful. It does have a vibe around it of relaxing, stress free days. It does have a certain character that makes you fall instantly in love with it.
I felt comfortable exploring the resort on my own and there was certainly a lot to keep me busy so I ended up staying there for a week. Public transport to the surrounding resorts of Hisaronu and Fethiye is cheap and frequent, however in my opinion they cannot beat Olu Deniz.  There are also plenty of excursions to do that will take you to interesting places such as Uzumlu and Saklikent Gorge.
Take into account everything that I have stated above and it is easy to understand why many people have made Olu Deniz a destination that they return to year after year.  While I am the first to shout about experiencing a traditional Turkish holiday, I give Olu Deniz thumbs up if you are looking for an ideal holiday location in Turkey.
Readers Question : Have you been to Olu Deniz? If so, did you love it as much as I did?
[wp_geo_map]