With a passion for exploring historical sites in Turkey, I always considered myself knowledgeable about most ancient ruins. The Mediterranean coast in particular has plenty, providing Turkey with its most famous walking trail called the Lycian way. Yet, when I discovered an article about the ancient ruins of Tlos, I read it repeatedly because I had never heard of this city.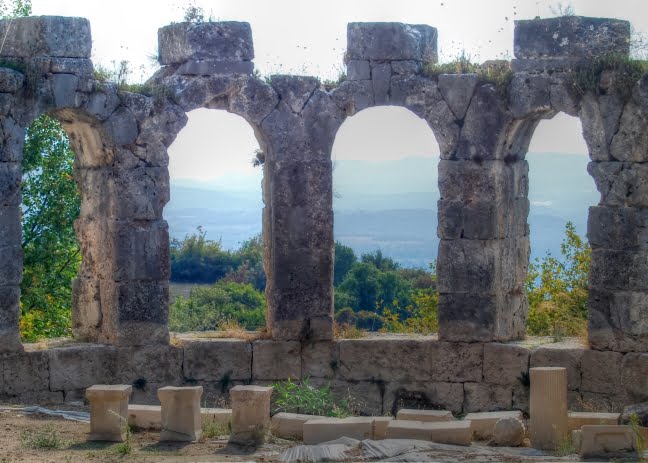 What was its history?
Why did historians say, it did and still holds immense importance, regarding cultural trends throughout the years?
More important, I had to learn where Tlos was and how to get there.
I was told they were in Xanthos valley, and my original plan was to visit, while in the coastal resort of Patara. To travel there, according to Google maps would take an hour. However, I could not find any public transport heading in that direction, the tour excursion shops were all closed, and I was not carrying my driving licence.
Therefore, I made the decision to forget about it, and moved further up the coastline to stay in the resort of Olu Deniz, Turkey. After arriving, I saw an excursion advert that visited many destinations including Tlos so I Immediately bought a ticket.
About Tlos Ruins on the Mediterranean coast of Turkey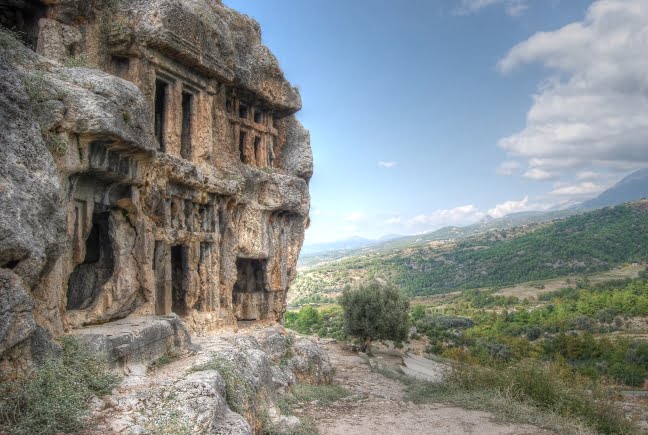 I cannot understand why Tlos is not more frequently mentioned in guidebooks and history articles about Turkey. It is more than just a tourist attraction or bunch of unorganized ruins.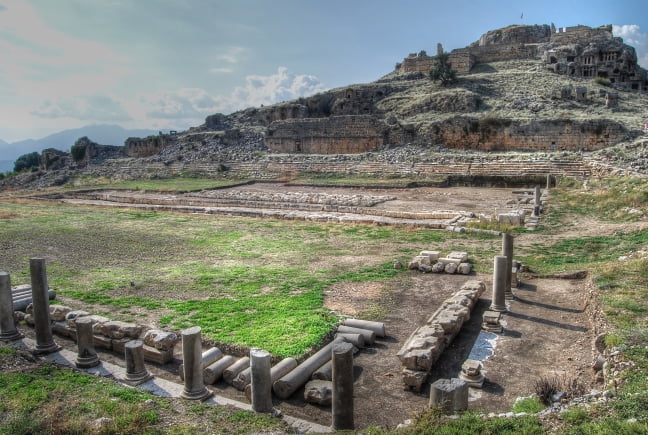 A tour guide or detailed book is needed to fully appreciate the historical importance however even if history is not your passion, the city walls, ampitheatre, public baths and market street all overlooked by the fortress and  Lycian tombs are an astonishing  testament to building and architectural trends throughout thousands of years.
Standing at the top of the hill, I was also rewarded with an amazing landscape view reminding me of the natural beauty of Turkey, away from big cities and urban development.
Resources write that Tlos, was one of the oldest and largest cities of the Lycian era. The Lycians dominated the Mediterranean coast of Turkey from the Bronze Age and in later years, were incorporated into various empires including the Romans.
Most notoriously known for creating the first democratic society, their language and traditions eventually disappeared but historical societies respect them for their art, building trends and fighting skills.
Due to habitation by various cultures, some ruins of Tlos also date from the Roman, Byzantine, and Ottoman Empire, therefore giving more importance to their existence.
The Lycian Tombs of Tlos
A walk around the main city was easy to navigate and a gentle stroll, but the walk to the Lycian tombs and fortress at the top of the hill, was strenuous. It was worth the effort though and while looking inside the ruined tombs, it is impossible to ignore thoughts about previous people throughout history, who have stood in the same spot.
Although now empty and displaying no signs of grandeur, the tombs were the resting place of important people in the Lycian Empire. Laid to rest inside, with their possessions that would go with them into the afterlife, the high position on the hill, made it easier for the winged like creature that would transport them.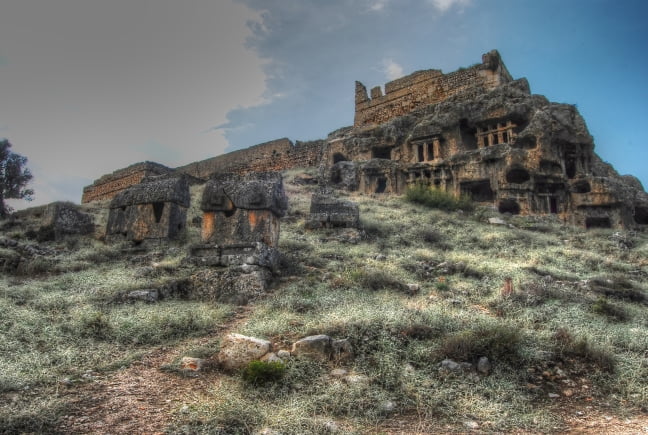 Home of Pegasus: The Winged Horse
On the far side of the city, in a steep cliff inaccessible by humans, is one tomb, said to be that of the Greek Mythology hero, Bellerophon and his immortal winged flying horse Pegasus. The history, mythological connection, Lycian tombs, and incredible landscape views make Tlos, one of my favourite historical sites in Turkey. Definitely visit if you are on the Mediterranean coast.
[wp_geo_map]
Save
Hi. I'm Natalie, a freelance travel blogger and writer specializing in the country of Turkey. I love hot summer days, historical sites and coffee.