Phaselis is backed by magnificent mountains and surrounded by the clear waters of the Mediterranean sea. It is an idyllic setting in which to spend the day relaxing on a beach and soaking up the vibes of a Turkish holiday.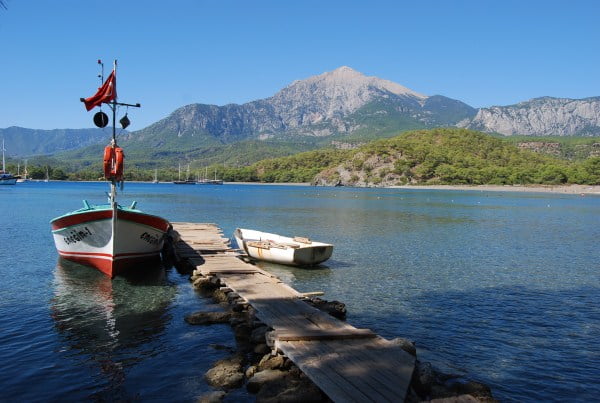 Phaselis Ruins
There is an added bonus though as Phaselis is not just about golden sand beaches. It is also an old sea-port city dating back to the 7th Century BC which was a delight for me as I have never seen an ancient sea port that is still located next to the sea.
I love visiting ruins around Turkey but most of them have been located inland as over hundreds of years, the sea has receded back from the coastline. Phaselis though, has always maintained its rightful place directly next to the sea and the result is glorious ruins to explore and beautiful beaches to relax on.
Start your tour at one beach, explore the ruined houses, baths and shops  and when you reach the other beach, get the swimming costume out and run into the Mediterranean sea.
Considering how old the ruins are,  I really did get a feel for how daily life was, when the city was in its prime.  The long waterway canals, round theatre and ancient agoras were carefully planned and built around the main harbor street that gives way to views of the crystal blue sea and golden beaches.
You certainly don't need a guide to explore the ruins as you are handed information when arriving and at certain points around the ruins, detailed information is given to fill you in on the background of the area of the city that you are exploring.
Phaselis : Additional Information
There is no cafeteria near the ruins or the beaches so remember to take your own refreshments. There is the dodgy dude on the beach who sells refreshments from his boat however he has obviously realized that he has no competition and his prices reflect his desire to achieve millionaire status in the refreshment industry!
The entrance fee is 8 Turkish liras whether you are viewing the ruins or just using the beaches as both are situated within a protected area.
How to Get To Phaselis
It can be reached by using local transport on the Antalya coastal highway. The turning is between the resorts of Cirali and Kemer. Once you are at the turning, you will need to walk for around 1km to reach the entrance.
Alternatively there are many boat trips that dock into the bay for a couple of hours and this is ample time to walk around and lay down on the golden beaches to soak up the Turkish sun.
Readers Question – Have you been to Phaselis? If so, did you enjoy it as much as I did?
[wp_geo_map]