For many decades, the small town of Kalkan was hardly mentioned in mainstream publications. Other Turkish destinations like cosmopolitan Bodrum or historical Istanbul gained admiration instead. That was until the turn of the century, when the small village attracted attention and respect from outside entities.
Why you Should go to Kalkan
Travel companies, magazines, and estate agents selling property in Kalkan, saw the opportunity to promote the town as an upmarket destination. Its central position on the Turkish Riviera and historical importance as a stopping point on the Lycian way, added to the appeal but it was the scenery, wealth of things to do and landscape that provided the most potential.
The small bay, leads steeply up the surrounding hills ensuring most properties have an amazing and unforgettable view of the Mediterranean Sea and coastline. The area was already well known for vibrant orange sunsets but the well planned out urban development of the growing town ensured it kept its traditional and eye-catching ambiance.
According to Julian Walker, Director of Spot Blue, who are a leading property agent in Turkey, the already established hotel and property owners, ensure Kalkan will certainly not be turning into a "party" and "18's only" scene.
It has achieved elite status as a Turkish holiday and expat destination and it will continue to uphold this reputation for many years. That status and holiday activities available, make it an ideal choice for a holiday destination.
Things to Do in Kalkan
A daily boat trip to the sunken city of Kekova and the ancient castle of Simena is one of the most popular activities. Setting off from the traditional village of Ucagiz, strong adventurers can also opt to sea-kayak the route.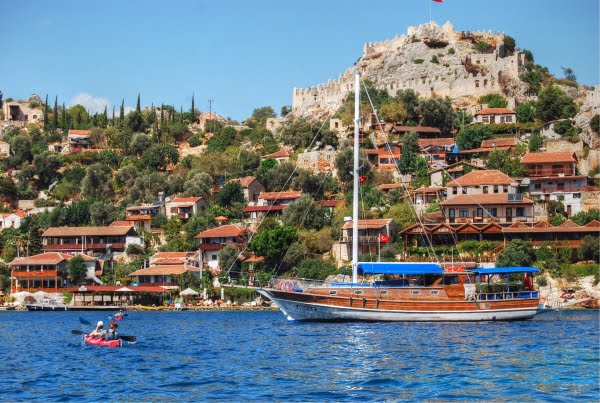 A set tour, travels to the UNESCO ruins of Xanthos, the natural gorge of Saklikent and the long, sandy beach of Patara. If beaches don't impress you,  explore the nearby ancient ruins or rustic village, that was one of the first places in Turkey to embrace tourism.
The bustling region of Fethiye can be reached within a couple of hours on public transport. Ideally two days is needed to explore it properly so consider an overnight stay.
Explore the old town, with its quaint sit down bars and souvenir shops
The Lycian tomb of King Amyntas is high in the hillside overlooking the main town
Within a short bus ride from the centre is the ghost village of Kayakoy. Tour providers in Kalkan also operate excursions that head directly there
One of the most photographed places, is the Blue Lagoon is located nearby in Olu Deniz
Head to Fethiye fish market, pick your own fish and get one of the nearby restaurants cook it
Tlos is the home of ancient ruins dating from numerous empires including the Lycians and Ottomans. Mythological stories say the large rock tomb in the side of a cliff face, that is inaccessible to man, was the home of Pegasus, the winged horse.
Kalkan is also part of the Lycian way, a 516 kilometre route covering the Mediterranean coast and encompassing numerous historical ruins from the Lycian period. You can complete numerous stages using Kalkan as your starting point.
Every day, from the nearby resort of Kas,  a ferry heads to the neighbouring Greek island of Meis. The recommended activity while there, is to visit the amazing and stunningly beautiful Blue Cave.
Sports and Sailing
Since Kalkan is part of the Turkish Riviera, I strongly recommend sailing, whether it is a day cruise or completing a set Blue Voyage route. Boats are available for private hire or alternatively, you can always jump on board a charter cruise.
Scuba diving in this area is big business. Ship wrecks attract the most admiration while beginners prefer to start off in shallow waters. More than 15 sites sit between the coastline of Kalkan and neighbouring Kas, making it a haven for experienced scuba divers.
Alternatively, go jump off a mountain. No seriously, all jokes aside. You don't need to jump, you run instead. In neighbouring Olu Deniz, the popularity of tandem paragliding with a professional means you can see up to 20 paragliders in the sky at a time. They run off Mount Babadag, at approximately 2000 metres, but if this is too high for you, head to Kas instead because they run off a mountain that is only 1000 metres high!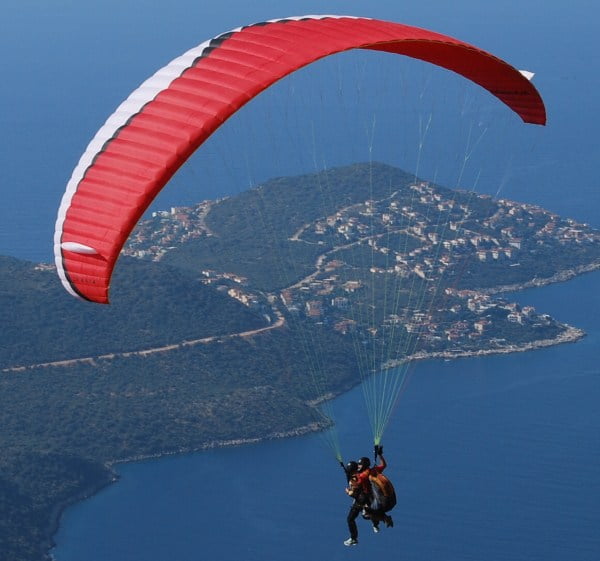 Kaptus Beach is another favoured spot with visiting foreigners and Turks. Reached by public transport, or within half an hour of driving, it sits off the main highway and is backed by a large gorge. It is popular because of the striking blue turquoise waters, however the huge amount of steps leading down to reach it, can put off anyone who is not energetic.
Question for Readers : Do you have any more suggestions of things to do in Kalkan?
[wp_geo_map]
Save