My visit to Simena was brief but one that left me with regret. We had arrived into the harbor, having just explored the sunken, underwater ruins of Kekova.
The first stop was a crowded restaurant for cold refreshments and homemade ice cream, and then we were swiftly on our way returning to Ucagiz.
Also known as, Kaleköy, Simena is a small traditional village and a favorite destination on the yachting scene of Turkey. Daily boat trips from the resorts of Kas and Kalkan, bring in hordes of holiday makers and gullet boats sailing the Turkish Riviera, often choose it as a mooring spot.
Some say, the sea is the only way to reach this rustic destination while others say you can go via land, but the roads and path are too demanding when compared with an easy cruise sail around the coastline.
Simena is its ancient Lycian name, a big difference from the present day name of Kalekoy. Even if you have not heard of it, if you have read in depth about Turkish travel, you will probably have seen photos of the Lycian tombs, protruding out of the water surrounding the coastline.
So why do I feel regret about my visit?
I have an overwhelming feeling that I did not truly get to the heart of Simena.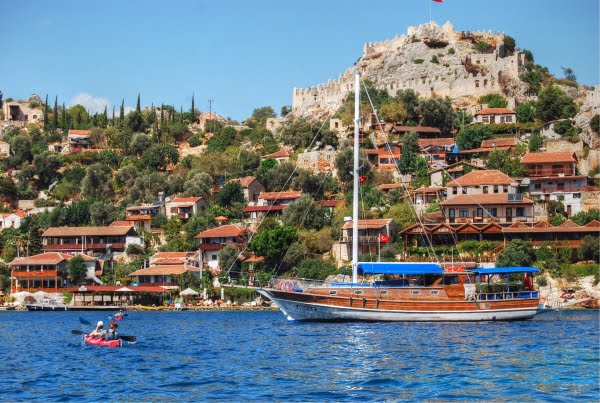 There is more to Simena, aka Kaleköy
Further research on the internet reveals more paths to explore then I originally thought. I have no plans to walk to the castle standing proudly at the top of the hill; however, I want to stay in one of the four tradition pansions.
I want to strike up conversation with the locals. I want to see the old stone houses, which exist only because of traditional Turkish culture. I want to sit on the harbor front and enjoy a fresh fish dinner, while looking out to sea.
It is rather strange that I have this urge to return, as Simena is nothing spectacular. It does not have grand palaces or luxurious facilities. It is a simple place and what you see is what you get  but I know on this occasion I traveled too fast.
Simena was part of my south west coast tour. This whole coastline is a magnificent place that deserves to be admired by all. If you want me to write the truth, I find it more pretty and pleasing to the eye, then the Aegean coast.
It has more hidden surprises and historical attractions. It is easier to get about and there are still more places for me to explore. Even though I spent a month on this coastline, I have to return until I get the feeling that I have seen and done all there is. My first stop when I do return will be Simena.
For further information on this coastline and other regions in Turkey,  see Directline Holidays' Turkey page
Readers Question : Do you like visiting small and rustic places like this?
[wp_geo_map]