For most of the summer I have been feverishly working seven days a week in order to top up my traveling fund which I had previously emptied down to the last penny. I can finally say that with much delight, I have saved up enough money for another trip. Well done me and I am giving myself a pat on the back as it did not take me as long as I thought it would. So tomorrow morning, with my bags packed I am setting off …
So Where Am I Going?
My next destination was to be the Black Sea region however I have delayed this until next year as a friend would like to accompany me on this tour.  So instead, I have planned a rough route of Southwest Turkey.
Touring Southwest Turkey
Those with an in-depth knowledge of Turkey will realise that my route  is  the Lycian  Way walking route which is a 509km trek from Antalya to Fethiye. I won't however, be trekking! I don't have the stamina, strength or enthusiasm to walk and explore that route.
Instead I will be staying in the towns and villages along the route and using local transport to get from one location to the next. I have  made some changes in that I am starting in Kemer and leaving Antalya as a city break for another time. I also plan to extend the route and finish in Dalyan instead of Olu Deniz.
What Are the Things To Do Along This Route?
Once I started planning the trip, I realized that this area is culturally and historically rich and there are so many things to do and places to see. It is  much more exciting than the Aegean Coast of Turkey.  If I wrote on this blog post everything that I plan to do, then I would still be writing next week,  however a few examples are…
Traveling in a cable car up to the top of Mount Tahtali
Sea kayaking over the sunken city of Kekova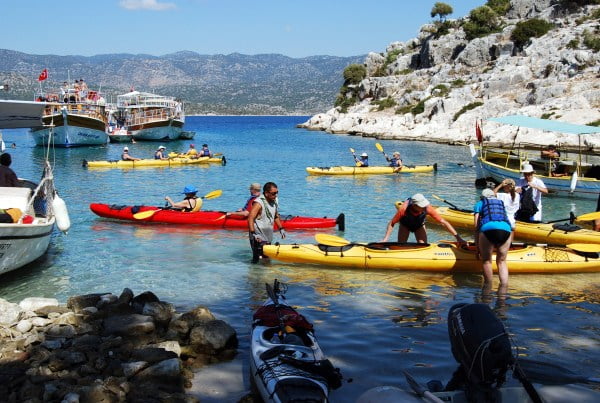 Visit the Church of Saint Nicholas
Hop across to the Greek island of Meis
I also want to visit Butterfly valley and the ghost town of Kayakoy near Fethiye. Last but not least, I want to end up in Dalyan and sail down the Dalyan River to marvel at the Lycian rock tombs and take a mud bath. The last time I was in Dalyan was ten years ago and I have no pictures while my memories are fading fast.
How Much Time Do I Have?
One month to complete the whole route. If I run out of money, then I will be returning early but hopefully I will be able to budget well.
Who am I Going With?
Well, I am actually traveling solo. None of my friends want to come on a month's tour of the South Western Coast. I am nervous but the fact is that if I call off the trip because I am traveling solo, I know this trip will never happen. It is just not other people's idea of a good holiday.
When will I update my blog?
It will be on an "as and when" basis because I have no plan. I don't know how long I will spend in each destination and what I will be doing from one day to the next.  However, I hope that you will be following my posts when I do manage to publish as I am certain this trip will provide some wonderful memories that I would like to share with you.
If you have any tips or suggestions of places to go and things to do in southwest Turkey, then please leave them for me below.
Save
Save