I had been to Simena before. In 2010, while touring the southwest coast. It is a pretty and traditional village screaming of simplicity and I wanted to explore and find out more. Unfortunately, I was with a sea kayaking group of whom no-one wanted to see Simena castle.
Inevitable I had to go with the group census and we left. This is one of the downfalls of guided tours but I reminded myself that since I was in Turkey permanently, I could go back anytime I wanted.
It took four years to get back there. Time seems to have a habit of flying by lately. Ironically, I also never planned the return trip. It was my friend Ali, who runs a sailing company in Fethiye, who suggested I did a 3 night gulet trip from Fethiye to Olympus, and Simena was on the itinerary.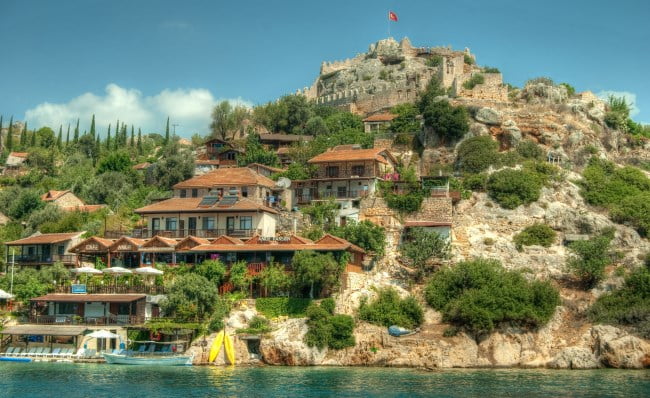 Facing the sunken ruins of Kekova, most visitors normally arrive by boat, although it can be reached on foot from nearby Ucagiz.
Simena is actually the ancient Lycian name for it. In Turkish, it is known as Kalekoy which translates into "Castle Village". Therefore, no-one should be surprised to find out the most dominant aspect of Simena is the Byzantine castle standing on the peak.
Other reasons to visit include Lycian sarcophagi dotted over the hill and submerged in water as well as  Loggerhead turtles swimming in the bay.
Then, there is the ice-cream. Oh, the delicious ice-cream. Made by the local cafes, it is the best I have tasted in Turkey.
Simena Castle
Anyway, my last visit had left me with an urge to see the castle. Our yacht dropped anchor in Simena bay and the captain gave us three hours free time to explore. Luckily the rest of the group wanted to see the castle, so I was in good company and we began the steep walk up a winding, cobbled path, past houses and locals selling home-made souvenirs.
Half way up, I was sweating and out of breath. The muscles in my legs were beginning to hurt but I finally made it and my reward was a stunning panoramic view over the bay.
The rest of the castle was of no interest to me. Artefacts are non-existent and I couldn't establish any specific structure because only the exterior walls stand. That did not matter though.
For the rest of my life, I will remember that view.
It was worth waiting four years to see.
[wp_geo_map]