Souvenir shopping in Turkey can be as cheap or expensive as you want but more importantly great fun because the Turks sell everything and anything. Famous things to buy vary depending on where you go. For example in Cappadocia, pottery from the town of Avanos is popular whereas, at Ephesus, statues of the Virgin Mary are widely sold because of the ancient city's Biblical connection. However, before we start looking at souvenirs to buy country wide, you need to be aware of Fake Souvenirs and Antique Scams.
For a long time, shops throughout Turkey openly sold counterfeit goods. Including watches, handbags, sunglasses and t-shirts, these fake products targeted many well-known western brand names. Most tourists were happy to get virtually the same thing for half the price, and the fake industry of Turkey grew into a multi-millionaire business. Understandably, though, brand names like Gucci and Nike got extremely mad. Hence, lately, Turkey has cracked down on traders selling fake, branded items, so the availability is not the same as in recent years.
However, an example of counterfeit goods that doesn't turn out well for the buyer is Turkish rugs and carpets. Fake Chinese factory-made carpets are passed off as genuine Turkish. The buyer pays full price for something that is not even remotely like the authentic item. If you do want to buy a carpet, do your homework and don't make impulse purchases.
Lastly, in some places, swindlers sell fake antique items as ideal souvenirs to take home. Read my article here about fake coins for sale at the ancient ruins of Ephesus, Saint John's Basilica, and the Temple of Artemis in Selcuk. It is illegal to take any antiques out of Turkey without written permission. It's rarely given so avoid anyone selling antique carpets, coins, or artefacts from excavation digs.
Souvenir Shopping in Turkey : 14 Things to Buy
Turkish Carpet and Rugs
Some people buy Turkish carpets or rugs because they like the patterns and stories of how they are made. Unfortunately, I know many individuals who purchased one because they just couldn't walk away from the salesman. Turkish carpet sellers often work on commission, hence at times, the sales pattern and procedure is hardcore and in your face.
After thirty minutes, the seller says you are his best friend so you get a special price. After 1 hour, he says the carpet is actually on hold for another person, but he likes you better so is prepared to forgo his integrity to sell it.
After 60 minutes, you buy the carpet out of pity because he says he is struggling to feed his six children and pay medical bills of his brother who is in hospital. He openly tells you this while wearing copious amounts of jewellery and using the latest model of mobile phone.
If you do genuinely want one, remember the warnings about fakes and barter over the price. Don't be shy because the carpet man expects this so has already upped the price.
Turkish Delight
Sold everywhere and in many different flavours, Turkish delight is cheap and easy to pack but always check the use by date on them. Most souvenirs shops offer samples and sell special deals such as buy five, get one free. The best Turkish delight in Turkey is said to come from the Black Sea region of Safranbolu. If you are in Istanbul though, make your way to Haci Bekar in the Eminonu district. The family of the man who originally invented Turkish delight for an Ottoman sultan still own the shop, and it is a living museum.
Turkish Tea and Glasses
When tourists first land in Turkey, they have a stock of tea bags from back home. The thought of going without their daily fix of British or American tea, makes them break out in sweats. However, when they leave Turkey, they take home boxes of apple tea. Unfortunately, Turks rarely drink it! Turkish tea is black, highly sweetened and drank from tulip-shaped glasses. Traditional black tea and the many different designs of small tea glasses with spoons and trays included are perfect souvenirs to take home.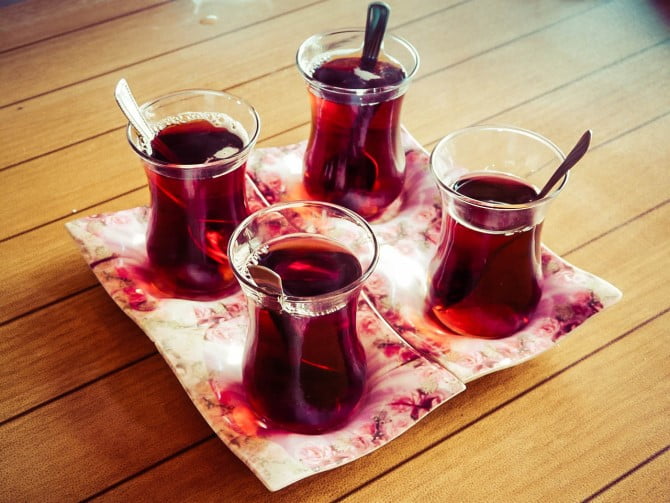 Nargile Pipes
The nargile, also called a Turkish smoking pipe, originated from India and found its way to Turkey during the Ottoman Empire. The unique variety of tobacco flavours including apple, raspberry, and banana make it more of a social smoke than habitual. Make sure the shop wraps it up well to withstand the journey home but otherwise, try smoking one in the nargile cafes instead.
The Blue Evil Eye of Turkey
The most popular and famous souvenir in Turkey is the blue evil eye, also known as Nazar Boncuk. It is also the most authentic item you can buy because Turks use it widely in their homes and offices and give it as a present to a newborn baby. Souvenir shops sell the blue evil eye in many forms including amulets, keyrings, bookmarks, jewellery, ceramic items, and lapel badges.
Gold
Many people think gold is cheaper in Turkey but it is just of a higher carat than gold sold in countries like the UK. Gold is also a big thing in the country because Turks traditionally give it as a gift at weddings. If you are looking for something specific and don't see it, shops tailor make items as well. Gold shops in Turkey are called Kuyumcu, and if you visit the Grand Bazaar in Istanbul, there are plenty of them. Just remember to bargain on the price.
Turkish Mosaic Lamps
Excellently constructed to a high standard and made from glass and brass, hanging Turkish mosaic lamps are eye-catching. They are not ideal for lighting a room but perfect for setting an atmospheric mood. With a variety of colours such as emerald or ruby, prices are expensive but skilled artisans create each one by hand. If you buy one, ask the shop to package it up well so that it withstands pressure in your suitcase.
Ceramic Souvenir Ideas
Turkish ceramics date from the 8th century, when Islamic art was the main reason for producing it, especially in tiles for walls and ceilings of mosques. Since then, modern factory ceramics outpriced the traditional handmade versions, yet places like Iznik and Kutahya still have a historical reputation as the best producers of the delicate art. Coming in the forms of bowls, plates, ashtrays, mini vases, plates and much more, carefully check your authentic Turkish ceramic piece because there is a high possibility, it might have been made in China.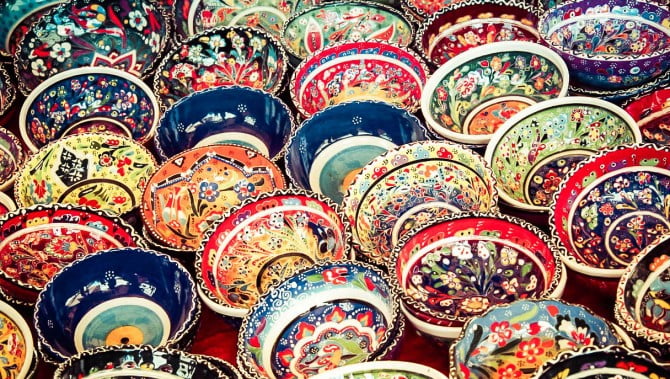 Copper
Copper has been a favourite household item for many centuries in Turkey and in some cities like Gaziantep, the copper bazaar is still in full force, despite the trend of factory made cooking pots and pans. Perhaps the most famous copper souvenir is the Turkish coffee pots and cups. If they are authentically handmade, this is a pricey item to buy but worth it for the quality artisanship.
Turkish Spices
This is personally one of my favourites. Either sold separately or in small decorative boxes, it is something that is easy to pack, and lasts a long time. The spice bazaar of Istanbul is a great place to buy these but be aware of the saffron scam. True Turkish saffron is hard to come by and extremely expensive. The versions sold are actually dried safflower.
Turkish Coffee
This is a strong drink with an acquired taste, so I suggest you try it first to make sure you like it. There is also an exact method using a cezve pot to prepare it, and it is drank out of specially made small cups, so to complete the experience and replicate the taste, you need to buy both, as well as the coffee. This article talks about the most popular brands while this article tells you how to make it.
Souvenir Onyx Ideas
The Turkish landscape has an abundance of Onyx and skilled artisans all over the country sculpt it into chess sets, spice bowls, ashtrays decorative bowls, bathroom fixtures, ashtrays and vases. Onyx souvenirs are pricey, but that is because they are purely hand-made. Many workshops hold demonstrations to watch onyx masters at work. These artisans display intricate skills and have dedicated hundreds of hours of learning the trade, so the high price of Onyx reflects this.
Leather
Sold as jackets, belts, bum bags, handbags, and purses, leather is a good buy in Turkey because it is excellent quality for half the price of products back home. However, it is worth mentioning the leather workshops. Some travel agencies sell tours cheap because they take customers to organised leather workshops and shows on the route.
If someone buys an item, they earn commission. This is disappointing if you don't want leather, because it takes time out of the day that could be spent touring the attractions you signed up to see. Check with the tour operator before you sign up.
Lemon Cologne
Lemon Cologne has many uses in Turkey. It repels mosquitos and eases the itching from bites. On hot summer days, it is also refreshing, and over the festival of Seker Bayram, shops offer it to their customers. It is sold everywhere for an incredibly cheap price so even if you are not souvenir shopping in Turkey, have a small bottle handy for when you are travelling around.
Save
Save
Save
Save
Save