The drive to Hasankeyf was short yet memorable. We had left Mardin and were in the countryside, sometimes passing nomadic tribesman herding their sheep. The sky was dark grey and threatening to pour with rain. In a way, it reflected the gloomly mood hanging over Hasankeyf.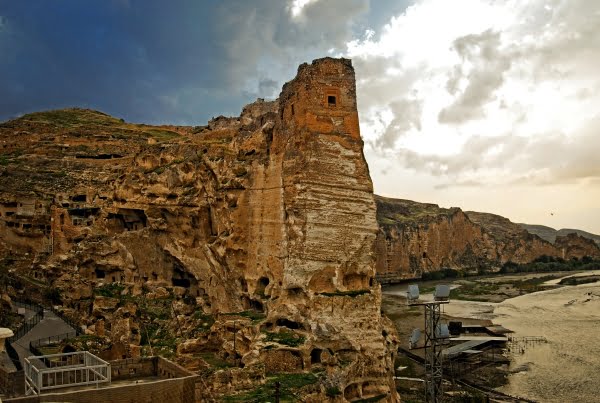 The Ancient City of Hasankeyf
The town is scheduled to be flooded as part of the Gap project to provide Turkey with more power. Along with other areas, the estimated number of people to be displaced reaches 25,000. Environmental groups have for many years' petitioned high courts to stop the plans because many species and groups of flora and fauna will be wiped out completely.
In January, courts temporarily halted progress because the government has never performed studies of how their plans will affect the environment. The planned reservoir will be the second largest in Turkey but it seems ironic that most of the new power source will supply the materialistic and non-traditional West Coast, even though the reservoir will be in the traditional Southeast.
No one knows if and when flooding will happen. The go ahead could be given tomorrow or in ten years' time but should the need for power outweigh preservation of history? Hansankeyf is no normal town and its history stretches back 12,000 years. It fulfills most criteria for a UNESCO world heritage site but has never been put forward for consideration because of the Gap project.
The History of Hasankeyf
Many civilizations have inhabited the area including the mighty Persians. Even the brave leader Alexander the Great and fearless Romans conquered Hasankeyf before it eventually fell to the Ottoman Empire in 1517. Many buildings from these eras still stand including a mausoleum, a Roman bridge and castle, two mosques, Islamic tombs and a king's palace. All of these overlook the Tigris River that recedes, then edges up the river banks depending on what time of year it is.
Locals used to live in caves overlooking the river and were possibly traders because Hasankeyf was an important stopping point on the ancient silk route. One local also said past communities used to wait eagerly for rain. It made gold coins appear. They had been buried for years and only revealed themselves when large rainfall shifted the soil and ground.
Locals of Hasankeyf
Walking up one street towards the caves of Hasankeyf, I was most surprised by some of the local reaction to visitors. They seemed dull to the impending doom of their town. Just one shop displayed a sign saying "Save Hasankeyf" and the rest concentrated more on selling souvenirs and filling seats in their coffee shops.
I couldn't spot any literature on what can be done to save the town and locals seemed more interested in sales than preservation. Across from old Hasankeyf, in the hills is new Hasankeyf. Some locals have already accepted money from the Turkish government to relocate there.
Have they accepted the fate of their small but massively historic town? Is their insistence to sell souvenirs, just a way of thinking "Well we had better make some money while we can?"
To fully explore and understand Hasankeyf would take weeks. Our visit was brief, mainly because our only interest was the caves of which some are natural and some are manmade. In the past, they were people's homes and we wanted to see inside them but access was restricted. Apparently, a man had been hit on the head by falling rocks. Natural elements are also causing damage to the old part of town.
What will happen to Hasankeyf ?
There are no certainties it will survive but if it is flooded, 12,000 years of history will be sent to an underwater grave. Go and see it while you can.
[wp_geo_map]
Save