I was looking forward to touring Sanliurfa castle. Believed to have been constructed in 814 AD, I could see it from my hotel room standing majestically at the top of the hill. The week before, I had thoroughly enjoyed visiting the exhibitions of Gaziantep castle and expected the same. Unfortunately, I was severely disappointed.
About Sanliurfa Castle
It was a steep climb uphill and for a hard core smoker like me, the combined heat meant I had to rest often. I was determined to persevere but when I reached the top, paid my entrance fee and walked around, I was disappointed to see nothing resembling the former glory days of this castle.
Its exterior appearance as seen from the old town is deceiving. Tall stone walls led me to believe that inside was the fully functioning remains of a defence castle but there were instead just a few walls and crumbling stone structures.
Two large columns stood side by side but there was no information about them.  It was down to the internet to tell me that they date back to Roman times when the city was called Edessa.
Further excavations were meant to have happened in the last decade. I am not entirely sure that the plan was completed because the inside of the castle does just seem like a mound of earth with steep drops on every side.
So do I recommend that you bypass the castle?
No, still visit because it does have one attraction that is worth seeing and that is an absolute superb view. There is nowhere else in the city that will give you a view like this.
How to get to Sanliurfa castle
The castle is located in the old part of Sanliurfa. Make your way to the same park where Balikli Gol is located and from there, the castle is well signposted. Visit early in the morning or late afternoon because climbing the steps up the hill is a killer in the mid-day heat!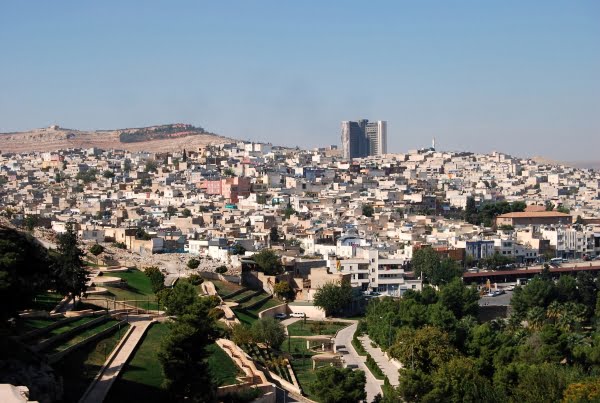 [wp_geo_map]
Save