The Turkish Bath museum of Beypazari is a small two-story basement building, located on a side street in the main town.
Its aim is to highlight the ancient tradition and remember past citizens who spent their time cleansing and washing in the old hamam.
Rather than just a visit to a museum, it was for me instead, a big realization of how much my life has changed since I arrived in Turkey as a naïve tourist.
My First Experiences of Turkish Hamams
For the first five years, I was not interested in culture and traditions. I was here  to get drunk, party and if I could get a suntan along the way, it was a bonus.
I also went for Turkish baths but never visited the same baths as the locals. I was a holiday rep selling tickets for the touristic establishments so naturally I went there.
The staff spoke English and the other customers were English-speaking foreigners. A male masseur rubbing down females was socially accepted and no one batted an eyelid unless the masseur took his fingers for a walk in the wrong direction.
It was a win win situation all round.
But  it was not just about making money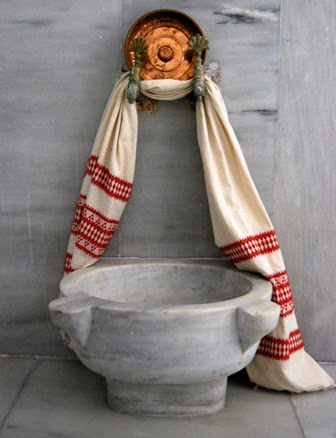 I did like the experience and result of fresh, clean skin. For an extra 10 lira; I also got a full massage that would have cost me triple that amount in the UK.
That was it though.
I had no respect in the ancient tradition originating from the Romans and was not interested in learning about it.
It did not bother me that the masseurs were male either.  My upbringing in the UK suggested no reason why they could not be.
That all had to change when I married my Turkish Romeo. You see, the perfect way to become the topic of local gossip was to visit the same touristic Turkish baths.
What was the problem?
The male masseurs
Good Turkish housewives do not allow other men to scrub down their body with soap, then cover it in oil and massage them.
It is the perfect way to get yourself a name as the neighborhood slut and be on your way to the divorce court.
Now this restriction on my lifestyle did not bother me, because the male masseurs were never that good looking.
Called "tellak" in Turkish, you can forget any gladiator or Spartan stereotyped Adonis and instead imagine an overweight hairy man who is old enough to be your granddad.
Of course, I ensured that the same rules applied to my Turkish hubby and he would not go to any Turkish bath using female masseurs.
After smiling politely and perhaps cursing my naivety, he explained that the unwritten social rules applied both ways. Female masseurs never massage men.
He also explained there was an alternative if I wanted to visit a Turkish hamam again.
Ladies Day at the Local Turkish Hamam – No Men Allowed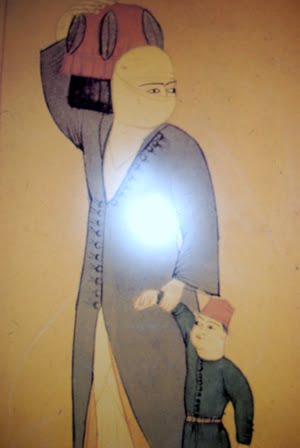 Every Thursday was ladies day at the local baths in the town center.
This was a fully-fledged and socially accepted establishment used by the locals and not tourists.
On ladies day, no men are allowed and the masseur (tellak) is female.
I was invited to attend one with my mother in law and was told that I could wear a swimming costume or just a towel is enough.
I imagined a room full of naked women all gossiping in my second language of Turkish and declined.
That experience was out of my comfort zone.
From then, I turned my back on the tradition and have not had a Turkish bath in over six years.
My husband is amazed at my reluctance, pointing out that I often travel around Turkey on my own yet cannot pluck up the courage to walk 500 meters up the road and go to ladies day on my own.
The Turkish Hamam Museum of Beypazari
Thankfully, the Turkish bath museum of Beypazari really was focusing on the history and not the real life experience.
It did bring back memories though of my days peddling the touristic versions of ancient traditions.
As my guide told me about her childhood memories of visiting the local Turkish hamam with her mother on ladies day, I remembered many of my Turkish friends saying exactly the same.
Before the building became a museum, it was a fully functioning Turkish bath. Old photos covered the walls and display cabinets were filled with items from those days.
Towels, combs, soapboxes and shaving items that were donated by locals of the town.
One set of clogs used to prevent people from slipping on the wet floors reminded me of the old style high shoes sometimes seen on Chinese Geishas.
I ventured up the stairs and entered the steam rooms that surprised me with their size. They were very small and did not have the large marble slabs in the center that I so often saw in the touristic Turkish baths.
This was certainly not a place where solitude could be found, it was purposely set up for social gatherings.
I imagined the steam room as if it was fully working. The hot heat and half-naked people confined to such a small space while making small talk just made me feel uncomfortable.
The aim of the museum is to highlight local history as well as traditions and culture. It certainly made me remember my own history.
My life has changed in many ways. I look back now as the wife of a Turkish man and cringe at the social faux pas that I made when I first entered the country.
In my defence, I was a tourist at that time and did not have hindsight that I would be the future wife of a traditional Turkish man.
So this year, will I pluck up the courage to join the local women on ladies day at the Turkish baths?
Not sure, I will get back to you on that one!
Readers Question : Have you experienced a Turkish bath and did you like it?