The Turkish bath experience usually appears on every list recommending things to do while in Turkey. It is not one of my favorite activities but because this is a travel blog, it needs mentioning.
A lot of 5 star hotels in Turkey have a Turkish bath included in the spa section of their hotel. On the whole, these are often not the traditional version because they are aimed more at nervous tourists, who don't like to stray too far out of their cultural comfort zone.
You can have more of a traditional experience if you head out of your hotel and into the local town. If you prefer to stay in your hotel than it is better than nothing, but expect to pay more than the average price.
Turkish Bath Experience for Ladies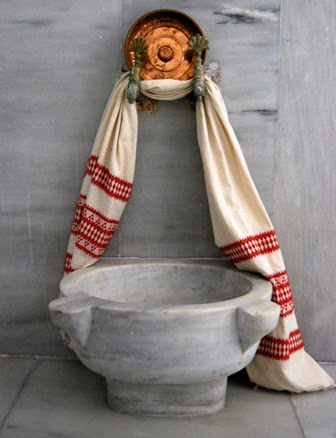 For ladies who are concerned about a great big hairy Turkish man rubbing their body up and down, any good Turkish bath has two options.
The first one is to separate men and women into different sauna rooms, and the women will be scrubbed by a female. The second is to go on lady days when no men are allowed.
Top Tip for a Good Turkish Bath
A lot of people mis-describe a Turkish bath by saying it is the same as a sauna but with water. They do not describe the most important aspect which is ex-foliation of the body.
The masseur will soap you from head to foot, and then run a loofer all over you.  Don't be surprised at the amount of dead skin that falls off even if you do shower every morning.
The dead skin resembles the rubber shavings when you have run an eraser over some pencil writing. Top tip of the day is not to go for a Turkish bath at the end of your holiday because you will rub off your suntan. Equally remember that after a Turkish bath, the skin is new and not accustomed to the sun so it is easier to burn and end up looking like a lobster.
The Turkish Bath Process
Everyone is allocated a cubicle for changing. Some people have recalled experiences where they entered the sauna rooms naked but this has never happened to me. I always wear my bikini and nobody says a word.  You will also be given a towel.
In the sauna room, a large marble slab is in the middle, and all around the sides are places to sit, with taps that pour out cold water. When the heat gets too much for you, simply grab a bowl and douse yourself with cold water.
(Image credit – The Cagaloglu Hamam in Istanbul. Built in 1741)
After 20 to 40 minutes, the staff walk in and motion you to lay on the slab in the middle. They will fill what resembles a pillow case with soap studs and cover your body with it. Then the loofer comes out. After the staff have finished, you can douse yourself down and go out into the relaxing room.
This is where you are given a towel and a cup of apple tea. It is  tradition to sit around chatting, just as you have done in the sauna room. Alternatively you can pay more and receive an olive oil massage.
Warning! Don't plan to do anything else for that day. A Turkish bath totally relaxes you and all I want to do when I have received one is go to sleep!
Further Reading
From Amazon, this book is called "Turkish Baths : A light onto Tradition and Culture". Quote… " This richly illustrated book is a lively jaunt through the history, traditions, and culture of the Turkish bath.
With entertaining descriptions of traditional customers and staff, it is also a detailed guide to Turkish bath etiquette and the fifty remaining historical baths in Istanbul (some dating to the 15th century)". Find out more
Save