Turks have some quirky mannerisms that are not instantly noticeable to holiday-makers. Certain rituals happen daily and unless you are aware of them or ask questions, these rituals can go unnoticed.
One of them is terms of endearment. Turks use them all the time depending on your relationship with them or your social status.
Sometimes though, translation can cause confusion
For example, two male Turkish friends with a close bond will often refer to each other as "Kardesim," which means my brother. In 2001, I dated a Turkish man for the first time and had to wonder if he was a habitual liar because according to his stories, he had more than 30 brothers.
When I was on the verge of dumping him and suggesting he should visit a psychologist, it was explained to me, there does not have to be a blood connection for two men to call each other "brother."
Other labels include "Teyze" which means "mother's sister" but Turks also use it, as a mark of respect, when addressing an elder woman that is not related to them.
Likewise for "Abla" that means elder sister. There does not have to be a blood connection there, just respect.
Now I never had a problem with this social labelling. It can be useful if you have drunk copious amounts of booze and have either forgotten or can't pronounce people's names. After all, when you are drinking alcohol, everyone becomes your "Arkadasim" (friend).
The Meaning and Translation of Yenge
One term of endearment that grates on my nerves though, is the word "Yenge." Used by men, when they are talking to or about the wives of their close male friends or relations, I suppose the closest translation is "sister-in-law."
I was first addressed as "Yenge" when I got engaged to my Turkish ex-husband. It actually gave me a buzz then. It meant he loved me enough to put a ring on it, and I was happy to be his bride.
About one week, into the marriage, it started annoying me. About one year into the marriage, it extremely pissed me off.
Now it is important for foreigners to know that it is actually a mark of respect.
However to me, the word "Yenge" combined with the fact, that I couldn't even fart in public without him knowing about it, just turned this mark of respect into a virtual prison. That and along with other issues, made me feel like his property.
Anyway for seven years, I kept my mouth shut, smiled grimly when called by this status and expressed great delight, when someone used my actual name.
However, it transpired that within a marriage, keeping your mouth shut about your personal opinions is not healthy for the mind or soul. As I trotted to the divorce court, while high on Xanax and booze, I looked on the bright side of life. At least, people would no longer call me "Yenge."
After all, I assumed that if a judge says the marriage is dissolved by law, then according to society, I am no longer anyone's "Yenge." I could return back to being Natalie.
Apparently I was assuming too much. It had always struck me as odd, that none of his friends mentioned the divorce. Once again, I assumed it was so it could be a quiet dignified affair and I appreciated this. However, nearly one year later, they are still calling me YENGE!
My reaction is now better than it used to be. Six months ago, while I was in a restaurant, someone said "hello yenge" and my friend thought I was going to stick a fork in his eye. She assured me that my response had made my point crystal-clear. It didn't. Three weeks later, the same man called me YENGE!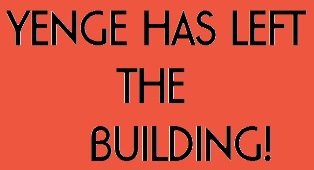 Just last week, I was called Yenge by another friend of the ex. Now you may wonder why I am letting this annoy me but I ask you to consider the social implications of this term of endearment.
A few weeks ago, I was chatting to an acquaintance in the street. I really like his friend. He is hot, sexy and just my type. I was trying to find out more about this friend, but then one of my ex-husband's friends walks by and calls me YENGE! Conversation finished.
Now this has happened more than once. Potential suitors just disappear into a black hole, never to be seen again.
Do you understand my point of view?
I am not looking for my soul-mate to instantly appear but would like to be wined and dined, at least once a century.
I have shouted, screamed and politely requested to every guilty culprit that they don't use this label but I have made no advancement.
So what are my options?
Leave town but I don't want to
Resort to violence but this carries a risk of being arrested
When people call me "yenge," stick my palm in their face and tell them to talk to that
Learn to put up a brick wall and not let it define me. This is Turkey but I should be confident in my own identity, to not let this bother me.
Wait 20 years for everyone to move on and stop living in the past.
Start making voodoo dolls for revenge
That is unless any reader with an intimate knowledge of this term of endearment can shed light on what to do.
I have learned one important lesson out of all this though. In all my rants about the importance of cultures, a man once said to me, that cultural traditions sometimes cause more problems than good. I now fully understand what he meant.