I love people watching. Sitting in the airport or a restaurant and watching everyone is my favourite hobby.  I cannot remember though, ever being more fascinated by people then when I was in Sanliurfa in Southeastern Turkey.  What intrigued me most was the local dress. Living in the West of Turkey, I can see that any regional and traditional dress seems to have been replaced by the brand name of Levi. Even if I look at the women covering themselves, it is hard to spot any regional trends and often it is just labelled as countrywide Islamic chic.
The general dress code in the Southeast region of Urfa has a more Arabic desert look to it but it was easy to spot the regional influences, especially when comparing local dress codes to the neighbouring provinces of Mardin or Gaziantep.
The Purple Headscarf of Sanliurfa
The striking similarity between men and women is that both wore purple head scarves. I have researched the Internet and there are two explanations for this. One is that the wife of a previous Turkish prime minister wore a purple headscarf when visiting Sanliurfa and the trend caught on. Another traveller writes that her guide said a different colour is chosen every year. The purple headscarf is everywhere and I couldn't walk ten minutes anywhere without seeing a man or woman wearing it.
Women's Dress Code in Sanliurfa
In terms of conservative, it was strict. Not all, but many women wore head scarves and covered their arms and legs. The striking difference was that some older generation of women were wearing the same uniformed robes with the purple head scarves. Some robes were long, velvet and black or deep purple colours while others were  mute brown. They are worn outside of the home and it resembled a tribal dress to show they were from a particular village or region.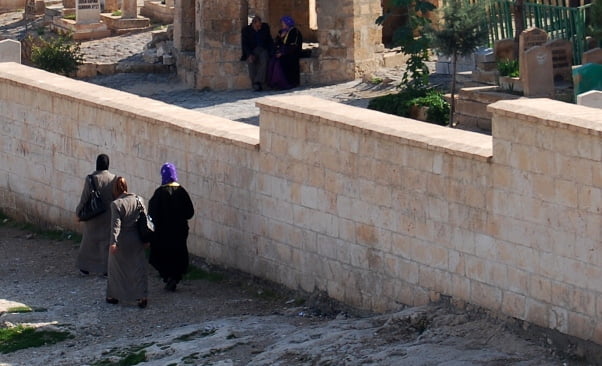 I also noticed that the women paid great attention to their eye make-up and it was perfectly applied. My one regret is not signing up to a tour to get more information on the dress code of Urfa for women as information on the internet is limited.
Men's Dress Code in Sanliurfa
I often saw younger generation of men wearing jeans and a T-shirt but the older male generation wear the typical  Southeastern  trousers with a suit jacket. Correct me if I am wrong but the trousers are called Salwar or as one Turkish girl I know calls them "Fat pants"
They are narrow at the ankles but wide at the waist and a drawstring gathers the material so it is loose and ideal for hot weather. Turks on the west coast rarely wear these types of pants but they seem popular in this area. I remember the pants from my childhood because growing up in the UK, we always called them Hammer pants because they were the trademark of rapper MC hammer.
Can you see the similarity?
If men were not wearing the trademark purple headscarf, they usually wore the checked Keffiyeh to protect them from direct sun exposure and also dust and sand.
What also surprised me?
I knew the culture in Urfa is a mixture of Kurdish, Turkish, and Arabic however twice we stopped to ask someone a question and the answer was they only spoke Arabic. I have always been led to believe that the south-east is Kurdish dominated, so to find out they only spoke Arabic really threw me. I first I thought it weird that a Turkish citizen could not speak Turkish but on the west coast of Turkey, there are many expats who only speak English.
Such is the diversity of this country.
If you travel to Sanliurfa in Southeastern Turkey, look at the local dress codes. They are captivating.  The men look smart  and the women are beautifully dressed.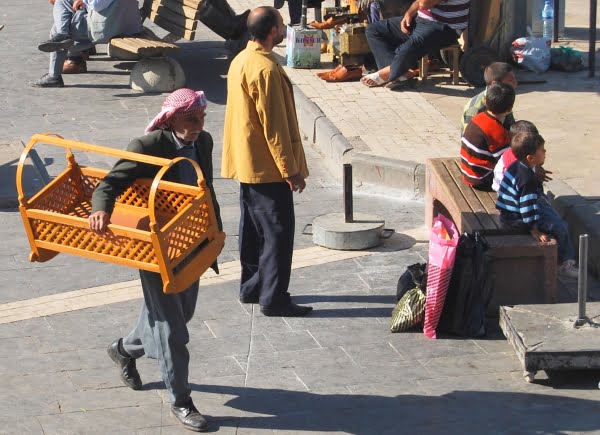 [wp_geo_map]
Save