I have written previously about expat life in Turkey. I mentioned that we tend to gather like packs of wolves into our own clans. Indeed, Turkey has become a multi-nationality expat community, and according to EuroStat, in 2013, a total of 272,842 foreigners were permanently residing in Turkey.
That is not many considering the population of Turkey is 74.9 million people, but I like to think a majority of us, are happy with our lives here and make a concerted effort to get along with the Turks.
However last week, I was speaking to Cameron Deggin, a sales expert for Property Turkey, and we noticed that a majority of foreigners who have never lived here, and also some Turks, have huge misconceptions about what expat life in Turkey really entails. Together, we penned our list of what those top misconceptions are.
 Myths about Expat Life in Turkey
1 : Turkey is a Big Rose Garden or the Flames of Satan's Den
From one extreme to another, people either think we live in a Utopia, where love and light permanently shine supreme or are absolutely bonkers for choosing to live in a Muslim country. Yes, Islamphobics, I am looking at you.
My sister thinks I spend every day walking along the beach, when most days are infact, spent banging my fingers on a keyboard trying to make a living.
Another friend remarked that my Facebook profile photos indicate I spend all my life in bars or on boats. Sorry for not posting photos of my dinner, dirty bathroom, new callous on my left foot or the two street dogs humping in front of my apartment.
Going to the opposite extreme, some forums, independent blogs and comments on mainstream Western newspaper articles provide the greatest laugh.
Obviously written by people who have never set foot in Turkey, they say because it is a Muslim country that borders with Syria, it means I am living in a war zone where they also cut off the hands of thieves, stone women in the street and force us to wear a burqa.
The point is, life here in Turkey is neither idyllic nor hell
It is normal, a canny blend of ying and yang, negative and positive, ups and downs. Expats still fall ill, get stressed out, worry about family and friends, and argue with our neighbours. We do not suddenly become immune to daily life.
Being told to smile because you live five minutes from the beach is the equivalent of using a chainsaw to cure a headache. Being told that you are ungrateful because you have nine months of sunshine doesn't help when the taxman wants more money.
As for the people that think life is hell because we live in a Muslim country…
Here's a photo of me at the bar, on a boat.
Bottoms up and cheers!
2 : Expats are Rich
Turks are guiltier of this misconception than foreigners. I often have to point out that a majority of the elder expats have worked 40 odd years for what they have, and the younger expat generation often work cash-in-hand jobs for friends and family so they can make up their monthly incomes.
The Turks that do mention this to me, always use holiday makers as an example to which I respond most are living on credit and enjoy that type of lifestyle for a maximum of 6 weeks a year.
I think Turkey first allowed foreigners to buy property in 2001. At that time, everything was dirt cheap, the savings interest rates were sky high and expats could enjoy an extremely comfortable lifestyle.
Over the last ten years that has all changed
Savings interest rates have dropped, and the cost of living has risen dramatically. Most expats who have been here long term, have had to majorly adjust their daily budgets.
3 : Living Off the Grid is Possible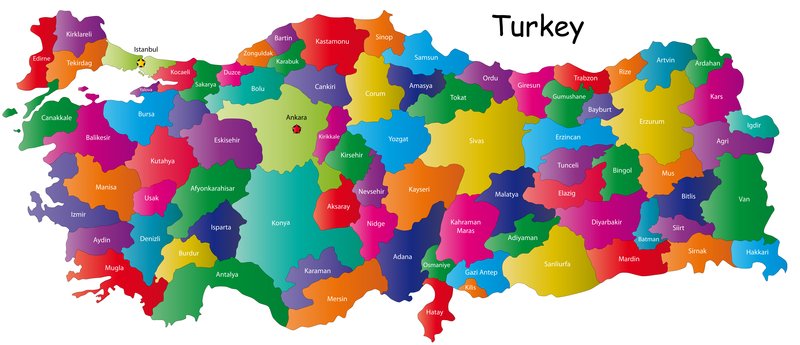 When I first arrived in Turkey, for many years I lived off the grid and virtually disappeared from the system.
I used to make a trip across to the Greek Islands and back so that I could live on a tourist visa instead of residency. I worked illegally and would weekly receive my wages, cash in hand.
The system has drastically changed since then. Expats now have to go through a time consuming, momentous ball ache of a residency process, which also involves home visits.
The focus on illegal workers is also now more stringent than before. Anonymous phone calls to local authorities are not unheard of and I have even received questions from readers asking how they can report illegal foreign workers.
Turkey has become automated and all your life details are now stored on a computer. Big Brother has arrived in style and is watching every move you make.
So, if you are on the run, trying to dodge taxes or have dreams of living a nomad lifestyle in Turkey, forget about it. The system will eventually catch up with you.
4 : We all Ride Unicorns and Have a Genie in a Bottle
This is the biggest misconception made by newbie expats. They arrive, make an effort to learn the language, indulge in the culture, travel around and then they sit on cloud nine.
They subconsciously think a higher power will recognize their efforts to adapt and reward them with a permanently stress-free lifestyle.
Then external circumstances invade their life and upset their positive frame-of-mind.
They feel guilt because a family member back home is ill and they are not there. They begin to miss their home country and suffer from the official diagnosed syndrome of expat culture shock. They have an abundance of time on their hands and can't seem to find a hobby they enjoy.
They are exasperated because the Turkish government has changed the residency or property rules yet again and instead of feeling permanently high, become filled with resentment for life and everyone in it. The list goes on and on.
Cameron from Property Turkey says the most common question asked to him is by potential expats who want to know whether they should buy or rent property. The answer will always differ, according to who you ask.
My answer is that if you are not 100% certain that you want to live here then rent for 1 year first. Otherwise buy property because Turkey has embarked on a building boom and there is an abundance of dirt-cheap apartments and houses for sale.
Just don't give up at the first hurdle!
Running back home isn't always the answer because nothing in life stays the same forever. Being an expat in Turkey is mentally draining at times, but extreme fun on other occasions so look at it this way. If you weren't looking for something more out of life, then you would never consider living in Turkey in the first place.
Question for Readers? What do you think about expat life, either in Turkey or in other countries?
Save