Along with writing, I adore reading. I believe one of the most pleasant moments in life, is when we read a fact or fiction book that moves and motivates us to experience more and enjoy each day to the fullest. With that in mind, I am eager to share my list of books about the country of Turkey.
I have read each one and update this list, when the last page of each book has been closed. All of them can be purchased on Amazon, in either hard back form or for kindle.From travel guidebooks to novels to fiction and fact, to make for easier browsing, I have separated them into categories.
Recommended Books about Turkey the Country
Guidebooks That I Love
Istanbul Select

This city deserves a guidebook all of its own and the handy pocket size Istanbul Select Guide by established Turkey travel writer Pat Yale is what I always use. It details everything including recommended attractions and opening hours, Turkish food to try, drink, restaurants, hotels, regional trends, travel tips and culture aspects to be aware of. It is available in Kindle or paperback version. Personally, I love the paperback version because it is pocket sized and easy to fit into your handbag. Read more about Istanbul Select on Amazon
.
Insight Guide Turkey

This is the first book that I reach for whenever I go somewhere else in Turkey. It is broken down into regions from the East to the West and as well as a brief historical introduction, it also gives local information to enhance your stay no matter where you travel. It is a collaboration between authors Marc Dublin and Pat Yale. Consisting of 448 pages, it is perfect if you plan to travel to more than one place. At the back of the book are recommended places to eat, shop and stay for most regions of Turkey. As well as regional info, it also includes short articles about popular topics such as Turkish carpets or the Ottoman empire. Read more about this book on Amazon
A Traveller's History of Turkey

Written by author Richard Stoneman, this is not really a guidebook but if touring historical sites is your passion, it will be extremely useful. The history of Turkey is definitely colourful and on most occasions, can get confusing because these lands have been ruled by numerous empires over the year. This book is able to piece together the timeline in a easy, understandable manner. This book was revised and updated in November 2015. Available in paperback version only. Amazon says "A Traveller's History of Turkey offers a concise and readable account of the region from prehistory right up to the present day." Find out more
An Armchair Traveller's History of Istanbul

From the first chapter, this book by writer and poet, Richard Tillinghast had me hooked. His tales of trading currency on the black-market exchange scene, smoking hash on the roof of a pudding shop, living through a small earthquake and sleeping on the floor of the Orient Express train, are all entwined with historical snippets about former Byzantine rulers, Ottoman sultans, mosques, and neighbourhoods of Jews and Armenians. This man has definitely seen the best and worst of what the country of Turkey offers. The book is available in Kindle or hardcover format and to date has received top reviews by Amazon readers. Read reviews on Amazon
Interesting Novels About Turks and Turkey
Honour by Elif Safak

This book tells the story of a Turkish family who in the 1970s, seek a new life in London. No matter how hard they try to embrace the Western lifestyle, their Turkish traditions and culture follow them resulting in a brutal murder that tears the immigrant family apart. This book kept me hooked from start to finish and is one of my favourites. The author is also Turkey's most celebrated female author, credited with having penned numerous novels.   Head to Amazon to find out more about Honor: A Novel by Elif Safak
The Bastard of Istanbul by Elif Safak

This book nearly got author Elif Safak thrown in jail for insulting the Turkish identity.  It tells the history and story of two families living in Istanbul, one Turkish and one Armenian. While it gets off to a slow start, the plotline picks up by the middle of the book. I don't recommend this book if you like easy reading. It is hard to get into and doesn't really pick up pace until half way through. Having said that, once the story picks up momentum, it is a good read and the ending is a memorizing finish.  Find out more
Paradise Lost: Smyrna 1922: The Destruction of Islam's City of Tolerance

Although this is a novel, the author Giles Milton carried out extensive research and interviews into the history of the Levantines, who were influential members of society in Turkey during the turn of the 19th century.
Set in Izmir, it tells of events that led up to the great fire of 1922 that destroyed most of the city. Characters stem from the four groups that made up the population including Turks, Jews, Armenians and Greeks. Tell me more
 Birds Without Wings

One of the most widely talked about books although it is fiction, details many historical events that occurred during the Turkish War of Independence in 1923. Greeks living side by side with Turks and love affairs between the young generations. The author has never confirmed the suspicion that the location detailed in the book is infact the Ghost village of Kayakoy on the Mediterranean coast of Turkey. Tell me more
Books Reviewed on This Website
Perking The Pansies

"There is no such thing as an atheist at 30,000 feet when the engines fail". This is just one of the hilarious accounts of British Expat life in the coastal region of Bodrum. Written by author Jack Scott, this novel tells their story about their move to Turkey, and their life as a gay couple in a Muslim country. To date, it has received many rave reviews and is for sale on Amazon here.
Exploring Turkish Landscapes

If cultural experiences are your main reason for travel, this book will provide a great insight into daily Turkish life and this will enhance your visit to the country. Wrriten by an Australian expat who lives in Istanbul, it is a heartfelt account of just how different life can be when you tour another country.  Read the reviews and order it from Amazon. 
Ayse's Trail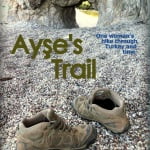 I throughly enjoyed this book which is a combination of one woman's true story, historical events and a guide to the Lycian way of the Mediterranean coast of Turkey. Written by her friend Atulya, Ayse's Trail is the story of a Turkish woman, who defied society's expectations and it can be ordered from Amazon in paperback version.  Read more about the book here.
Pomegranates and Grapes

Nuray Aykin tells the story of raising a Turkish son in the USA while still believing and adhering to Turkish customs and traditions. She talks about her own hurdles in life and her book presents a great insight into Turkish family life. Amazon says "Pomegranates and Grapes tells stories of her loved ones and describes the places where she spent her childhood-from a little Mediterranean town to the city of Ankara, Turkey's capital" Read more here..
Note About Orhan Pamuk
It would be quite unheard of to publish a list of books about Turkey and not mention the author Orhan Pamuk. If you don't know who he is, he is one of Turkey's leading writers that has been published in numerous languages. He was born in Istanbul and is a winner for the Nobel prize for Literature.
If I am to be honest though, I fail to appreciate his work. This is not a criticism of any kind and I greatly respect what he has achieved. I just cannot resonate with his writing style. For that reason, he does not appear on this list but you can find out more about his work here.
Save
Save
Save
Save
Save
Save
Save
Save
Save
Save
Save
Save
Save
Save
Save
Save