The Bosphorus strait of water in Istanbul has been strategically important throughout history. Linking the east and the west, many empires have waged war to gain control of it.These days, urban neighbourhoods are a strong feature on both the Asian and European sides and the Bosphorus has grown to be a busy trading passage for large tankers and ships. As a major tourist attraction of Istanbul, it is worth dedicating at least a day for exploration of the attractions of the Bosphorus.
To cruise or explore on foot?
Personally I would do both. A cruise is a great introduction to prominent landmarks from a different view and it does not take long, just a couple of hours. Then depending on your time frame, explore the various attractions on foot, and tailor where you go according to what your interests are.
Attractions of the Bosphorus in Istanbul
Prominent neighbourhoods include…
Emirgan that is well respected for the architecture of its old houses and its green park that during April is planted with hundreds of tulips as part of the annual tulip festival.
Bebek is well noted for its park but more so, the boutique shops and stalls that make it a shopping haven. Another reason to visit is for the famous fish restaurants, ice-cream and waffles.
Ortakoy was mentioned before because its main mosque is worth visiting but it also has several churches and synagogues. Respected for the various religions that have lived side by side within the neighbourhood, in recent years, it has become famous for its nightclubs and its street food called Kumpir that is jacket potatoes with various fillings.
Ottoman Palaces
During Ottoman rule, the banks of the Bosphorus mainly consisted of grand Ottoman palaces and expensive Yali houses for the rich and elite, most of whom were acquaintances, friends or business partners of the Ottoman Dynasty.
Two Ottoman palaces that receive hundreds of visitors every day are Topkapi and Dolmabahce, of which both signify the beginning and end of their reign. Ciragan palace, which is now a five-star luxury hotel and Beylerbeyi palace were summer residences and the former is said to be where the Ottoman sultan Abdulaziz famously carried out his affair with Emperor Napoleon's wife!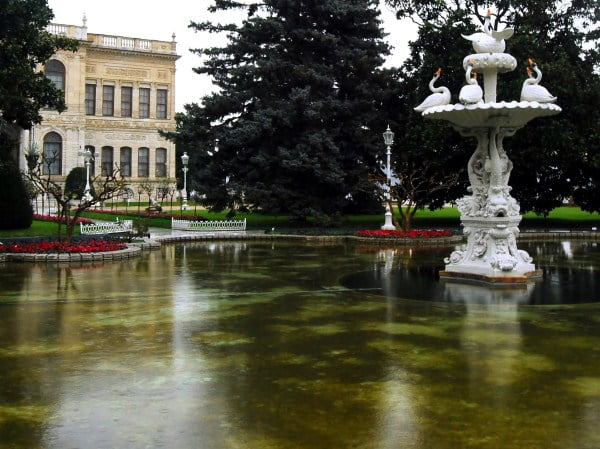 Historical Mosques                                                             
Ortakoy mosque often features on many picture postcards of Istanbul. Built in 1853, it is the perfect example of Baroque architecture. Following some restoration work, it has now reopened to the public, apart from at prayer times.
The Iskele camii in Üsküdar, dating from 1548 and also known as the Mihrimah Sultan mosque was built by the famous Ottoman architect Sinan. Close-by is another of his famous works called the Semsi Pasa mosque. The building dating from 1580 is one of the most attractive mosques in the region.
Famous Museums
The Sakip Sabanci museum was the private summer residence of a prominent family, who transferred ownership of the property and its extensive collection of antique furnishings and artwork to a university. On the grounds, there is a small café that features Sunday brunch and it boasts of marvellous views over the Bosphorus.
The Sadberk Hanim Museum is not large but it does hold an impressive collection of archaeological artefacts and Turkish-Islamic art. Their exhibitions are always changing so repeat visits should never be cancelled out.
Majestic Castles
The Anadolu Kavagi Genoese castle is situated at the far end of the Bosphorus, with views looking over the Black sea. Also known as Yoros, its situation at the top of the hill, makes it difficult for anyone who is not a keen walker but facing it, on the other side of the Bosphorus is Rumeli fortress, dating from 1452. Specifically built to aid with the invasion of Constantinople in 1453, it is open every day to the public except Wednesday.
Other Sites
The Maiden's Tower is in the middle of the Bosphorus has been rebuilt many times throughout history and had many purposes including that of a lighthouse, watchtower and quarantine station. Legend says it was built by a father who was told by an oracle that his daughter would die from a snake-bite. To protect her, he took her off land and confined her to the tower but a basket of fruit that contained a hidden snake was delivered and the oracle's prophesy came true.
Yali houses are rich mansions that were summer properties. Over time, some of them have been left in ruins while others have maintained their grand status and been promoted on the real-estate market for as much as 35 million pounds. Approximately 630 sit on the shores of the Bosphorus and spotting well-known yalis from a Bosphorus cruise is a popular activity.
Author: Sinan Sokmen was born and raised in Istanbul and is a professional tour guide who describes himself as "well-travelled and a history buff." He is the founder of Istanbul Tour Studio, a collective group of local Istanbulites with an aim to providing unique and tailored experiences for visitors to the city. They specialise in a one-day tour focusing on attractions of the Bosphorus for people with limited time in the city. The tour visits all the attractions above and more.
Save