Ah, the glorious Hagia Sophia of Istanbul – Turkey. The former church, Ottoman Mosque, official museum and now mosque again has saintly ambiences combined with Islamic and Byzantine architecture. Sitting in Istanbul's old city part known as Sultanahmet, Hagia Sophia joins other nearby landmarks belonging to Turkey's UNESCO World Heritage list.
The large dome, Christian frescoes and Islamic – Ottoman calligraphy hanging from upper galleries portray the history of 3 cities; Istanbul, Constantinople, and Byzantium. I cannot criticize Hagia Sophia in any manner, and long queues to get in, do not deter me from singing its praises. How can this man-made construction evoke so much respect?
When constructed, everyone agreed the building was an architectural marvel. Although Hagia Sophia isn't one of the seven wonders of the ancient world, its influence impacted architectural styles for many years. Such was the grand interior and exterior facades; the blue mosque of Istanbul was built to outshine the fame.
About the Hagia Sophia of Istanbul
Hagia Sophia History
The ancient Hagia Sophia we see today in Istanbul is not the original building. Emperor Constantine, the Great of the Byzantine Empire, first built Hagia Sophia in 360AD. Unfortunately, fire in 404AD destroyed the roof and then another fire; ten years later destroyed the rest. So, Roman Emperor Justinian completely rebuilt the Hagia Sophia. Ten thousand workers completed the project in just five years, with primitive tools compared to today's construction machinery. In addition, they did not use any scaffolding either. Emperor Justinian was clever, though. He separated workers into two groups and promised bonuses for those who quickly completed their work.
Bad luck would knock once again, though. One hundred and seventeen years later, Hagia Sophia was destroyed in Istanbul's Nicaea Riots. After being rebuilt, the landmark suffered minor damage over hundreds of years. During the Fall of Constantinople in 1453, Sultan Mehmet the Conqueror converted Hagia Sophia into an imperial mosque. However, when Murad the third reigned, wear and tear caused certain parts to collapse. So, Mimar Sinan, the Ottoman empire's greatest architect, stepped in. He added side walls buttresses, making the landmark structurally sound. Such was the beauty of this building; every Ottoman sultan left their mark like adding Turkish calligraphy art.
The Ottoman-empire reign lasted for hundreds of years; hence many sultans are buried around Istanbul in tombs. One such place is Hagia Sophia. Ottoman Selim, the second's tomb, sits within an octagonal mausoleum site. The tomb of Mehmed, the 3rd who killed his brothers to stop them from overthrowing him, includes two domes and, once again, an octagonal layout. Other tombs include Murad the 3rd, his daughter and four sons. Lastly, other tombs include Ibrahim and Sultan Mustafa the 1st.
In 1935, the famed landmark became an official Istanbul Museum. Then in 2020, the Turkish government reverted Hagia Sophia Museum into a mosque.
Interior of the Hagia Sophia in Istanbul
The history of Hagia Sophia is impressive, but visitors should head to the upper gallery and stand there in silence for 5 minutes. (There are two floors; ground and upper gallery levels. An uneven, winding stone staircase reaches the latter, so wear good shoes!) As you do this, look around the architecture of the Hagia Sophia interior. Imagine who crafted those walls, ceilings, and symbolic balustrades with precision and excellence. The Hagia Sophia dome, one feature that always captures people's attention, reaches 56 metres, and 40 windows let in natural daylight.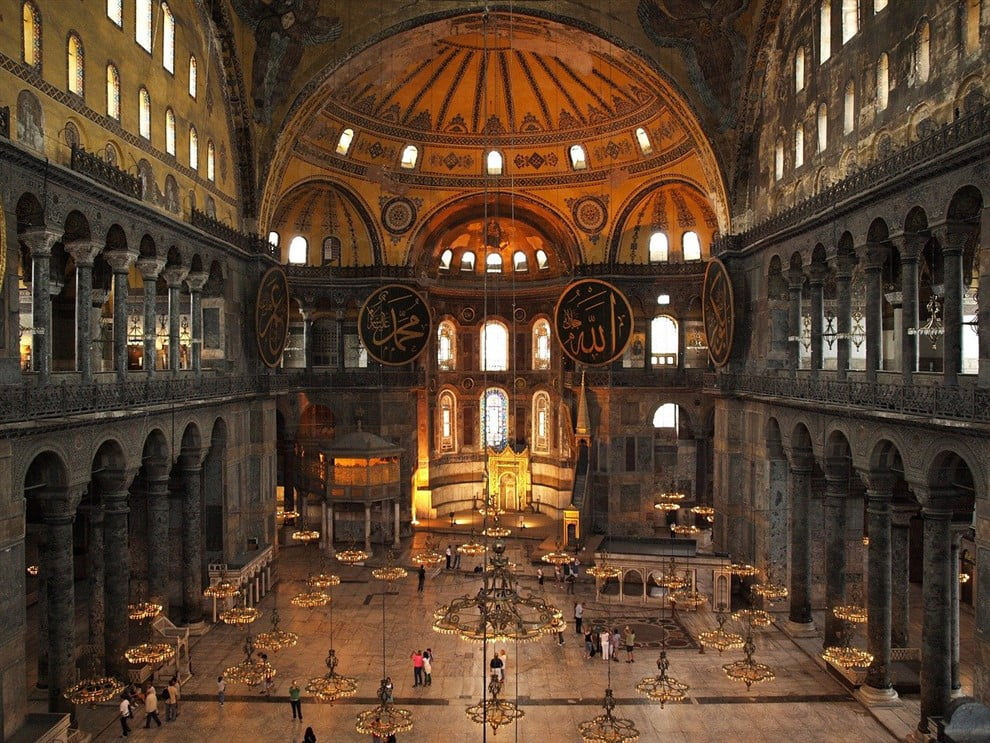 Despite being one of Istanbul's top visited attractions, the calm and quiet atmosphere of the interior of Hagia Sophia is mind-blowing. I assume everyone who steps inside is likewise in awe. Author and poet Richard Tillinghast penned the following description. In his book, an Armchair Traveller's History of Istanbul, he wrote…
[pullquote align="center"]
Once inside Hagia Sophia, I take off my hat. I am standing in a building that is a millennium and a half old. I want nothing to obstruct my vision. As I look up into the dome, which ancients saw as being suspended from heaven on a golden train
[/pullquote]
"Once inside Hagia Sophia, I take off my hat. I am standing in a building that is a millennium and a half old. I want nothing to obstruct my vision. As I look up into the dome, which ancients saw as being suspended from heaven on a golden train."
In stark contrast though, famous author Mark Twain, who visited Constantinople and wrote about his travels in his book, "The Innocents Abroad, said…..
[pullquote align="center"]
I do not think much of the Mosque of St. Sophia. I suppose I lack appreciation. We will let it go at that. It is the rustiest old barn in heathendom. I believe all the interest that attaches to it comes from the fact it was built for a Christian church and then turned into a mosque, without much alteration, by the Mohammedan conquerors of the land
[/pullquote]
Interesting Facts about the Hagia Sophia
    In Turkey, the landmark is called Ayasofya
    Hagia Sophia's name means Church of Holy Wisdom
    19th-century Islamic calligraphy plaques were made from wood
    Hagia Sophia was a Christian church for 916 years
    It was once the world's largest domed building.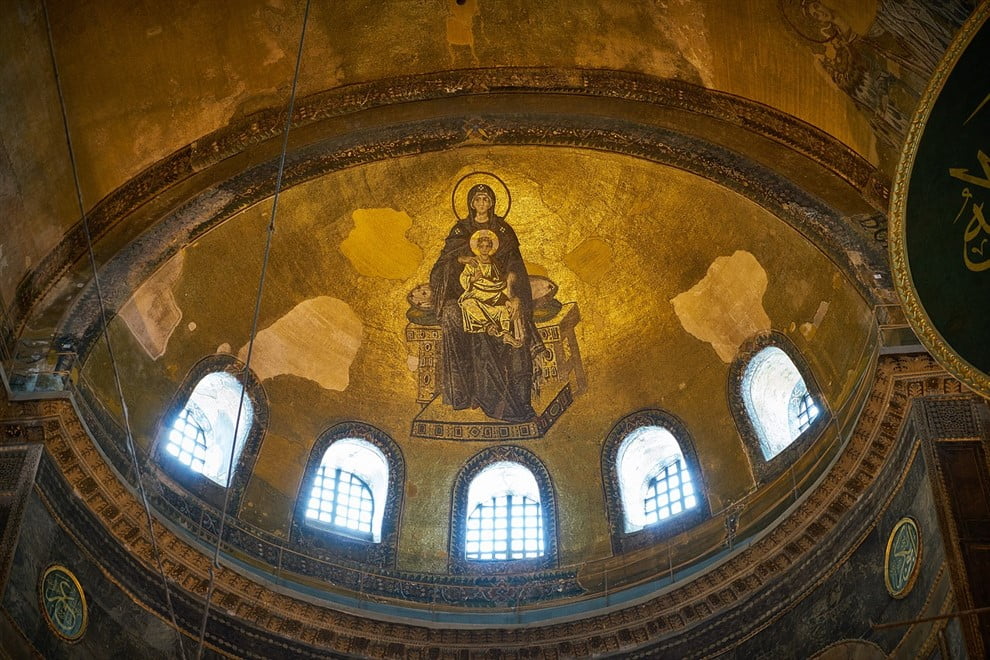 Why is the Hagia Sophia so Important?
Before Istanbul's conquest by the Ottoman Empire, the Hagia Sophia church was the Byzantine empire's religious centre. The building was to the realm what St. Peter's Basilica is to the Vatican City, i.e., the world's most important church. One would easily assume that when the Ottomans invaded, they would destroy the landmark, given the religious status. But they converted it into a mosque, possible as a message to the outside world that a new empire had arrived.
What Does Hagia Sophia Mean?
The name means Divine wisdom. Istanbul History books say that when construction finished, Emperor Justinian thanked the lord for letting him create such as beautiful masterpiece, then said, "I have outdone you, Solomon," a reference to one of his generals, who built a majestic temple in Jerusalem.
When is the Hagia Sophia Mosque Open?
The mosque opens 24 hours every day. Entrance is free, but be aware that this is a place of worship, so avoid visiting during prayer time. Additionally, remember the proper dress code. Women should cover their heads, arms, shoulders, and cleavage. Further, men should wear trousers. You don't need to book in advance to see Hagia Sophia. Still, an official Istanbul guide with knowledge of the history and interior decors and architecture will greatly enhance your visit.
Also About Istanbul – Turkey
The Hagia Sophia of Istanbul – Turkey sits in the Sultanahmet district. This is the centre of other Byzantine and Ottoman landmarks, including Basilica Cistern, Blue Mosque, Hippodrome, Topkapi Palace and Chora Church. In addition, other great attractions include Galata Bridge, Galata Tower, Grand Bazaar, and Golden Horn and Bosphorus strait attractions.
More Sultanahmet Attractions: Sultanahmet is Turkey's and Istanbul's most popular tourist attraction. All landmark buildings sit within walking distance of each other. If you like independent travel, you don't need a guide, but read detailed books about Istanbul instead. Visiting Istanbul city attractions is more fun if you know their historical backgrounds' facts, figures, and myths.
[blog_posts items="2″ orderby="rand" cat="istanbul"]
Save
Save