Exploring the bustling city of Istanbul is a great experience but to see it from up high is something completely different. In my opinion, the best place to do this is Galata tower, a landmark that dominates the skyline.
Six years ago, I went to the tower to attend a Turkish show at nighttime. I could see lights from buildings, dotted across the horizon, and the lights of traffic moving, but that was it and I desperately wanted to return during the day.
A return visit to Istanbul last month, meant Galata tower was on my list of places to go.
The View of Istanbul From Galata Tower
After standing in a queue for half an hour, I finally made it through the doors, paid my ticket money, and stood in another queue for the lifts.
I came out of the lifts, walked up a winding staircase, which passes the restaurant on the way. When I reached the top, I had in front of me, an unobstructed and 360-degree view of Istanbul.
Now – if you know me well, you will realize that seeing Istanbul from the top of Galata tower is an achievement as I have a big fear of heights.
I circled around the tower with my back firmly against the wall. The thought of peering over the guard rails and down to the streets below was just too much to bear.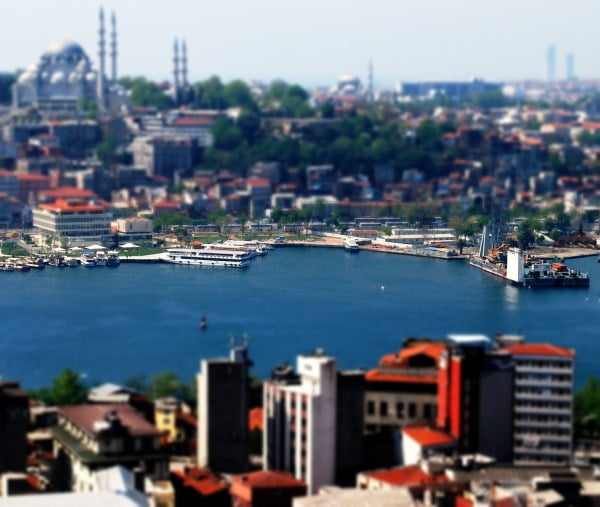 Note to the idiot who was at Galata tower on the same morning as me. Messing about at the top of a 66 meter tower with dodgy looking guardrails  and a half meter path full of tourists IS NOT FUNNY!!
Yes, if you happened to be up the tower on the same day as me, I was the freaky woman having palpitations, as well as suffering from a hang over which made me want to throw up.
I hope you enjoy my photos; most taken with one hand because I refused to take my other hand off the wall.
Readers Questions on Galata Tower
Can you identify any well-known landmarks in the photos?
Have you been to the top of the tower as well?
[wp_geo_map]