Galata tower in Istanbul is the best place for a marvellous panoramic view over the Golden Horn, Bosphorus and city. Six years before, I went to Galata tower to attend a Turkish show at night-time. I could see lights from buildings, dotted across the horizon, and the lights of traffic moving, but that was it, and I wanted to return during the day. So, a return visit to Istanbul last month meant the Genoese tower was on my list of places to go.
Visiting Galata Tower in Istanbul
After standing in a queue for half an hour, I made it through the doors, paid my ticket money, and stood in another line for the lifts. Finally, I came out of the lifts, walked up a winding staircase, which passed the restaurant on the way. When I reached the top floor of Galata tower, I had an unobstructed and 360-degree view of Istanbul in front of me.
If you know me well, you will realise that seeing Istanbul from the top of Galata tower is an achievement as I have a big fear of heights. So, I circled the viewing platform with my back firmly against the wall. The thought of peering over the guard rails, down to the streets below, was too much to bear.
Note to the idiot at Galata tower on the same morning as me. Messing about at the top of a 66-meter Genoese tower with dodgy looking guardrails and a half meter path full of tourists IS NOT FUNNY. So yes, if you were up the tower on the same day as me, I was the freaky woman having palpitations and suffering from a hangover, which made me want to throw up. However, I am glad I went, and I took loads of photos.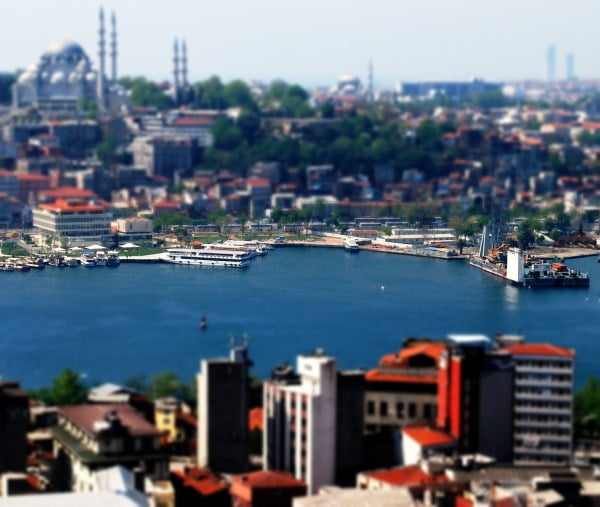 About Galata Tower
The Genoese tower, which means the tower of Christ in Latin, stands in the Karakoy district and is a short walk from Galata bridge. However, its tall length of nine stories and 70 metres makes it a fascinating landmark on Istanbul's horizon. The inside stretches for only 9 metres emphasising its tower structure.
The tower, first built in the 14th century, was the tallest building in Constantinople and an achievement. However, by the time it came to Ottoman rule after the Byzantine Empire was disbanded, its purpose as a high observation point was to spot any fires, which at that time, could frequently happen since Ottomans used wood to build many houses. Sadly, the tower suffered significant damage during a fire in 1831, after which restoration work took place. It was also repaired extensively during the 1960s when authorities replaced the wooden interior with concrete and opened it as a public tourist attraction.
Further Reading
If you plan to visit other attractions, you might want to purchase the Istanbul e-tourist ticket, which helps you to save money, get guided tours, professional advice via the What's app, and it beats the queues. Otherwise, after visiting Galata Tower in Istanbul, head up to Istiklal avenue, where many more attractions await you.
Famous Landmarks of Istanbul: I love exploring famous landmarks wherever I go in Turkey, and Istanbul is no exception. This article talks more about Galata tower and 14 famous landmarks that you should put on your bucket list when visiting Istanbul.