For a number of years, there has been an underlying fear in the culturally orientated people of Turkey. They fear that the age-old tradition of handmade Turkish carpets is on the decline because of the mass availability of machine made carpets, which are half the price. Carpets weavers associations decided to pool resources, increase contacts and educate people about the process of making Turkish carpets.
I personally do not buy into the fear that this tradition will die out. 
About Turkish Carpets
Turkish carpets are not your everyday household product. They have a worldwide reputation for excellence and are a specialist product of which many people, whether educated in the history or not, can appreciate. Also thanks to the carpet weaver associations, future generations are taught this tradition which can often take years to master.
The other cool thing about the associations is they are more than eager to give you a personal tour to show you the process of making Turkish carpets. The first step starts with collecting the wool to prepare it for the color process.
Emphasis is on using natural dyes, as they last longer than any wool with artificial dye therefore maintaining the color of a carpet over the years.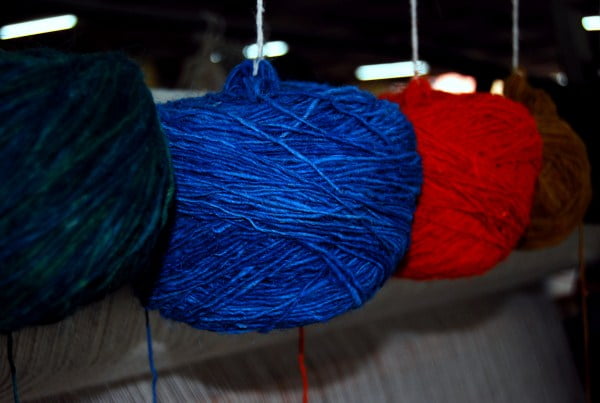 Once the wool is ready, it is rolled into balls and placed at the top of a frame. The women set to work weaving the wool in and out.
A pattern is also at the top of the frame and when a section is completed, it is trimmed down with a pair of scissors. Using this process, a Turkish carpet can take months and even years to make.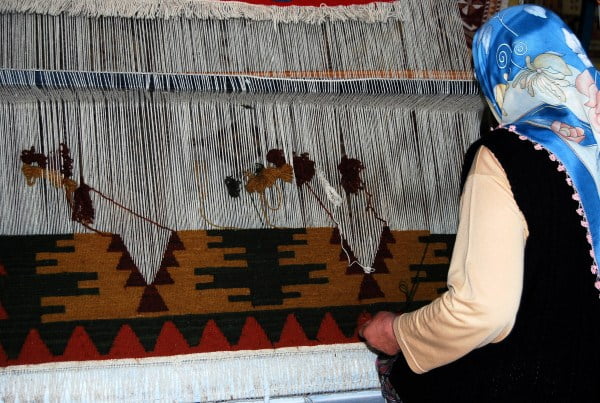 One of the reasons that Turkish carpets are a specialist product is because patterns have meanings. Flowers, stars, eyes, birds, shapes and a variety of subjects can signify anything from love, passion, protection from evil, respect and motherhood.
Carpets are also specific to a region. If visiting a Turkish carpet store, you should pay great attention to where the carpet was made. Regions use a variety of the basic techniques and have their own specific colors and motifs.
The King of Turkish Carpets – A Silk Carpet
If money is no object, a silk carpet is an attractive option. Their life begins from silk cocoons, which are tenderly looked after until they sound hollow when knocked, signifying that the silk worm is dead. It can take several thousand cocoons just to make a silk carpet that is the same size as a pray mat. Prices for a silk carpet that is of a small size will start at roughly 2500 UK pounds.
How to Buy a Turkish Carpet
I have great respect for Turkish carpets and rugs. I have three in my house and often pop into any carpet shop just to marvel at the designs and patterns. There is an art to buying a Turkish carpet though, to ensure you get a good carpet for a good price.
You need to remember that the first price is already high as tradition dictates you have to bargain. This process will take at least an hour and during that time, expect to drink copious amounts of tea.
The first price given should be met with a shake of the head, a surprised look on your face and a return offer that is at least 40% less. The seller will do the same dramatic effects and return with another offer, until eventually you will meet in the middle for a price you both agree.
Think of it as a drama show and do not let any embarrassment hold you back otherwise you will end up with an empty wallet.
Do check for authenticity. I look at the back of the carpet , to make sure that I can see the pattern. I take notes on the region where the carpet was made, the meaning of the motifs and pattern and then I research this information on the internet. If I am not sure, I return with an expert in tow.
If you are buying a silk carpet, definitely seek expert advice on any potential purchase. 
Do Not Be Ripped Off
Take your time. Carpet sellers are hard-core and many people have been pushed into buying a carpet that it is not authentic and is overpriced. If you find yourself in this position, explain that you are going away to think about it and you will take their business card.
Readers Question: Do you own a Turkish carpet? What are your thoughts about this age-old tradition?
Hi. I'm Natalie, a freelance travel blogger and writer specializing in the country of Turkey. I love hot summer days, historical sites and coffee.