Turkey has advanced tremendously over the last 15 years and this has caused intense discussion in some circles as to whether modern and urban development is killing culture and traditions.
The arguments and discussions are nothing new for me, because I heard the equivalent while growing up in the UK, so I tend not to comment.
The positive kickback to these concerns is many people from the older generations are making a concentrated effort to keep old traditions alive and one of them is Ebru painting, a creative art-form dating from the Ottoman Empire.
What is Ebru Painting?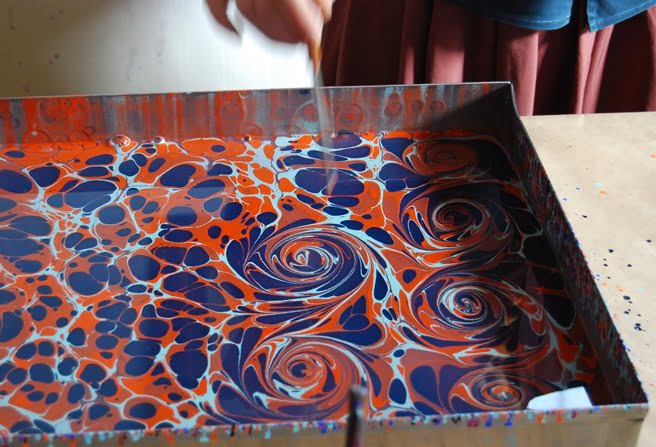 In the West, we call it Paper Marbling but the process is exactly the same. Paints on placed onto the surface of a thick liquid and swirled into patterns or designs before a thin canvas is placed on top. The canvas instantly absorbs the patterned paints and while the concept might seem easy, it takes practise to perfect.
Ebru Painting in the Beypazari Region of Turkey
In the Living Museum of Beypazari, I saw Ebru painting for the first time. A young girl standing behind a desk beckoned me over. Her job was to demonstrate Ebru painting as part of the history of the region. Apparently only extremely creative artists of the Ottoman era, used to paint like this but in later years, it spread into normal everyday society as a hobby.
At a super-fast speed, she swirled the paints, placed her canvas over the top and produced a lovely picture with a smile!
Ta da!
The ease with which she did it, reminded me of a popular art program, I watched as a child that included a plasticine figure called Morph and a talented artist called Tony Hart, who seemed to have a permanent grin on his face.
"Well done" I said
"Would you like to try?" she replied
"Eh no" I blurted out. I didn't want to look stupid with my amateur techniques. I would probably end up with more paint on the floor than on the canvas.
As I left Beypazari and headed to Cappadocia, I realised declining the chance was a mistake. After all, it was free. Unable to turn back, I assumed one day, I would get another opportunity to try it.
Ebru Painting in Cappadocia
Two days later, while walking the small streets of Uchisar town in Cappadocia, I came across an artist gallery. The pictures seemed to have been created using Ebru painting so I headed in to find out more.
The owner duly started a demonstration and at the end asked me if I wanted to try. "Sure" I said with a great big smile, feeling delighted with myself for getting another chance so quickly.
She asked for 100 lira before she would hand over the materials!
Apparently it wasn't a demonstration but a preview of the services she offered as an art teacher.
My traveling budget at this stage had dwindled to the bottom of my purse so I declined.
Having seen her artwork though, I can understand why she charges. As evident from the photo, below she is extremely talented. Also according to this website, preparing the materials for Ebru painting takes two days. (Have a read if you want step by step instructions to try it).
Ebru painting is still on my bucket list. I haven't seen it anywhere else since then but am sure I will try it one day, whether I have to pay or not.
Question for Readers : Have you tried Ebru painting before?
Further Reading : The Turkish Culture Organization has an in-depth, historical essay on Ebru painting as well as more pictures of finished results.