Most of my travel plans go smoothly. On the odd occasion though, I do get it wrong and I end up traveling too fast. This means I miss out on some intriguing destinations of which one was Savsat Sahara Milli Park. Located in the North-east region of Turkey, it is a picture perfect landscape scene and I didn't even stay the night!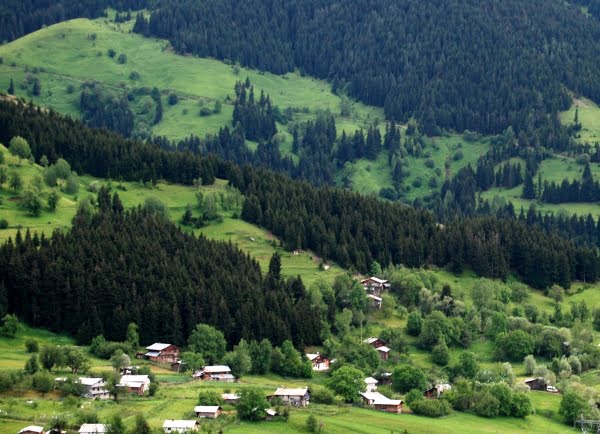 Savsat Sahara Milli Park – Artvin Turkey
Due to prices of accommodation and a haphazard transport system, independent travel plans to the north-east, were getting expensive.  Prices of  group tours were cheaper, so I met seven strangers in Trabzon and we slowly made our way around the region visiting natural landmarks and historical buildings.
We had left the province of Artvin and after a gruelling walk in Hells gorge started heading towards the city of Kars. At this point, I had never heard of Savsat Sahara Milli Park. It was mentioned briefly on the itinerary but I didn't expect much because it was listed as a drive through.
Starring out the window as the landscape slowly changed, my interest suddenly peaked. I was stunned. We had arrived in Savsat and the view was unlike anything I had seen in Turkey before.
Houses dotted over hills in among perfectly paved roads and lush green fields, made it all seem quite surreal. It was all very neat and manicured, like the set of a blockbuster film. I felt relief that the area is protected by the government because it would be heart-breaking to see it disappear because of overzealous developers.
I wanted to head further down into the valley to explore and met locals but after a photo stop of thirty minutes, we continued on our journey.  I regret that but didn't have a choice. Leaving the group would mean losing four days traveling costs that I had already paid.
As we headed further out of the park, we come across wooden Yayla houses used by Turks during summer because they are cooler. Farmers were walking in fields with cows and sheep and the landscape changed again from mountains and hills to flat plains. Filled with pink and yellow flowers, my expectations of dusty, barren land had been proved so very wrong.
Familiarity with Turkey has slowly grown on me over the last decade but I am now reminded many more unique places exist in Turkey  of which one of them is Savsat Sahara Milli Park.
Even though I have been there, it is still on my bucket list. This place deserves more exploration.
[wp_geo_map]