I spent three days in Trabzon city in Turkey and as a solo female traveller, I felt safe. It was easy to navigate and the locals were very friendly. Mention the city in other parts of Turkey, and most people will associate it with its football club, Trabzon Spor. The city has a lot more to offer though, then just being a football hub.
About Trabzon City in Turkey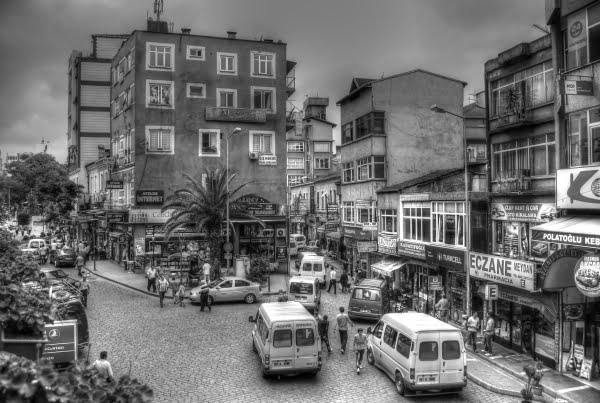 Due to it's location on the old silk road, Trabzon has been influenced by many cultures and religions. If we measure the size of the city on population, it is relatively small. The population count makes it the 30th largest city in Turkey.
The main claim to fame for Trabzon is as the birthplace of the Ottoman ruler, Suleiman the magnificent. This connection ensured that it was an important city during the long reign of the Ottoman rulers. It is also mentioned extensively in the journals of Evliya Çelebi who was a 17th century traveller.
Trabzon is  a coastal city so the cuisine is mainly based on fish dishes. Although it has moved with the times, and in the city square a Burger King restaurant was extremely busy. Eating out is relatively cheap, although alcohol is not widely served and I ended up with a black bag of Efes beer which I then had to drink in my hotel room.
The transport connections with other places in Turkey are good. There are frequent buses from all major cities but I opted for an internal flight from the west coast because the bus journey would have taken 24 hours.
My Impressions of Trabzon
As well as touring the main sites, I opted to spend time down by the sea front because that is where the locals seemed to head. Tea gardens and small restaurants specialising in fish dishes are the main theme. I was surprised by the amount of graffiti that I saw because this is not common in Turkey.
It all seemed to be declarations from the heart though and it made me wonder if Trabzon is a city riding high on the love vibe. It started when I took a walk down the main street and there seemed to be more than your average amount of wedding shops. Then couples started appearing everywhere. They were sitting, walking, talking, laughing and kissing.
I felt like a spare part.
The odd one out.
I was like the person who turned up to the dance without a date.
I walked further away from the couples and found a solitary place.
Then I started reading the graffiti.
Even wannabe artists with a spray can had not escaped the love bug.
"I love you" in Turkish is "Seni Seviyorum' . The words were everywhere, accompanied with the arrow of cupid and love hearts.
Back in my hotel room, I wondered if it was my imagination. I was apart from my husband and missing him. Subconscious thoughts could have been making me focus on other couples, the graffiti and the love bug, more than I normally would. Then, I opened the window and the first thing I saw confirmed it was not my imagination. Even the local sex shop  was using the L word.
Attractions of Trabzon
Don't let the graffiti put you off if you plan to visit because there is lots of attractions in Trabzon. The three most popular are…
On the outskirts,  is Sumela monastery which is perched on the edge of a cliff face. Most people visit Trabzon especially to see this attraction. You can read more about that here.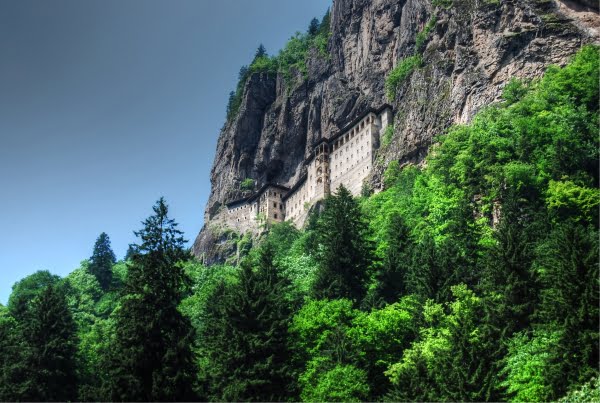 There is also a Hagia Sophia which is a lot smaller than it's counterpart in Istanbul but it is still worth a visit. Formally a mosque and church, it is now a museum  but try to avoid the coachloads of people that often turn up because the interior is quite small. Read more.
Perched on a hilltop with a view over Trabzon is Ataturk's house. Ataturk was the founder of the Turkish republic and  was given this house as a thank you. Read more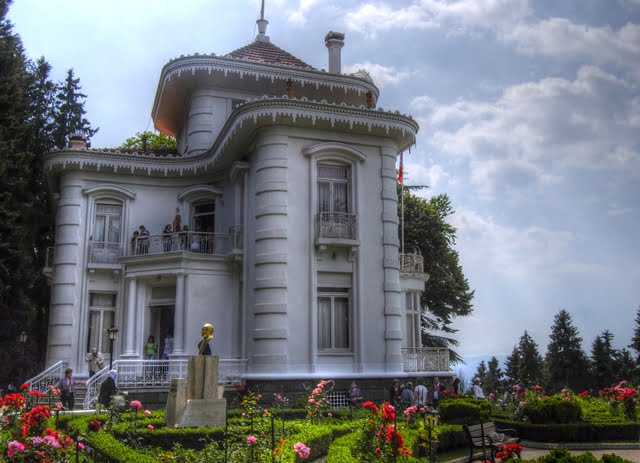 Day trips also run to the nearby natural beauty of Uzungol, although it is a long journey which does not leave you time to explore. If you can, opt to stay overnight instead.
Further Reading about Trabzon, Turkey
An Early Morning Tour of Trabzon – Kate Going Global
Where to Eat Pide in Trabzon – Turkish Muse
Black and White pictures of Trabzon – This site
[wp_geo_map]
Save
Save