Deyrulzafaran monastery is seldom mentioned in mainstream tourism for Turkey but it is a must see while in the Mardin region. Built in 493AD for Syriac Orthodox (Assyrian) Christians, it is also called Mor Hananyo or Saffron monastery and was the patriarch seat for the church until 1932.
I was eager to visit it, so after looking at a map, discovered the monastery was on the outskirts of Mardin in a region called Tur Abdin. All the bus drivers said no transport went that way and directed us towards taxi drivers. Now, I wanted to pay the fifty lira quoted for a return journey. I like to travel in the easiest way possible and if that means spending money, so be it.
However, my husband was in charge of finances and he was determined to get there using cheaper methods. Thus, the most terrifying journey of my life started.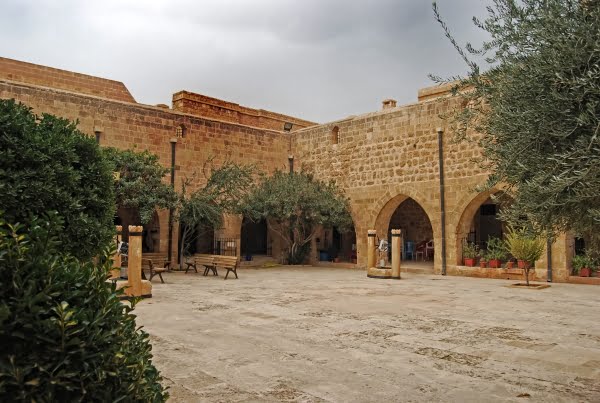 Getting to Tur Abdin
A young boy was working in a tea shop, opposite the taxi stand.  He reminded me of the scrawny boy called The Artful Dodger  from the Oliver Twist story.  Full of life and cocky as f***, he told my husband that the taxi drivers were lying and the monastery could be reached using public transport.
He said to get off at Sehir Ici and after that it was only 600 metres walk. So I stomached the "told you so" statements from my husband and we got on the bus. However in the back of my mind was wondering why the bus drivers would say they don't go there, if they did.
After 20 minutes, we were dropped off outside a prison; did a left turn and started walking. Then I saw the sign. Deyrulzafaran  monastery was not 600 metres, as the boy said. It was 4km away!
Now as a heavy smoker, I can normally walk 2 to 3km then get breathless. Before I head off on a long walk, I also buy bottled water and stash it in my backpack. I didn't have any water.
If it had been me talking to the young boy, misunderstanding 4km and 600 metres is easily done with my level of the Turkish language.  However, I couldn't understand how my Turkish husband could misunderstand him! Cue a hysterical roadside tantrum by me.
I smoked 3 cigarettes to calm down, then decided since we were there, to proceed with the 4km walk. We could see the monastery in the distance so we walked up and down hills, on a long winding road that never seemed to end. My throat became dry and my legs started aching. No matter how far we walked, the monastery never seemed any closer.
No buses passed and of the few cars that came that way, all sped past without giving us a second glance. There were no shops, cafes or restaurants to buy drinks or use the toilet.  Now, I have done some irresponsible things during my travels but this seemed the worst.
My husband was feeling the strain from the walk as well, and the tension between us was sharp. Just as I was on the verge of crying and contemplating relieving my bladder behind a bush, a car pulled up and asked if we wanted a lift.
Never have I been so pleased to have random strangers ask me if I want to get in their car!  Never have I felt like hugging and kissing another person so much. I remember thinking if there was a god up there; he was looking down on me that day because I was moments away from breaking down.
Touring Deyrulzafaran Monastery
With great relief, we made it to the monastery and it was closed for lunch! After waiting thirty minutes and paying a 5 lira entrance fee, we were finally allowed in but had to wait for a group to form because no one can walk around on their own!
The monastery, which underwent restoration in 2007, may appear huge from the outside but not all rooms are open to the public so it takes no more than an hour to walk around.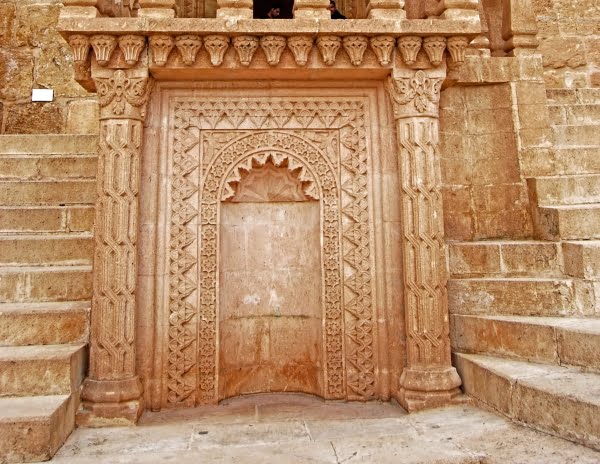 Considering the age, it is in marvelous condition and  items on display include old Bibles and  a cellar used by worshippers when the building was a sun temple.
Another sacred room had walls containing sarcophagi of past patriarchs. and further on in the tour, we were able to see the carriages that the patriarchs were carried around in.
Being stuck in the middle of nowhere is not something that I anticipate doing again. So my message to readers who want to see the Monastery is, don't attempt to reach it using buses. If you do, be prepared for a very long walk.
[wp_geo_map]