My visit to the Northeast region of Turkey has always stuck firmly in my mind. Further inland and outside of the main cities of Trabzon and Rize, it is hard to believe the green hills, tea plantations and cool climate are part of this country.
Life in the small villages is basic and old fashioned. I witnessed people building their own wood-houses and milking their cows by hand. In the hotel I stayed in, the cheese, and butter served at breakfast was homemade.
It was also the first time I also heard about summertime plateau migration, a strong tradition of the Laz and Hemsin communities.
To escape the summer heat, locals move higher up into the cooler mountains and while there, I was in the fortunate position of having a local knowledgeable guide who took me to Demirkapi plateau.
At approximately 3370 meters above sea level, it was a long drive and hard walk to get there but after meeting the locals, and admiring the gushing waterfalls and fog blanket settling on top of the mountain, I had a brief-fleeting fantasy of living within the plateau community while I penned a best-selling travel book.
I asked about the average price of property in the village but the guide was quick to put me straight.
"Will never happen" he said.
"These communities are so tight and you're an outsider, a foreigner and a stranger. Dream on"
With my fantasy shot down in flames, I left the Black sea region but still have an urge to return. Yes, the locals are tight and there is a strong community spirit. This left me with a sense, that while I briefly learned about their lifestyles, cultures and traditions, I never was able to glimpse into the heart and soul of their beliefs.
Then last month, I was contacted by Visual Peace Media, who asked me to review a film discussing the culture of the Black sea region and whether it was dying out. Released on April the 17th, filmmaker Mario Mattei has won two film festival awards for his documentary about the Laz and Hemsin communities and their practise of plateau migration.
Believing a higher power had answered my prayers, I eagerly sent an email back for them to send the film through.
Dance the Past into the Future
"In the advancement of modern developments, will our culture suffocate?"
Featuring interviews with young and old generations of the Laz and Hemsin communities, it explains how the practise of plateau migration has died out because young people prefer to spend life in the big cities.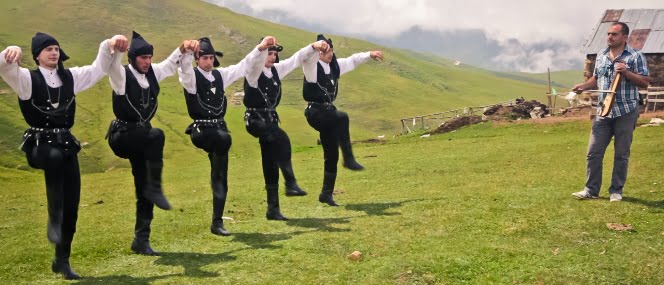 Yasar who is a farmer says of the youngsters "Good, honest labour is too hard for them. They've gotten used to being lazy".
Then in direct contrast, the interview focuses on a young lad, aged approximately 28, who is slightly overweight and I strongly suspect has an addiction to fast food.
He doesn't see the need to keep cows in the plateaus anymore. Big companies and corporations can do this job better, faster and cheaper, he says.
Obviously he wasn't around when Tescos, who also own the Turkish brand of Kipa supermarkets were filling their pre-packed lasagnes with horsemeat. Neither had he heard of the mass culling that took place within abattoirs of the UK because of mad cow disease.
The Tulum Bagpipe
Going back to the village, we are introduced to Bulent Bekar, a craftsman of the Tulum bagpipe, a musical instrument played for locals to perform the traditional Horon dance. Bulent is despondent about the future since only 4 or 5 craftsmen of this trade remain in the area.
He asks if the Tulum bagpipe will become an instrument of the past, replaced with high tech loud speakers and machine generated drum beats. Probably I thought to myself, although it seems that Bulent wouldn't want to hear or acknowledge this answer.
Even the elders seem to disagree with each other, as one declares that the traditions and culture of the Laz people will always be present in their hearts, irrespective of whether they are practised or not.
His friend Kadir however, complains of diminishing love and respect shown by the younger generations, although speaking about their weakness, I have to doubt his claim that the older generations used to pick up 200 kilograms without a struggle!
We are not uncivilized! The youngsters are just wimps!
Alfe, on the other hand is a strong-willed elderly Laz woman who swings around a pair of knitting needles in such a fashion she could easily poke someone's eyes out. She laughs at the youngsters, who apparently call the elders uncivilized.
Implying the youngsters are wimps, she points out she never went to school, worked all her life and now possibly, well into her seventies is sturdier than ever before. I wasn't quite sure whether she was trying to convince the viewer of this assumption or herself but her message is quite clear.
They are people who have worked the land all their lives and they expected the following generations to do just the same.
By choosing alternative lifestyles, they put their heritage under threat.
While watching the film, I neither disagreed nor agreed with either generation and as technology becomes a firm fixture of daily society, this story is a common discussion in villages, towns and cities all over the world.
While the elders complain about lost values I believe change should never be feared. It is inevitable things can't stay the same and running away from change, just ensures it rebounds back to you ten times harder.
At the same time, I have concern for  younger generations who put so much faith in large corporations and companies, believing they only have our best interests at heart.
How can You see Dance the Past into the Future?
The film has now been officially released on Digital HD and the trailer clip is featured below. On Vimeo, you can rent the film for $3.99 or buy it for $7.99. The film is also available on reelhouse.org but alternatively, head across to Amazon Instant Video.
(Image credit: Tulum bagpipe and tea worker)
Save
Hi. I'm Natalie, a freelance travel blogger and writer specializing in the country of Turkey. I love hot summer days, historical sites and coffee.