On the surface, Kozalan Köyü doesn't have many attractions and people passing through may decide not to stop. However, it does have a certain appeal, it just depends on what you are looking for.
If you want golden sand beaches, pumping nightclubs and foreign cuisine, keep driving. If you are looking for an "off the beaten track destination" that introduces you to local culture and foods, a variety of plants and animals, and remarkable landscape views, then stop.
Kozalan village, itself is not over populated. The last count recorded just 48 people but it is better known for the style of houses. The bottom half are traditionally built using stone and the top half is finished with meshed wood and a tin roof.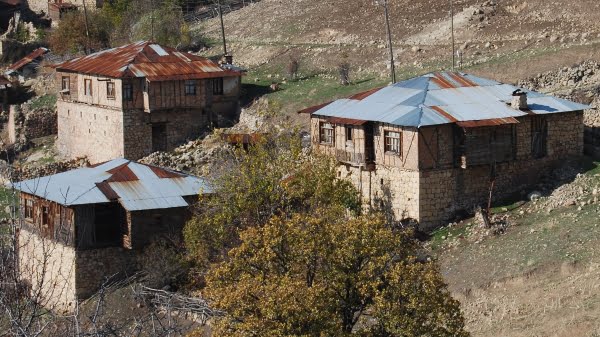 While walking around the village, I spotted just two people and no hotels but I soon learned the attraction is in the surrounding fields that have a variety of endemic plants. Wildlife is also in abundance, making vultures and eagles a regularly spotted sight. The area is suitable for trekkers, photographers, and lovers of the great outdoors.
Pear Scrumping in Kozalan Köyü
I am embarrassed to admit that I gave into the temptation of scrumping.  For anyone who did not grow up in the UK, scrumping is the unforgivable act of stealing fruit from orchids.
You cannot scrump from a store because that is shoplifting but growing up as children, scrumping did not seem to be a major crime and I spent much time doing that or stealing golf balls from the local golf course.
Anyway, as I walked away with both hands full of juicy green pears; I did feel guilty but there was a slight twinge of excitement at recreating a childhood crime.
The Graveyard
Across the road from the orchid was a steel gate that opened to a cemetery. Again, it felt quite wrong to be traipsing around a graveyard but curiosity won over my conscience and I started reading the grave stones, some of which the inhabitants had a long and lengthy time on this earth.
Locals have nicknamed the cemetery "Kings Throne" because from a distance, the graves dotted strategically, makes it look like a large throne has been embedded in the side of the hill.
The ground was also covered with leaves and overgrowing grass so when I occasionally heard a rustle, my mind went into overdrive about hidden snakes that are my greatest fear. All concerns were soon forgotten though once I saw this view.
Accommodation Near Kozalan Köyü and Beypazari
Although Kozalan Köyü has no hotels, there is a lodge about 4km away called Doganbey Turizm. It makes a great base from which to explore the village and the surrounding Inozu Valley. They can also provide contacts details for local guides in the area.
[wp_geo_map]
Save