Turkey is a country of contrasts; its history a blend between those of the two continents it bridges, Europe and Asia. Over centuries the land that is today Turkey has passed in and out of the hands of numerous empires and been home to a variety of important cultures, creating a diverse heritage that can still be seen when visiting the country today. If you're considering a trip to Turkey, with Villa Plus or other sites, and are wondering what unique experiences and sites the country has to offer, then here are 6 great things that you can only see and do in Turkey.
Visit the Grand Bazaar
The Grand Bazaar in Turkey's capital of Istanbul is among the world's largest markets, made-up of 61 covered streets and over 3,000 shops, and with 250,000 to 400,000 people visiting per day, it is constantly in the running for the world's most-visited tourist destination, an acclaim it garnered in 2014.
Located in the district of Fatih inside the walled city of Istanbul, the construction of the Grand Bazaar began in 1455 at the beginning of the reign of the Ottoman Empire. Today visitors can pick-up everything from spices and teas to lanterns and light fixtures, though the most common purchase is one of the famous Turkish rugs.
The Hagia Sophia
Hagia Sophia translates from Latin to "Holy Wisdom", and the famous building in Istanbul that bears this name has rightfully earned it, having been a holy place of worship for three major religions: Greek Orthodox, Roman Catholic, and Islam.
The site has held religious importance since the first church was built on its grounds in the year 360 AD. In the year 1935 the Hagia Sophia was secularized and opened as a museum, which it remains to this day. Visitors will enjoy exploring the history and relics housed in this architectural marvel.
The Archaeological Site of Troy
The famous story of the fall of the city of Troy was made immortal in the verse of Homer's epic poem, "The Iliad", but after the sacking of this once powerful city, the ruins remained lost. Fortunately, in 1870 an archaeologist by the name of Heinrich Schliemann rediscovered the nearly 4,000-year-old site. Whether you're a fan of epic literature or simply enjoy wandering through important historical ruins, the ancient city of Troy is a destination not to be missed.
Cappadocia
Cappadocia is a landscape like one you've never seen before, featuring strange, fairy-tale peaks of stone that rise like chimneys from the arid earth. The region has an equally fantastic human history to match its landscape, as locals once dug-out underground housing to live a troglodyte type life in intricate caves.
Some of the great local sites include rock-cut churches at the Göreme Open-Air Museum, as well as frescoes painted on cave walls. If you're after a completely unique experience, then a trip to Cappadocia will certainly be one of a kind.
Experience Turkish Food Culture
Turkish cuisine lies largely in the heritage of the Ottoman culture, which takes influences from Central Asian, Caucasian, Middle Eastern, Mediterranean, and Balkan cuisines. Many of the dishes are created by using a fragrant mixture of spices, and popular ingredients/dishes include: aubergine, stuffed dolmas, vegetable stews, fish (Black Sea anchovy), kebabs, mezes, and more. If you're a fan of Greek, Asian, and Middle Eastern food, you're sure to love the tasty fusion of Turkish cuisine.
The Antalya Coast
If you're looking to travel extensively and explore Turkey, then a trip to the Anatolian Coast is a must. There are few places in the world that combine such sheer scenic beauty with the type of historical wonders that can be found in Turkey. Whether you're looking to stop off at a brand name hotel for a few days of beachside relaxation, or trekking through the mountain scenery that backs this beautiful coastline, it will only take one view of the pristine waters to understand why they call it the turquoise coast.
With so many wonderful options for thrilling and unique experiences, it is easy to see why Turkey is such a popular destination for every type of traveler.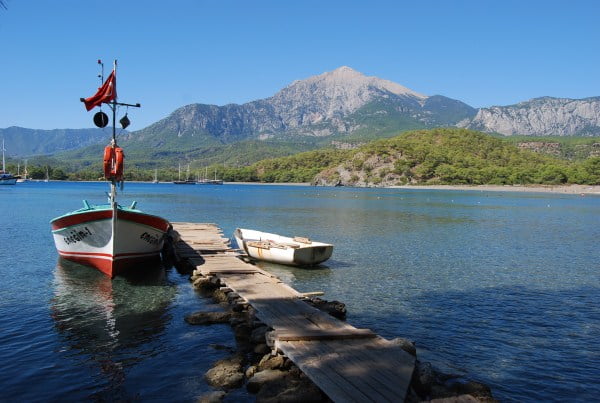 Save