One of my favourite parts of the day is to sit down at the end of it with a nice, ice cold beer and watch the sun go down. There are certain areas within Turkey that are famous for their sunsets and you will find professional photographers flocking there to catch the perfect picture.
A glowing orange sky disappearing behind mountains or into the sea is enough to make anyone stand still though, whether you have a camera in your hand or not. On the occasions that I have stayed sober enough, I also like to pick up my camera to capture the moment.
Photos of Sunsets in Turkey
Yalikavak : Bodrum
A small fishing resort on the Aegean Coast. Yalikavak is often pushed to the side by its neighbouring resort when it comes to beautiful sunsets however I managed to capture this moment and it has become my favourite sunset picture.
This resort is the neighbour of Yalikavak and many travel publications will boast about its sunset. There are lots of restaurants along the sea front where you can pull up a chair, order your beer and wait for the moment.
Bodrum
Bodrum has the advantage of being set around a bay and the sun will disappear behind mountains in the far off distance. Even when it has gone behind the mountains, the sky is still a vivid combination of reds and orange colours.
Altinkum
Taken on the Ferry service coming back from Bodrum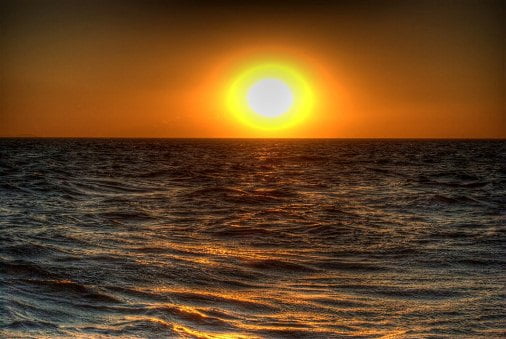 Rose Valley. Cappadocia
The first three pictures were taken on the Aegean coast of Turkey however I learned in November that Cappadocia in the centre of Turkey also has something to boast about. I headed to Rose Valley where I felt quite inferior standing next to all the professional photographers with their thousand dollar cameras. They were friendly enough to share some tips with me  and at the same time, informed me that I was there at the wrong time of year. Go to Rose valley in the summer time and apparently the whole sky is pure red.
See more photos from around Turkey