I looked left and then I looked right. There was not a soul to be seen in the small village of Yesiltepe. I had been to this area many times before but it had always been a fleeting visit and I was eager to find out why a lot of ex-pats were attracted to buying property here. It was a not a place that instantly captivated me but I had decided to return and give it one more chance before I nicknamed it the village of the damned.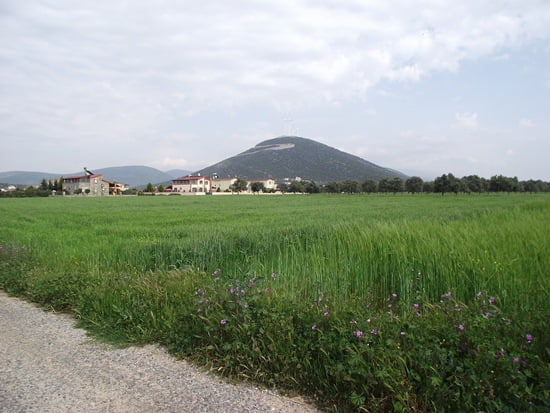 Yesiltepe : Akbuk : Turkey
To drive into Yesiltepe, we went through lush, green fields. All of a sudden the green fields stop and rows of villas start appearing. They are newly built villas that have the latest modern cons and would not look out of place in a real estate magazine. The village is very neatly set out in a grid patter n and street signs are on every corner.
Nearby attractions include Didyma Horse safari and Bafa Lake however I was here to get a feel for the village, and the perfect way to do that is to speak to the people who live there. The problem was that I could not see anyone. The roads were deserted and there was no sign of life.
I spotted the local corner market and figured that if anyone could give me information, the people that work there could. A young lad appeared and I asked him what there was to do in Yesiltepe.  His lips pursed and he looked up at the sky as if he was waiting for the heavens to send him the answer.  "Huh! Well we have a café" he mumbled.
"Is there anything else?" I asked. He then remembered the public swimming pool; however unfortunately there was no water in it. The mention of the swimming pool, also gave way to a long, one-sided discussion that many ex-pats living in Yesiltepe were not happy.
Expats Living in Yesiltepe
They had bought villas with private swimming pools, however their swimming pools were not on the building plans and therefore illegal. The council was ordering some people to fill their swimming pools in. I really did not want to get into this conversation so politely asked to buy cigarettes and then I could be on my way. "I don't have any", the young lad said. There were not enough people living in the village to stock them at this time of year. "Come back next week and my stock would have arrived by then" he said.
Yesiltepe translates into green hills. One look at the horizon and this will tell you that it is a well suited name. However I never met one person or come across one attraction that convinced me to write about Yesiltepe as a great place to visit. It obviously appeals to some ex-pats otherwise they would not have bought property there.  For me, the lack of life, character and social interaction means that I will not be returning any time soon.
Save