I stopped in Kayseri on my way to Goreme, Cappadocia.  Speaking to locals, they said a lot of Japanese and Russian tourists visit the city however hardly any British, American or Australian come. They all seem to head to Goreme and totally bypass the city altogether.
This is a great shame as Kayseri is a city with a strong, individual sense of character. There is also a lot to do but because it is all within close range, no longer than two days is needed.
Apart from tourists, the city also attracts a lot of business men as it is a major trading hub. This was evident when we decided not to book any accommodation in advance. Our plan was to just walk into the nearest hotel when we arrived however this turned out to be a nightmare as most of the decent hotels were fully booked with business men.
What stood about Kayseri the most? Well, I think that if you want to truly know Turkey, Kayseri should be the first place you go to. Kayseri caters for tourism however it does not resemble the man-made, money making tourist resorts that adorn much of the Mediterranean and Aegean coasts. This could be due to the fact that tourism is not the main source of income for the city. In fact most of the museums and places of interest that we visited had no entrance charge and none of the tourist workers expected any tips either.
While religion is not shoved in your face, I do believe that behind the scenes the citizens of Kayseri take it seriously. Alcohol is not widely served; in fact while I was there I did not see one restaurant or shop selling it. There also seem to be mosques everywhere but all of them were very welcoming to foreigners that wanted to go in.
My Kayseri Photos
Kayseri castle is the middle of the city. It is not so much a tourist spot as it has been turned into a market place where traders set up their stalls. There are many cosmopolitan cafes surrounding the castle where you can sit and watch the world pass you by. If you are like me and you like people watching, it is a great spot as people from all walks of life walk past you.
The above is the house of Ataturk and this turned out to be a disappointment. Guide books lead you to believe that Ataturk actually lived in this house, however he only visited for two days and it was the house of a member of his parliament. For those of you that have not been to Turkey, Mustafa Kemal Ataturk was the founder of the republic of Turkey in 1923.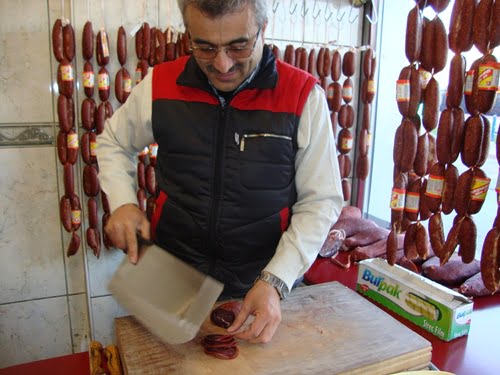 Kayseri is famous for many things however the most well known has to be its pastirma. Pastirma is an air dried cured meat that is   thinly sliced and you can more or less eat it with anything you want. Shops specialise in it and I bought a kilo from this nice gentlemen above who let me eat most of his tasting stock! I stunk of garlic for the next two days.
One similarity you will notice when traveling through Turkey, is that every town or city always has a statue of the founder of Turkey. Mustafa Kemal Ataturk.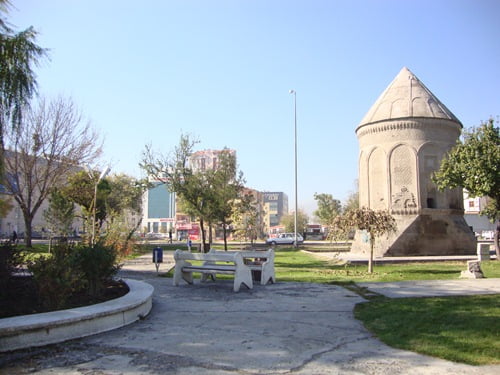 Tombs like the above are every where you go in Kayseri however most of them are locked and you can not gain entrance. The tombs are where past citizens that were either rich or influential have been   laid to rest.
The above tomb was open to visitors and it belongs to a scholar called Zeynel who lived and died in Kayseri in the 1400's. It is located directly next to the tourism office and the guide from there will gladly fill you in on all the details about the work that Zeynel accomplished in his life time.
Above is the hotel that we ended up in. We had booked the last room available and were the only tourists. Everyone one else was a business man. Most of the hotels appeared to be clean and modern. A good hotel will cost roughly 40TL for bed and breakfast.
All around Kayseri are plenty of mosques that seem to be busy all the time. Outside of prey time, they are very welcoming to any non Muslims who wish to take a look around.
The last picture is my favourite one and it is taken from the cafe above the Hilton hotel. This view is the centre of Kayseri city centre. Two days was enough for me in Kayseri, any longer and I would become bored. It is also worth mentioning that if you like skiing or snowboarding, there is a resort just 25km away called Mount Erciyes. I did not go there myself as I detest the sight of snow with a vengeance however I spoke to many locals who recommended it for everyone seeking the adrenaline factor.
Save