The Beypazari region of Ankara is culturally rich.  From local foods to jewellery to weaving and handicrafts, I learned a lot about the people that live there. One tradition I also learned about was the Bindalli dress.
What is a Bindalli dress?
It is an intricate garment that is a symbol of the relationship between mother and daughter.  Handed down through generations, it is a long velvet robe carefully embroidered with silver or gold designs and motifs.
Worn over other clothing, it is then completed with a "kusak" gold belt and a "Cevre" which is a squared shaped piece of cloth to be placed on the head. I played dress up in the local shop and tried on many Bindalli dresses. Unfortunately, they did not go well with my standard brand name sports shoes and Levi jeans.
There was one dress that caught my eye though and it had a sorry tale to tell.
The Bindalli Dress from Beypazari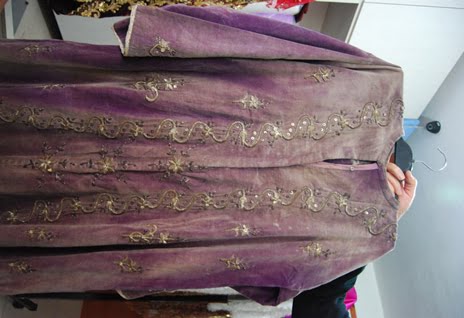 It was tatty, old and looked like it had been worn many times.
The lady of the shop said it probably had and was estimated to be more than 100 years old.
Where did she find it?
In the rubbish bin!
Someone had thrown it out with the trash.
As an antique piece of clothing, it is not worth that much in monetary value but to experts in the culture and traditions of Beypazari, it is certainly valuable.
Sometimes if a person has lived with a tradition all their life, they can't see the attraction in the same light that an outsider like me did.
I was in awe of this Turkish tradition that I never knew about before.
It took me one step further to understanding the culture of my adopted country and I could not understand why anyone would throw out a family heirloom.
There is a proverb that describes the situation though.
"One man's trash is another man's treasure'
[wp_geo_map]
Save