In the Rize province of Turkey, sits the Firtina valley. The whole landscape is filled with greenery and when compared to city life like Istanbul or beach resorts of the Aegean; it is easy to image the region as existing in a different country. Hotels in the area are traditional Black sea and locals still adhere to rural life and customs.
The focal point of the region is the river that runs through it. Formed by a number of streams that run down the Kackar Mountains, it stretches for 57 kilometres; and the fast flowing water has made it ideal for sports such as white water rafting, and canoeing, but I wasn't there for that.
I was more interested in seeking out the stone bridges. Boring you might say, but these are not just any normal stone bridges!
What is so special about the bridges?
Roughly 20 stone bridges sit over various points of the river and they all date from the Ottoman period, with a few that were built pre 18th century. Local stone masons who built them, were experts at their job because the preservation is remarkable.
They were typically built with high arches because the Firtina River did and still does overflows but when I spotted one, I could only stand in awe at what man had achieved when everything was done by hand with no machinery. Remember, this is a fast flowing river!
Taskemer Köprü in Çamlihemsin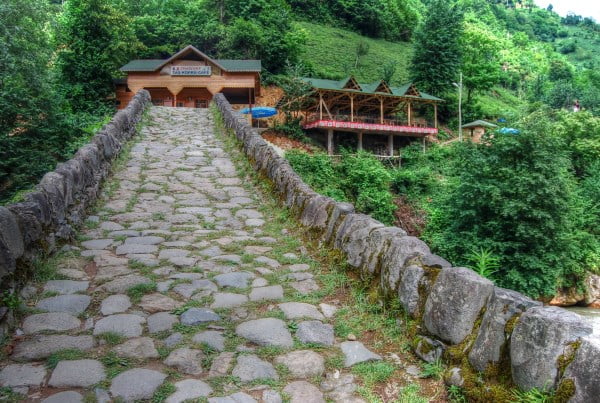 Despite my enthusiasm, while I was walking along Taskemer Bridge, I could not help but feel this would be the day it collapsed! As much as I believed in the perfect workmanship of the Ottoman era, the age factor of the bridge kept popping up in my mind.
The walk over the arch was strenuous on the muscles at the top of my legs and standing in the middle of the bridge, overlooking the fast flowing river, I confirmed that if the bridge did indeed collapse, that would be lights out for me!
I walked on the bridge, but I ran off it instead!
If you visit the Firtina Valley area, be sure to keep an eye out for the Ottoman stone bridges!
[wp_geo_map]
Save