While in Trabzon, I was desperate to see the the Ataturk pavilion, also known as Ataturk's House (For those of you not familiar with Turkey, Ataturk was the man who led the Turkish war of independence, eventually leading to the formation of the Republic of Turkey in 1923).
About Ataturk's Pavilion in Trabzon
Anyway, it transpired that Ataturk spent hardly any time in this house. A disappointing fact as this was also the case with the house of Ataturk in Kayseri. That turned out to be a friend's house where he had only stayed for two nights.
This house in Trabzon was given to Ataturk as a present from the city. I cannot determine the true story of the house after his death as I heard three versions.
1 – Ataturk left it to the people of Trabzon in his will
2 – He left it to his daughter in his will
3 – Ataturk's lawyers forgot to include the house in his will and it lay dominant for many years before the city of Trabzon opened it as a museum.
The house was built in 1903 and much of the furniture pre dates 1937. It is well kept and in excellent condition, so visitors get a good idea of domestic history at that time.
Ataturk Pavilion : Photography is Forbidden
Prior to going, I had learned from another writer that photography was forbidden and I considered this a major setback as I love to use photos on this blog.
I decided to hang the camera around my neck and sneakily take photos but I soon discovered that the sound of a camera clicking is magnified x100 in a quiet museum. I ended up with many pictures of the exterior but that is a shame because the interior is the most interesting.
If you are in Trabzon, do make an effort to see the Ataturk Pavilion. It only costs 2 lira to enter and is worth it,  despite the little time that Ataturk spent there.
If you cannot visit, look at the writers post about the house. She has photos of the inside!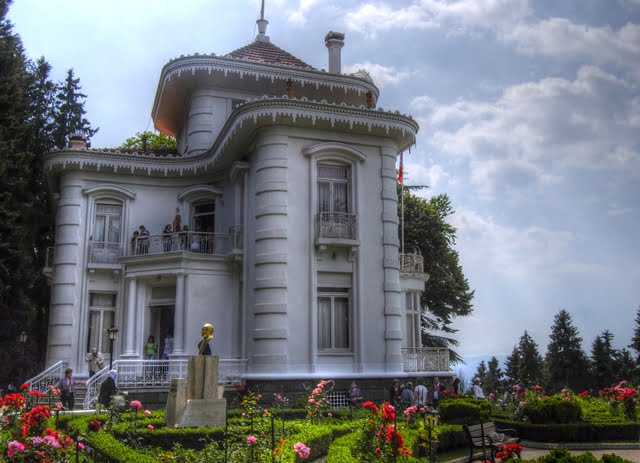 Readers Question : How do you feel when photography is forbidden, especially now that most cameras have a no flash function?
[wp_geo_map]