Miletus is just one of many ancient ruin sites that I explored lately on the Aegean Coast of Turkey. After viewing the magnificent Ephesus ruin, all other ancient-ruin sites pale in comparison, but Miletus impressed me. The aura surrounding Miletus open-air museum leaves tourists wondering about the many hidden secrets from the past. These days, many tour agencies operate excursions to Miletus, and I recommend you visit, along with the nearby Priene ruins.
About the Miletus Ruins in Turkey
Before Persians invaded in the 6th century BC, Miletus was a bustling ancient Greek city and sea trading port. Fast forward over thousands of years, and the sea subsided; Miletus was inland, locals deserted it, and it lay in ruins. But, like so many other past relics, archaeologists did their best to recreate the Hellenistic ruins of Miletus. The result is a tourist attraction worth visiting, although do not expect anything as grand as Ephesus.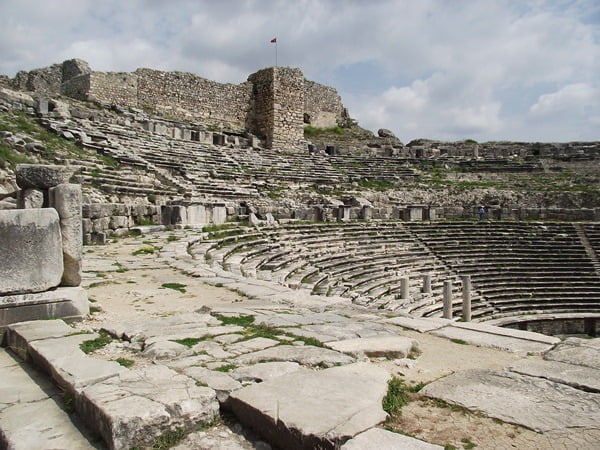 The focus is Miletus theatre used by Roman gladiators who delighted in slaughtering each other to death. However, the best thing about Miletus city remains is that you can walk through passageways under the seating areas of the main theatre. Steps lead up the semi-circle arena, and I could not help but stand there and wonder if Roman senators, gladiators, prisoners, or slaves appeared at the top of these stairs to roars of the crowd. I must mention prisoners or slaves because in the passageways are cells that make visitors wonder of the horrors Miletus city was the host of.
Entrance to Miletus city is cheap, and you only need a morning to explore it fully. Then, tag it onto a day trip and explore the nearby ruins of Apollo temple or Priene. Across from the theatre are traditional restaurants and an official souvenir shop. My recommendation is that if you are in the area, do visit Miletus.
(Note:  I previously published a picture of Miletus city under the name of Miletos. It appears there are two spellings for the title; however, the most popular one seems to be Miletus, and Wikipedia is also using this version; therefore I will as well)
Also, Read
Priene ruins: Sitting just a short drive from Miletus ancient city, Priene ancient ruins are even more impressive. Alexander the Great once stayed in one of the houses. This ancient Greek city, part of the Ionian empire, is famed for Hellenistic architecture.
Apollo Temple: Priene and Miletus are often sold as trio tours by Turkish tour agents since they are all located a short drive within one another. Apollo Temple is in the Altinkum area, and had building work been completed, this former pilgrim worshipping sanctuary in Turkey would have rivalled the Delphi of Rome city.