The Temple of Apollo in Didim is a major Aegean landmark for surrounding touristic resorts. The temple receives thousands of travellers and tourists every year, and in historical times was referred to as Didyma. Even today, signs of Greek history are everywhere.
This is not the only Apollo Temple. There are four ruined temples dedicated to Apollo in Greece, three in Italy and five in Turkey. I saw the temple in Side in Mediterranean Turkey about six years ago and, to be honest, ended up in a nearby bar admiring their artwork.
The Temple of Apollo in Didim
The Didyma Apollo temple dates from Ancient Greek times and marks the entrance to the resort. You don't need a full day to explore but visit early morning or evening when temperatures are lower. Didyma Temple pales in comparison if you have already seen the Greek-Roman Ephesus city ruins in Selcuk; however, it still has a certain charm.
Excavation work on Apollo Temple in Didyma first started in 1904. Historians say that before Ionians ruled the area, the temple was a cult worshipping oracle centre to sacrifice animals. Connected to Miletus ancient city via a long-paved road known as the sacred route, construction of Didyma temple was never finished. Some historians say if it had been, Apollo Temple would have rivalled the Delhi in Greece.
Over time, the area fell under the rule of the Persians, then Alexander the Great, and he attempted to finish building the Didyma Apollo temple. Eventually, by 385 A.D, no one worshipped the gods anymore, and when Christianity came to the area, locals built a church within the boundary walls.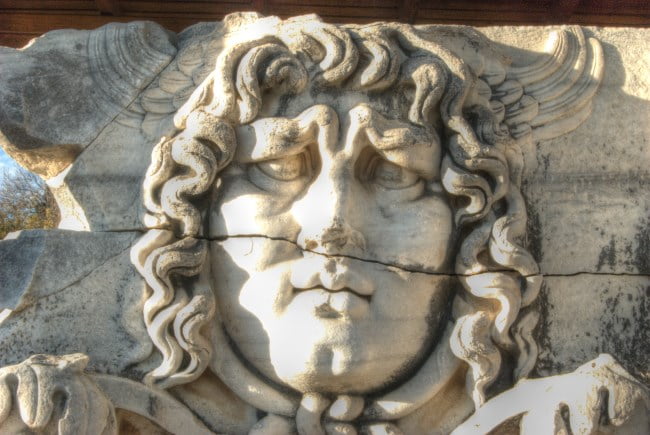 Do not forget to take a picture of the famous head of Medusa that is the Apollo temple's mascot. After walking around the temple, head across to the souvenir shops situated around the entrance to pick up worthy and tacky souvenirs for people back home. There are also three places serving a wide range of local and international cuisine or head into the Didim resort for more exploration.
I recommend exploring in the late afternoon, then sit on a restaurant terrace to watch the sunset. Alternatively, if you do not come to Didim in Turkey, head to the British history museum, where some temples and column heads from the Apollo temple are on show.
Also Read
Priene Remains: You can visit the temple of Apollo on your own, but many tour agencies located through Didim sell a trio tour of Aegean Turkey. That travel tour includes the Priene ruins, which are a must-visit city.
Miletus: The Didim tour also includes a visit to Milieus, an important sea trading port in its prime. Visited by Alexander the great, the theatre stands out.