Yesilkent is a hidden gem on the Aegean Coast of Turkey. Correction, it WAS a hidden gem. It was not often mentioned in tourist guides and the only way to find out about it was browsing through forums and blogs. It was a quiet resort with a couple of beaches and restaurants. All that changed however with the opening in May of the Venosa Beach Resort.
This hotel towers above everything else in the area and certainly has a domineering presence.   It operates on an all-inclusive basis and promises to give its guests the latest in modern luxury and convenience. There are 306 rooms and a wide range of facilities including a disco. The hotel has changed the face of Yesilkent forever
Previously Yesilkent was occupied by some expats who opted for the quiet life and some locals who had holiday homes in the area. I now predict a few bars, restaurants and shops opening in the area as they attempt to gain some business from the hotel.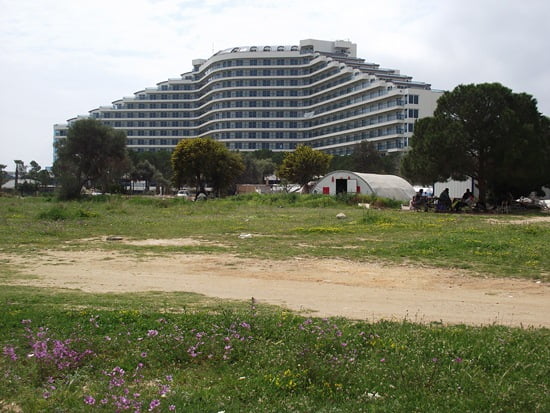 About Yesilkent on the West Coast of Turkey

During the summer, I often drive to Blue restaurant in Yesilkent, enjoy a Turkish breakfast and then take a walk along the beach. At the end of this, I feel relaxed and rejuvenated. It is hard to explain in words however the area has that "feel good "factor to it.
It has escaped the tacky tourist attractions that often blight the reputation of other resorts, yet it has a knack of making foreigners feel like they are at home. Expats buying houses there have been attracted by the tree lined paved roads and the friendly neighbors that shout hello to each other.
Call me grumpy but on this occasion I resent the change. The Venosa hotel will probably alter the vibes and atmosphere of the area. It has certainly changed the face of Yesilkent forever. I like to think that I can embrace change when it comes my way but when it comes to Yesilkent, I feel my secret get-away-spot has disappeared forever and because of that I am sad.
Update to this post – Please read Venosa Beach resort and Spa