If you ever find yourself on the Aegean coast of Turkey then be sure to take a visit to Sirince Village.  Known throughout Turkey for wine tasting and production, it's mountainside location is perfect for seeing natural Turkey and all through the village are shops where you can put your wine tasting skills to the test.
How To Get To Sirince Village
I drove a car which took two hours from Altinkum to Sirince. Head for the town of Selcuk which is near Ephesus, from there Sirince is clearly signposted. There are organized tours from most of the resorts surrounding Sirince. These cost an average of 20 pounds / 30 dollars per person.
What To Take With You
A camera or video recorder is needed as the views and pictures that you can take are truly unique. Do not forget money for souvenirs, lunch and refreshments.
History of Sirince Village
Sirince Village was formed when people were fleeing Ephesus. They settled in the mountains and named the village Cirkince which translated into ugly. The reasoning for this was to keep outsiders from getting curious and coming into the village. The name was eventually changed to Sirince, which means pretty. Greeks settled in the village at one stage and this is clear in the styling of the houses. In 1924 there was an exchange of the Greek and Turkish population .
Highlights of the Village
Buying hand-made olive oil soap
Visiting St Johns church which is being restored
Tasting and buying the best olives in Turkey.
Tips for Visiting Sirince Village
If you are driving there, the mountain roads are very narrow and have no safety barriers. Ensure who ever is driving will be comfortable with this. Driving in Turkey is already an ordeal as it is!
It is very hilly and in the midday heat, a bottle of water is a must for a refreshing drink.
Do not wear flip-flops. You need shoes with a good grip for the steep cobbled streets.
Sirince is not suitable for anyone with walking problems or disabilities.
Use an organized tour guide if you plan to take part in wine tasting, as drinking and driving is strictly forbidden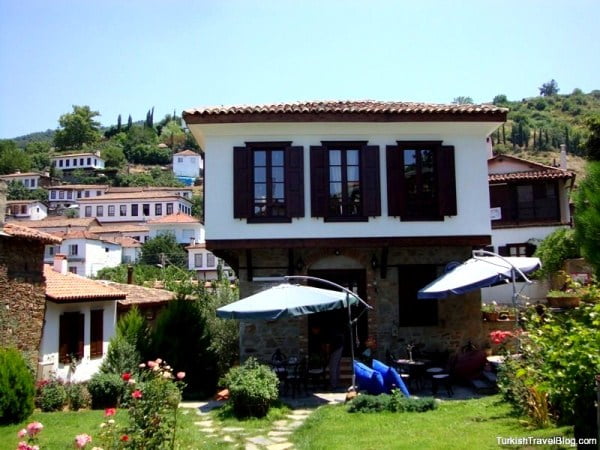 Further Reading
Aegean coast : Discover more places to visit in this region
Save