I received an email from a reader who asked where to stay in Cappadocia.
D wrote…
"I was wondering, which town in Cappadocia should I make my base? Goreme, Urgup, Uchisar, or…? Which would be the quaintest (for lack of a better word) town to stay in, although I would love to see all three towns mentioned and more if possible. I am also interested to see and experience the ongoings of Turkish rural life as well, as I am a photographer and would like to capture the essence of rural Turkey."
Well, the answer depends on your budget because each area in Cappadocia has unique characteristics and types of accommodation, whether budget, luxury, or boutique. In all of them, you will find rural Turkey but to differing degrees. Congratulations on choosing Cappadocia, though. I adore the unique area, and regardless of where you stay, you can see all the tourist attractions, including the fairy chimneys, hot air balloons high in the air and those memorising cave churches.
Speaking of caves, I recommend that you book into a cave hotel regardless of where you go. Hotel owners kit the rooms out in the authentic style but combine it with all modern cons, and then you wake up in the morning to a delicious Turkish breakfast. It does not get any better than that. So, let's look at the four main areas to stay in and tips for choosing a hotel in Cappadocia.
Where to Stay in Cappadocia
1: Goreme: Touristic Hub of Cappadocia
For cheap cost accommodation in Cappadocia, look to Goreme. This town is the hub of the Cappadocia region, and offers a a wide variety of restaurants and bars. The town is close to the historical Goreme open-air museum, the top-recommended site to visit in Cappadocia because of its UNESCO World Heritage status. From the central Goreme bus station, get regular transport to the smaller villages to see more rural Turkey because Goreme has become very touristic. Despite the backpacking touristic ambience, Goreme has a lot going for it.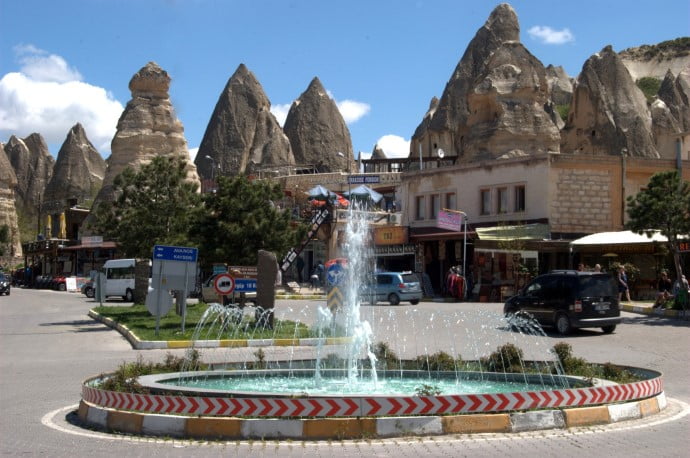 Simply waking up in the morning and heading out to the terrace to see the hot air balloons rising above the horizon is stunning. The Turkish jewel in the crown for Goreme is that all connecting buses from other parts of Turkey arrive at the Goreme bus station. From here, there are also plenty of tour agencies selling guided tours around the Cappadocia region. So effectively, when you stay in Goreme, this is the best location for having everything on your doorstep. Read more about the Goreme area in Cappadocia.
2: Uchisar: Luxury Hotels in Cappadocia
If you have no budget, the Uchisar area in Cappadocia is a quaint place to stay and not as busy as Goreme but with great attractions and great photo opportunities. On my last visit, I stayed at the Taskonaklar hotel in a luxury room with a terrace. I enjoyed wandering the small side streets, which eventually led me up to the historic castle. From the castle, see a fantastic view over the valley and the fairy chimneys, and on a clear day, Mount Erceyes in the distance. I find the lack of facilities, i.e., restaurants and bars, restricting, but Uchisar is a good place in Cappadocia for visitors who have rented a car.
I also walked from Uchisar to Goreme on two occasions, which took me past Panoramic View Point for a great view of the fairy chimneys. If walking is not your thing, a regular bus runs between the two places. The type of accommodation in Uchisar tends to be luxury, boutique hotels and depending on the time of year you visit; it can be tranquil. Uchisar is effectively a Turkish village, hence is policed by the Jandarma, who have their station in a cute cave. Despite the upmarket vibes of Uchisar, one wander of the streets will produce plenty of photo opportunities. More about Uchisar.
3: Places to Stay in Urgup
A lot of the travel tour companies passing through Cappadocia stay in Urgup. I stayed overnight on one visit and was a bit peeved because the Turkish restaurant I wanted to eat in would not let me in because they were fully reserved for the groups. Other than that, Urgup is a great town. Modern but with good transport links. Wander down the back streets to find the old Urgup and more rural Turkey. The area is also well known for its local wine production, so arranging a visit to one of the Turkish wineries would probably produce stunning photographs. Choose from a mixture of modern and cave hotels, which are regarded the best in Cappadocia. More about Urgup.
4: Experience Ortahisar
Initially, I had no plans to ever stay in Ortahisar, but on my last visit, I found the small Turkish village to be charming and, possibly, in terms of rural Turkey, the best option. I stayed at the Castle Inn, a small boutique hotel and the service provided by the owner Suat was outstanding. All rooms are modern, but one private cave room boasts a fireplace and has a romantic ambience.
In the morning, the breakfast spread is fantastic. The hotel also gives touring advice and can book excursions for you as well. This is another area where it is worth waking up early because the dramatic sunrise with hot air balloons on the horizon will give you some fantastic photographs. Also, get out for some walks into the surrounding valleys. The location is a bit far out, but there are good transport links to other towns. About Ortahisar in Cappadocia.
More About the Cappadocia Region in Turkey
So, as you can see, there are a few choices when looking at where to stay in Cappadocia; personally though, I do like Goreme because it is the region's hub. Naturally, no matter where you choose your hotel in Cappadocia, you must get out and about to see the main sights. Our travel archives and guide talks about numerous attractions, the valleys, places to go, destination guides and what to do.