I had a difficult choice. To choose my overnight accommodation in Goreme or Urgup in Cappadocia. I finally settled on the latter but still had to go to Urgup for the day to see if I had made the right decision. Both have unique vibes, but within half an hour, I spotted Urgup's special character and why the town attracts a different type of traveller.
Goreme is more for backpackers, youngsters, and those on a budget. Restaurants are cheaper, and bars have western names like Flintstones Café and Fatboys. Urgup is a bit more upmarket. The town square cafes remind you of a Mediterranean afternoon. People sit for hours drinking cappuccinos and gossiping with their friends while life goes on around them. Shops in Urgup are brand names with an organized, disciplined look.
Despite Urgup embracing the modern world, you do not have to look far to see the traditional architectural style of Cappadocia. Many houses are built into caves, with the other half being stone manmade structures, and if you want to stay in an authentic cave hotel, there are plenty of choices.
About Urgup in Cappadocia – Turkey
Urgup's history is much the same as the rest of Cappadocia. Having once been ruled by Alexander the Great and subsequent leaders, by 323 BC, nearly 30,000 people lived in Urgup. Then the Romans invaded in 27BC, and by 53 SD, Christianity arrived in Urgup and the Cappadocia region. The traditional cave churches that Christians used to pray in can be seen in the Etiler valley area. During this time, Urgup was known as Osiana and took the name Bashisar in the Seljuk period before being called Urkup when the Ottomans came to rule.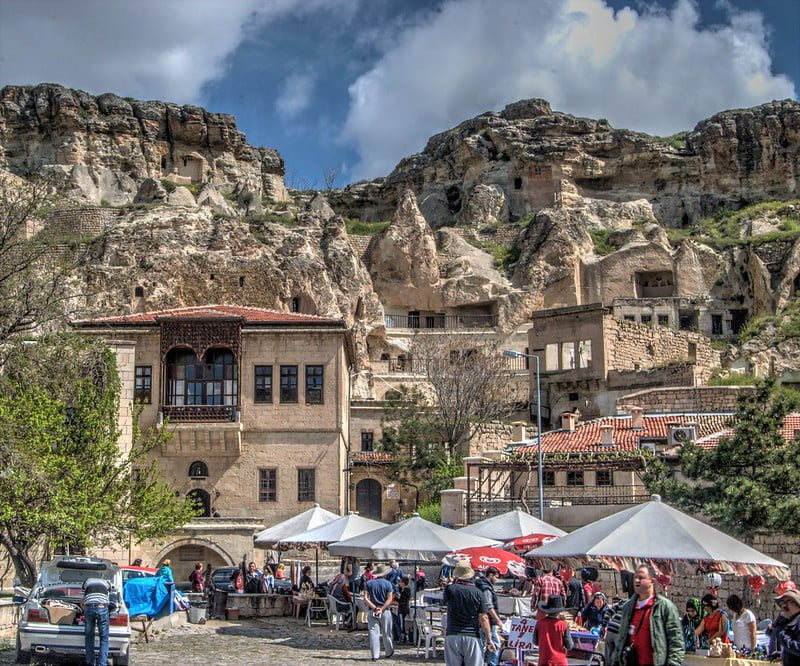 These days, life in Urgup is less eventful, and residents enjoy typical hot, dry summers. However, winter can be cold, and snowfall is not unusual. This is because of the elevated altitude of the Cappadocia region. The two biggest industries within Urgup, tourism and viticulture, make a roaring trade.
I also had my evening dinner at Urgup in a delightful restaurant. I ate out every evening in Cappadocia, but the meal served by Han Ciragan Restaurant in Urgup was the best. It was not cheap; however, the price reflected in the taste and atmosphere of the restaurant. For travellers fed up with eating cheap kebabs, this is the restaurant to head to.
Overall Urgup left a good impression on me. I would not say the town was better than Goreme because each targets a different market, and even if you choose not to stay there, visit for the day.
Things to do in Urgup and Nearby
1: Wish Hill- I spent the afternoon wandering around Urgup and went up to the viewpoint at the top of the highest hill. This gives you a full 180-degree view of the town. There is a café at the top displaying nostalgic photos of Urgup over 70 years
2: Turasan Winery: Winemaking is a big business in Cappadocia, and in Urgup, Turasan stands out as the most famous winery. Visit the establishment to taste and buy a bottle of authentic Cappadocian wine for dinner.
3: Asmali Konak: This old restored Greek house shot to fame when it used to film a popular Turkish tv series in early 2000. Sometimes, the tiny house only opens a few rooms to the public, yet the interior courtyard is stunning.
4: Mustafapasa Village: Sitting just 5 kilometres from Urgup, Mustafapasa is another former Greek village that is a delight to explore. The old architecture of the houses is simply stunning. Find out more about Mustafapasa here.
5: Ortahisar Castle: 15-minute drive away, there is another high viewpoint, which is Ortahisar castle. Sitting in the middle of a quaint little village, get the camera out for some fantastic photos. Near the entrance to the castle, little trinket shops sell ideal souvenirs.
More about what to see in Cappadocia
Although Urgup in Cappadocia is a great little town, you need to get out to see the area's main attractions. Either hire a car or join one of the group tours that include transport and a guide. If you want to travel independently, browse the travel archives for suggestions of attractions and places to explore in Cappadocia.