Turgutreis in Bodrum – Turkey, filled me with an overwhelming sense of comfort and familiarity, even though I had never been there before. I felt lured to experience something new and confident, being in a strange place and meeting new people. But I only travelled to Turgutreis resort for one day and was introduced to a lifestyle that would surely kill me if I adopted it permanently.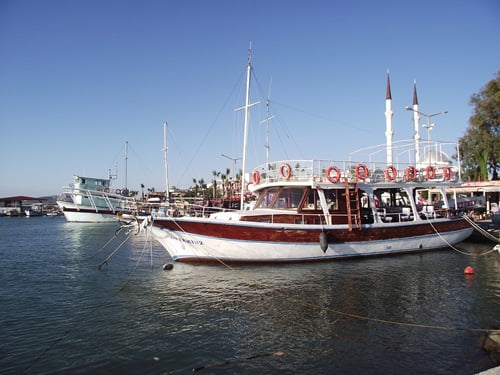 About Turgutreis in Bodrum
Turgutreis resort sits on the Bodrum peninsula of Turkey, a large area on the central Aegean coast. One of the main reasons for its popularity as a holiday destination is the short transfer time from Bodrum – Milas airport. As the second-largest town, Turgutreis enjoys a steady pace of foreign holidaymakers and is home to many expats living in Turkey. Named after an Ottoman admiral of the same name, Turgutreis blends old and new vibes to present a unique appeal to anyone crossing her path.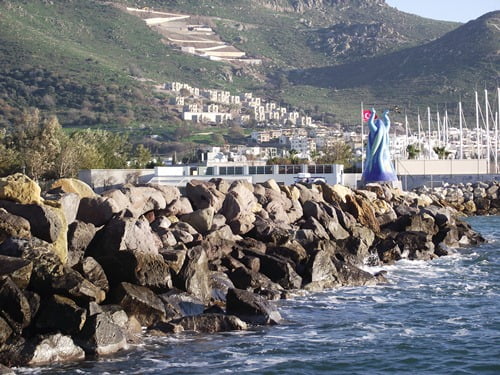 The feel-good factor combines fine food, beautiful beaches, gentle strolls, excellent vibes, friendly people and a gorgeous Aegean coast sunset. These all lend weight to a charming but dangerous lifestyle. Within one day, I found myself sipping beachfront beers while watching the world go by. Unfortunately, I was unwilling to explore unknown parts of Turgutreis as I had succumbed to the easy, laid-back way of life.
Visiting Turgutreis Marina
It all started in the morning when we left Bodrum and drove to Turgutreis by empty coastal roads boasting magnificent sights of faraway islands. On the short, pleasant drive, the only scare was a cow in the middle of the road that decided to break for freedom.
Once we entered Turgutreis, we found our marina hotel, checked in, and headed out to explore after a quick inspection of the rooms. First, of course, I wanted to see boats owned by wealthy sailors of the seas. These were all docked in the marina; however, a security guard barring the entrance changed those plans.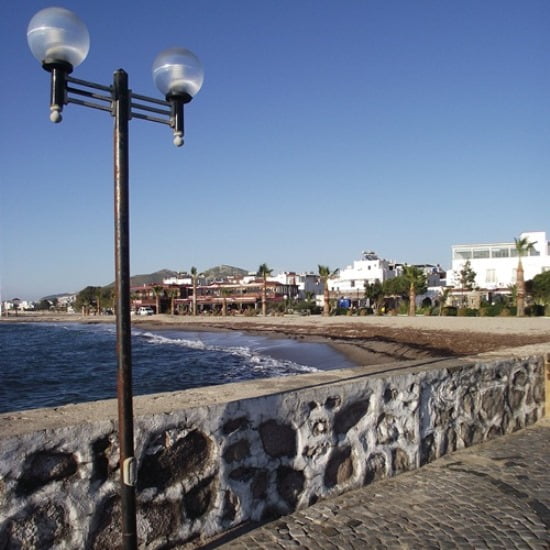 Instead, we strolled within the Turgutreis marina and found ourselves enticed by Coffee World. To a pure caffeine addict like me, this was heaven. Since then, the brand name franchise of Coffee World (Khave Dunyasi) has stuck in my mind as the contender who could take the crown from Starbucks.
After coffee and cake, shopping was next. Unfortunately, posh marina shops proved out of my price range; however, we found ourselves down by Turgutreis harbour where laughing children played, sailors attended to their boats, and ex-pats sat in front of beachside cafes.
The vibes rubbed off on me, and after a walk down Turgutreis backstreets, we forgot thoughts of shopping and found ourselves on the beachfront, sipping a cold Efes beer and watching the sunset. Turgutreis's sunset is said to be the best in Aegean, Turkey, and I agree.
Any thoughts about going to the hotel to get ready for a night out went out of the window. Instead, we ordered a platter of King Prawns and calamari to supplement our third Efes beer. Again, I experienced a perfect day and felt straight at home.
The food, people, and town all blend to create an atmosphere that should be packaged and sold to people suffering from stress. I enjoyed my trip. However, if living in Turgutreis, self-indulgence and a slow, relaxed way of life would slowly but surely put me in my grave.
More about Bodrum
As well as Turgutreis in Bodrum, there are many other towns and attractions to explore on this peninsula. Read the Aegean travel guides for more ideas of where to go and what to do in this spectacular region of Turkey.