Turgutreis in the Bodrum region of Turkey filled me with an overwhelming sense of comfort and familiarity, even though I had never been there before. I felt  like I was lured to experience something new. I also had the realization that I was not feeling nervous, even though I was in a strange place and meeting new people.  However I was only there for one day and I was introduced to a lifestyle in Turgutreis  that if I adopted permanently would slowly but surely kill me.
What is Turgutreis Like?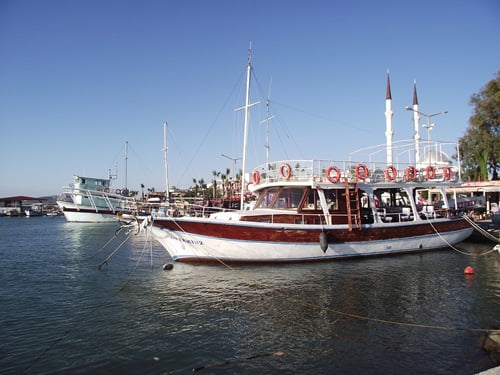 The feel good factor was combined with fine food, gentle strolls, excellent vibes, friendly people and the most gorgeous sunset of the Aegean coast. These all lend weight to a lifestyle that is alluring but dangerous.  Within one day, I found myself sipping a beer on the sea front while watching the world go by. I was unwilling to explore the unknown parts of  Turgutreis as I had already succumbed to the easy laid back way of life.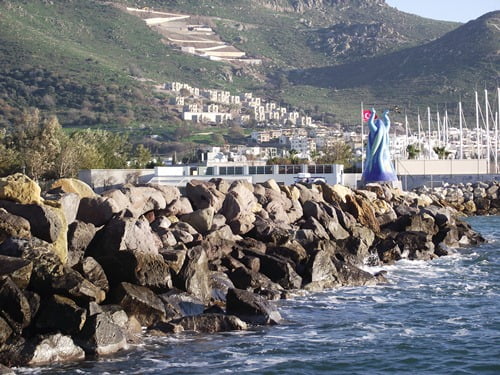 It all started in the morning when we left Bodrum and drove to Turgutreis by the coastal roads which were empty and boosting magnificent sights of faraway islands. It was a short, pleasant drive and the only scare was a cow in the middle of the road that had decided it would make a break for freedom.
Turgutreis Marina
Once we entered Turgutreis, we found our hotel down by the marina. We checked in quickly, and after a quick inspection of the rooms,  headed out to explore. Of course, I wanted to see boats owned by the rich sailors of the seas. These were all docked in the marina however a security guard barring the entrance soon put laid to those plans.
Instead we strolled by the shopping front of the marina and found ourselves enticed by Coffee World. To a pure caffeine addict like me, this was heaven. The brand name franchise of Coffee World ( Khave Dunyasi) has since then,  stuck in my mind as being the only contender which could possibly take the crown from Starbucks.
After coffee and cake, shopping was next on the agenda. Unfortunately the shops in the posh marina were a little out of my price range, however we soon found ourselves down by the Turgutreis harbor where laughing children were running around playing, sailors were attending to work on their boats and ex-pats were sitting in front of beach side cafes.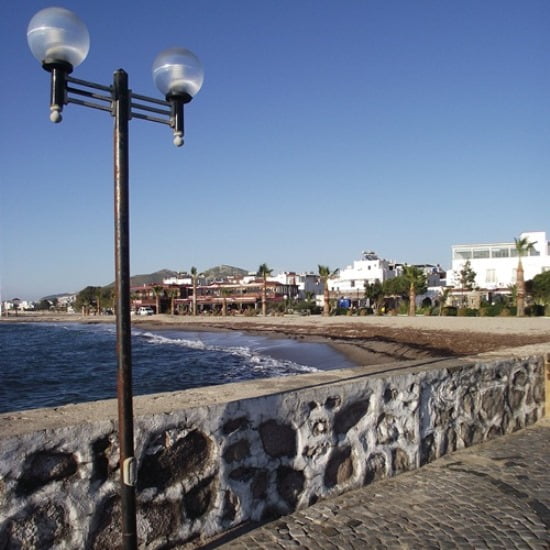 The vibes were rubbing off on me slowly but surely and after a walk down the backstreets of Turgutreis, thoughts of shopping were forgotten and we soon found ourselves back on the beach front, sipping a cold Efes beer and watching the sun go down. The sunset in Turgutreis is said to be the best on the Aegean coast and now I have seen it, I totally agree.
Any thoughts about going back to the hotel, to get ready for an evening out were soon out of the window. Instead we ordered a platter of King Prawns and calamari to supplement our third Efes beer. Overall, I experienced  a perfect day. When entering Turgutreis, I felt straight at home.
The food, the people and the town itself all blend together to create an atmosphere that should be packaged and sold to people suffering from stress. However, if living in the resort permanently, self-indulgence and a slow, relaxed way of life would slowly but surely put me in my grave.
Recommended Reading About Bodrum
Jay Artale is a local expat of Bodrum. She has traveled extensively throughout the region and written many travel guides about Bodrum. The holiday resorts, things to do, where to go, what to do, the best restaurants. You name it and it is in her book. Purchase it for Kindle from Amazon here.
[wp_geo_map]