Last month, on impulse, I stayed in the town of Selcuk, near the ruins of Ephesus. Due to my hasty decision, I did no research but despite my lack of planning, the trip was fantastic. I made new Turkish friends, explored recommended attractions, ate good food, and drank lots of beer! However, I was seriously disappointed by a travel scam, targeting foreign tourists. Infact, the same scam was tried on me, twice in two days!
The scam artists definitely have confidence but more alarming is the amount of money involved. They are not trying to rip people off for a few coins. They are attempting to gain hundreds of Euros, Dollars, or Pounds. So what exactly happened?
Travel Scam at Saint John's Basilica and Temple of Artemis in Selcuk
My hotel receptionist said the castle of Selcuk was closed because of excavations. So I headed to Saint John's Basilica instead. I strolled up to the main gate via a side path. A dubious looking man, was loitering but remained hidden out of sight, from staff. He was skinny, dressed in jeans and a T-shirt but looking casually smart. Despite his appearance, warning bells were ringing.
My camera was hanging around my neck and I thought he would attempt to steal it. Instead, using near perfect English, he asked if I wanted to see Selcuk castle. "No one can see it, it is closed for excavations." I replied "I am staff working on the excavations; I will take you to the private entrance"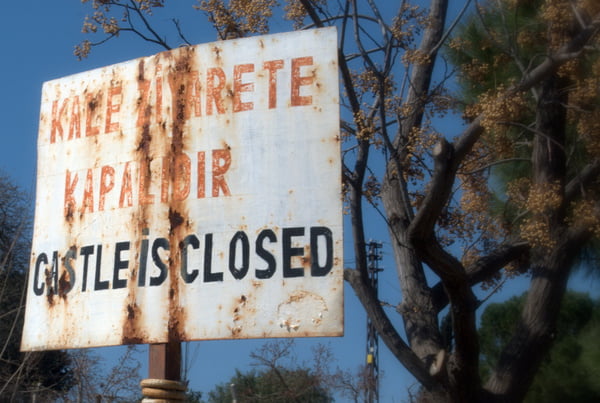 I wanted to see the castle, but did not want to be arrested for illegally entering historical sites so I started walking away and the man ran after me. He produced four coins from his pocket and with a straight face, started his sales banter. "These coins are very old, from the Roman times. Because you are a pretty lady, I will sell you one coin for 100 euros. You can sell it for much more money when you go home"
The man seemed educated. He pointed to one coin and said it showed the Byzantine emperor Constantine. The problem with this information was that Constantine was notorious for insisting his statues and coin portraits were shown without a beard. The man mentioned another emperor depicted on one of the other coins. I had never heard of him, but the portrait looked like Clark Kent, superman!
"They are very nice, I like them," I said, "But you should not sell them as antiques, they are fake so you should call them souvenirs." The man expressed disgust at my accusation and then anger, because I had insulted his honour, by accusing him of lying.  I started to walk away. He followed me and slowly the tone changed. He promised on his mother's name that they were real. Apparently, he took them from the excavation site where he was employed.
"If this is true," I said, "They belong to the government and I don't want to buy stolen items." A heated discussion followed, along with claims that his mother was ill, father was dead, and he had hefty bills to pay. Slowly the price of the coins dropped bit by bit. Remember: The price at the beginning was 100 euros for one coin
What was the final price?
6 euros for all four coins!
I paid for my souvenirs, made a mental note to research Trip Advisor, and then forgot about him. However, the next day, I walked to the other end of the town, to visit the temple of Artemis. While taking photographs, a local man walked up and started talking to me. We exchanged pleasantries and then he produced three coins.
The same sales patter started. He claimed to be a worker on the excavation sites and they were his property. Later that day, I questioned some locals about this scam. One said, he had done the job for a week but could not lie with a straight face, so he made no money. His friend though, once sold a fake coin to an American for 500 USD!
The Law Regarding Antique and Artefacts in Turkey
Jobs on excavation sites throughout Turkey are hard to come by and not given out easily. Funding for these projects normally stems from universities, institutions or the government. They only allow qualified historians; people employed by the funding source or history students to work on uncovering the artefacts. Excavation workers on these sites do not have legal right to claim possession of anything they uncover, so even if they are real, you will be participating in theft.
A law in Turkey, states it is illegal to take any antiques or artefacts, over 100 years old, out of the country. To do so, needs a special certificate and license. Any antiques or artefacts found by the local public should be taken to the nearest museum.
Upon returning, I checked the Internet and this scam in Selcuk has been going around since 2007, although there seems to be many different versions, but the aim is to get lots of money out of unsuspecting tourists! So if you are visiting Selcuk, please be aware. If your friends go there, please tell them about this scam. No-one deserves to be ripped off for hundreds of dollars, just because they have a passion for history.
Update
Following publication of this article, I have received a response from the authorities.
Save