Istanbul, an iconic city and the most popular tourist destination in Turkey, has immense dignity and pride. The cultural infusion of various communities, modern influences, and its historical timeline is impossible to ignore.
Most travel publications have detailed articles about things to do in Istanbul. They normally involve shopping in the historical Grand Bazaar, visiting Ottoman palaces, admiring the architecture of Hagia Sophia and delving into the depths of Islam, by visiting the Blue mosque. Unfortunately though, not everyone likes touring historical sites and countless visitors, who have been to Istanbul, more than once, are often clueless about what to do next. So a passionate Istanbulite, decided to fill a gap in the market.
Things to do in Istanbul : Suggestions by Locals
Sinan Sökmen is the founder and managing director of an alternative concept to touring Istanbul. He said…
Our tours are categorized according to interests and hobbies such as history, photography, food, art, or shopping. So we collaborate with connoisseurs of various fields and topics, to help visitors create a personal experience.
Since I am constantly seeking offbeat experiences in Turkey, he instantly had my attention and told me more about these locals and their ideas of things to do in Istanbul.
1 : One Day Street Art Tour
Some call it graffiti, but all over Istanbul, shop shutters, car parks, old factories or white washed walls are canvases for impressive art work and murals. The street art tour visits famous urban neighbourhoods such as Sishane and Karakoy, to see pieces that would gain much admiration in an art gallery.
Tour Curator is Erbil Sivaslioglu, an active promoter for the yearly Istanbul Street Art Festival. He has extensive knowledge of urban neighbourhoods and also the street-artists and their sources of inspiration. He urges everyone to look at Istanbul from a different perspective.
2 : Ottoman Jewellery Workshop in the Grand Bazaar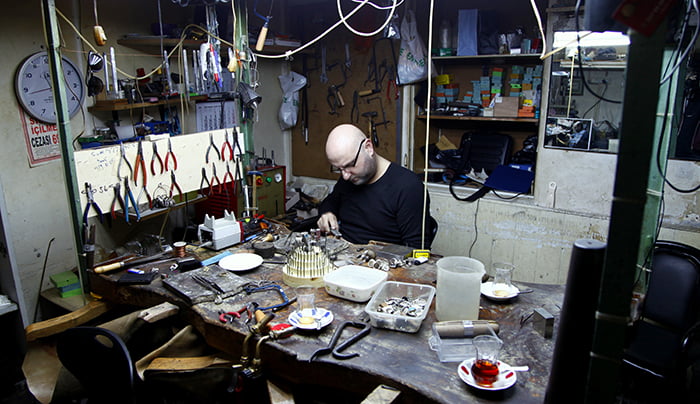 Beautiful jewellery is for sale in the Grand Bazaar, but visitors can make it instead! Under the instruction of a Usta (master), attendees are shown the ancient craft of Ottoman jewellery making and then they design and construct their own masterpiece. Classes last roughly 3 hours, with a maximum attendance of 4 people.
Overseer of this unusual experience is Banu Kent. Born in Germany, she now lives in Istanbul, after extensively traveling around the world. Her inspiration is the vibes of Istanbul that encourage creativity thinking. She learned the craft from an usta that has been making Ottoman jewellery for the last 25 years.
3 : Street Photography Walk
Improve your camera skills, fully understand its functions, and capture unique photos of Istanbul, by attending the photography tour around main avenues and back streets. After an introductory briefing, the tour visits Taksim and Istiklal Avenue with its majestic examples of architecture.
Didem Orhuner, a freelance professional photographer is the mastermind of this tour. She started photography as a hobby, but progressed to be published in various magazines and showcased in exhibitions. Didem says, we also stop at tea and coffee shops, as well as antique stalls because daily life, both past and present, are  ideal photo subjects!
4 : Istanbul Bicycle Tour
Some people might consider this a ludicrous and dangerous suggestion but on the Asian side of Istanbul, official biking routes include photography stops and visits to scenic landscapes, piers, parks such as Fenerbahce, and local restaurants. Bahadir says anyone can come because all equipment is provided including bikes, helmets, audio guide and safety jackets.
Bahadir Efeoglu can be credited with putting this tour together. Using a bike, he has travelled through numerous countries and around Turkey. He also cofounded Busiklet, the Bogaziçi University Bicycle Society.
5 : Mushroom Hunt and Picnic
You may think mushrooms don't exist in a bustling metropolis, but 15 kilometres north of Istanbul is Belgrade forest, an adventurous playground for nature enthusiasts. This ideal destination is perfect for a mushroom scavenger hunt to spot specific varieties, taste them and enjoy a quiet picnic.
Curator of this tour is Jilber Barutcuyan, who has an unusual diploma on mushroom studies form the Ministry of Health in Switzerland. He describes himself as a diver, climber, cave explorer, wine specialist and mushroom expert!
6 : Flavours of the Old City
Visit a simit bakery to watch how they are made, savour a traditional Turkish breakfast, chat with the owner of the most renowned Turkish coffee shop in the city and watch how he prepares it. Next on the agenda is a Turkish wine tasting session in a cellar, and the chance to indulge in traditional baklava.
Curator of the tour is Cemre Narin, who is food editor of Vogue in Turkey. She is also a cookbook author whose inspiration and creativity stems from the belief that through food and drink, visitors learn about the history, people, and culture that makes Istanbul, an ideal city-break destination.
7 : Rowing in Istanbul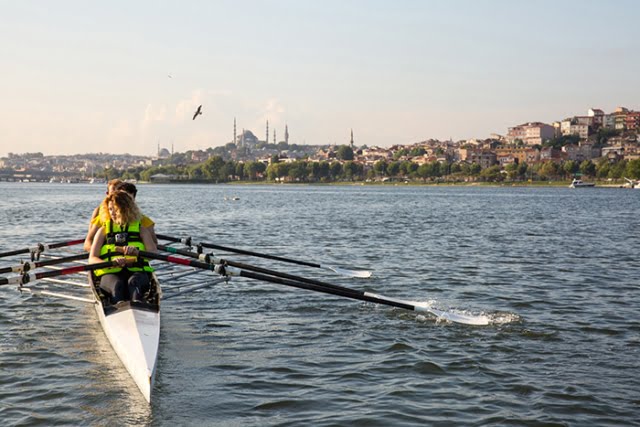 The Golden Horn is an important region of Istanbul and it beckons expert and beginner rowers, to see its landmarks from water. Experienced and licensed rowing teachers provide all equipment including the kayak and the group sets off in the early morning, on a designated 8 kilometre course.
Curator of the tour is Sinan, the founder of Istanbul Tour Studio. He speaks fluent English and Spanish, and describes himself as well travelled and a history buff. He says novices should not be shy, because they receive a tutorial and everyone has the option to row solo or tandem.
8: Sailing in Istanbul
Last on our list of things to do in Istanbul, is sailing. If a kayak is too small, upsize to a larger sailing yacht. For a morning or afternoon, qualified sailors will show you the ropes, and then drop anchor for a short time in various locations to view the city's horizon from a different angle. A GoPro HD video camera is on board to capture every moment, and included in the price is your own copy, to take back home.
The mastermind behind this tour is Özgür Inam, an instructor for the Royal Yachting Association and Sailor of the Turkish National Sailing Team. Fully qualified as an instructor, he encourages people who have never sailed to try this experience at least once.
Further Reading about things to do in Istanbul and the curators can be found on their website. To make reservations and ask questions contact them on [email protected]. Alternatively, follow them on social media for photos and updates by locals of Istanbul. Instagram and  Facebook and  Twitter
(Image credit – Rowing)
Save
Save
Save
Save
Save
Save
Save