Soke is not a tourist town and does not seem to be in a rush to make itself one. It is on the Aegean coast of Turkey and is a short drive from the holiday resorts of Altinkum and Kusadasi. Alternatively, you could visit there if you are on your way to Izmir, Ephesus or Selcuk as Soke has a major bus station which is a stopover point for many people traveling by bus.
I have been to Soke many times before but never actually walked around. So on this particular day, I had a four hour wait until my bus arrived and took the opportunity to explore this town that I had taken for granted for nearly seven years.
By the way, If you do visit Soke then I recommend spending a day there but not a night. There are only three hotels and they are used by ladies of the night or men that are playing away from home.
Spending a Day in Soke
Having walked around for the day, my impression of Soke has changed. It is a town that is stuck between two eras. I spotted a horse drawn cart in the town. If you buy items from a shop and cannot carry them, they will call the owner of the cart who turns up, loads the items onto the cart, and delivers you and your purchases to your house. You simply pay him a small fee.
Of course, I am a sucker for animals and immediately went over and asked if I could take pictures. "No problem" says the man who is sitting there without a care in the world. As I am taking pictures, he suddenly jolts and stands up quickly. His mobile phone is ringing.
He answers it, mutters a few words, puts it back into his pocket and then explains to me that he has to dash. A customer is waiting. After watching the cart pull out onto the main road, I then watched a Mercedes Benz which was coming up behind him; reduce his speed so that he would not frighten the horse.
If you go to the old part of Soke then you will find old stone houses that have been there for three generations at least.  The toilet is in the courtyard but you cannot miss the unit for the remote control air conditioning or the satellite dish placed on the roof.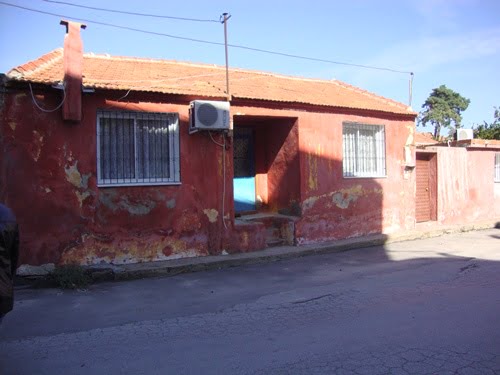 In the main town of soke, I also found an old tomb that I never knew was there.  I knew the tomb belonged to someone with status though, as it was in a mini building. Apparently in years gone by, all the coffins of influential people of the town were placed in this area. All of them have been removed and placed in graveyards apart for this one person. Trying to find out information about who it is though, has been near enough impossible. If you know, please tell me.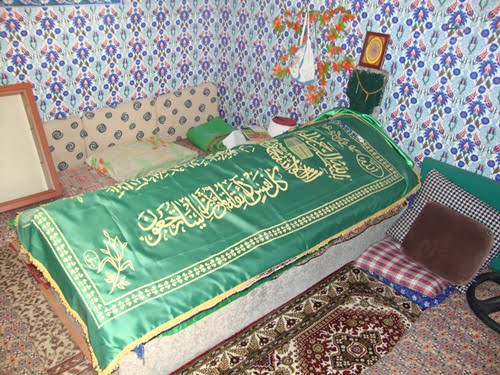 So what is Soke famous for?
1  Army base. Lots of youngsters from outside of Soke will head there to complete their compulsory national service of 15 months.
2 Cotton fields. Travel through at the height of summer and you will see white fields for as far as the eye can travel. The modern farmer will have an automatic cotton picking tractor. The other farmers will give jobs to the many people that flock from the East and set up home on the road side. Likely hood is that many of your cotton clothes and products bought in the western world, started off in one of the many cotton fields of Soke.
3 Brand name factories. After cotton, Soke is also famous for its factories which employ a large number of people in the town. Levis, Nike, Adidas and for all those hungry shoppers there is a McDonalds or Starbucks.
4  The Wednesday market. A big market that attracts local from surrounding towns and tourists from the surrounding holiday resorts of Altinkum and Kusadasi.
5  Çöp sis which is pronounced chirp shish. This is cubed lamb or beef on skewers, served with salad, grilled tomato and onion. On the roads going out of Soke there are dozens of places that serve only Çöp sis
Overall, Soke is well worth a visit if you want to experience Turkey which is untouched by tourism. Expect to see two different world blended into one.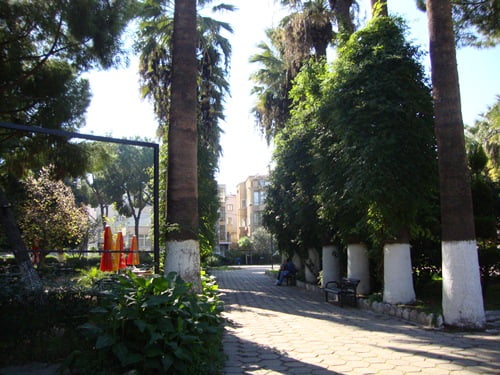 Save